Along with my wife and kids I spent the last couple of weeks in Texas with the main purpose of visiting my sister, her husband and their kids who moved there last year. Apart from a family visit this was however also a vacation for us where we wanted to get around and see a little of the great state. For me, of course, this meant herping. Field time was somewhat limited, though, swallowed up by the likes of children's birthday parties, decorating the cul de sac for Halloween, visiting my niece and nephew's schools, dining out, shopping, museum & NASA visits, city sightseeing, beach trips, watching over the kids in the pool, general social niceties and other trivialities. Nevertheless, I was very pleased to find a few nice critters along the way.
I owe thanks for good tips to Matt, John, Chris, Kyle and perhaps even a couple I've shamefully forgotten. Some (east TX cruising) were put to good use, others (coastal flipping) didn't pan out, others still (muds, timbers & prairie kings) I never found the time for. The great majority of herps, however, in terms of species as well as individuals were found by simpling getting out and keeping my eyes open whenever I had the chance wherever I just happened to be at the time.
As usual I make excuses for my photography. This time it is the patience of my family. I felt I stretched it plenty just searching for the critters. For the same reason I have pictures of only awfully few of the multitude of other wonderful wildlife from mammals over birds to inverts. The ones I did get were just the random easy ones.
We arrived at my sister's house in the Woodlands after a 21 hour trip at 10 o'clock Saturday evening, October 4th. Within a couple of minutes I found the first two herps of the trip, a couple of Mediterranean geckos,
Hemidactylus turcicus
, on the wall outside the kitchen door. I was amazed to find how abundant these are in Texas as I found them on the walls of all but one of the five places we spent a night during our stay. The one where I didn't was the one where I wasn't outdoors at night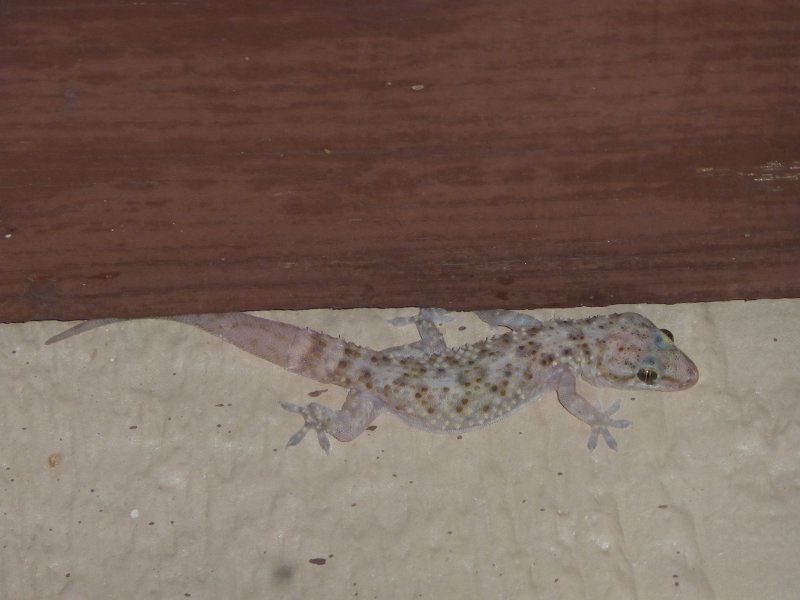 Over the course of the next three days as we stayed in the Woodlands I got the chance to make several short "herping trips" in the neighbourhood ranging from just nosing around in the garden over walking a couple of hundred yards to the green belt behind the house, to driving a couple of miles to the state forest or the preserve down by the river and walking around for an hour or so. Thankfully there were plenty of herps.
The small garden itself was home to green anoles,
Anolis carolinensis
, ground skinks,
Scincella lateralis
, five lined skinks,
Plestiodon fasciatus
, and Gulf coast toads,
Bufo valliceps
. Ground skinks and Gulf coast toads in particular were everywhere else in eastern Texas as well.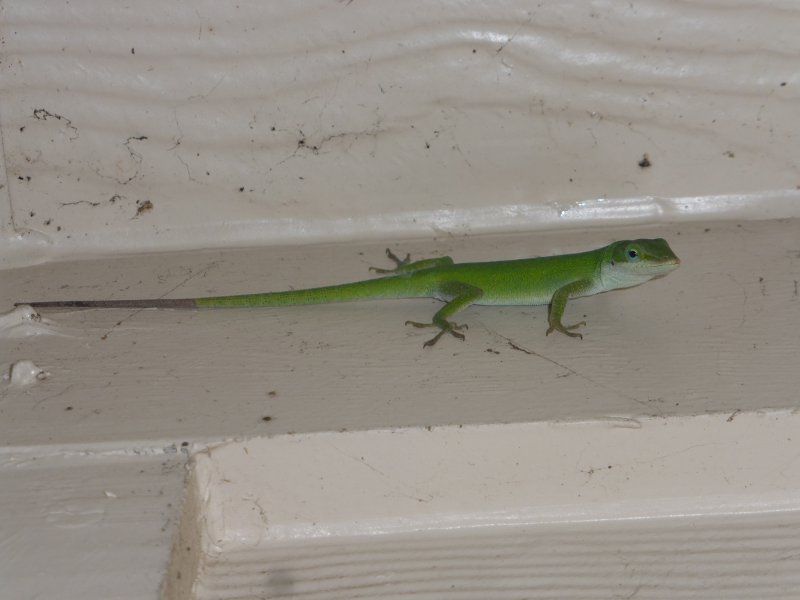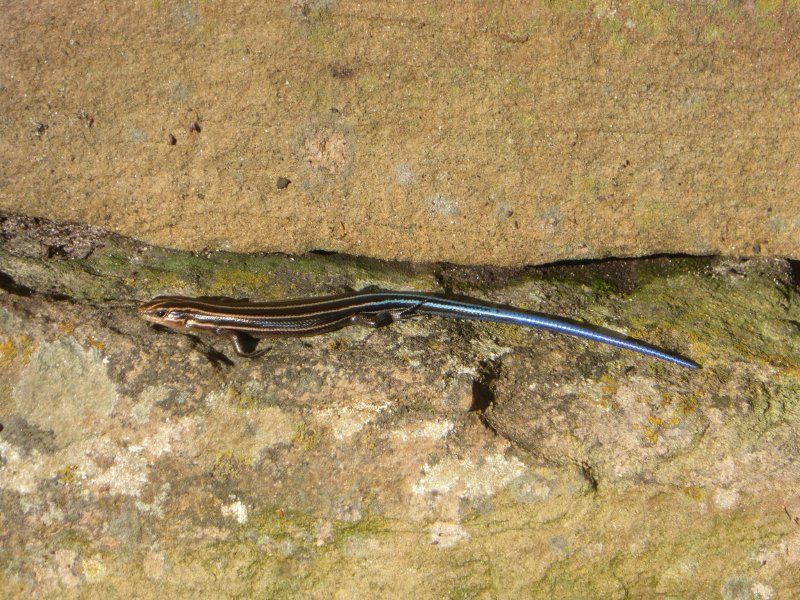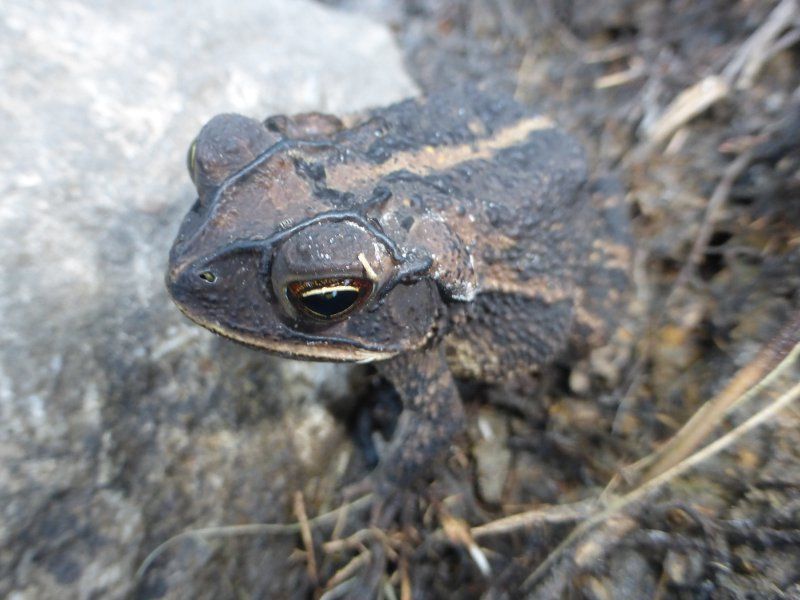 Habitat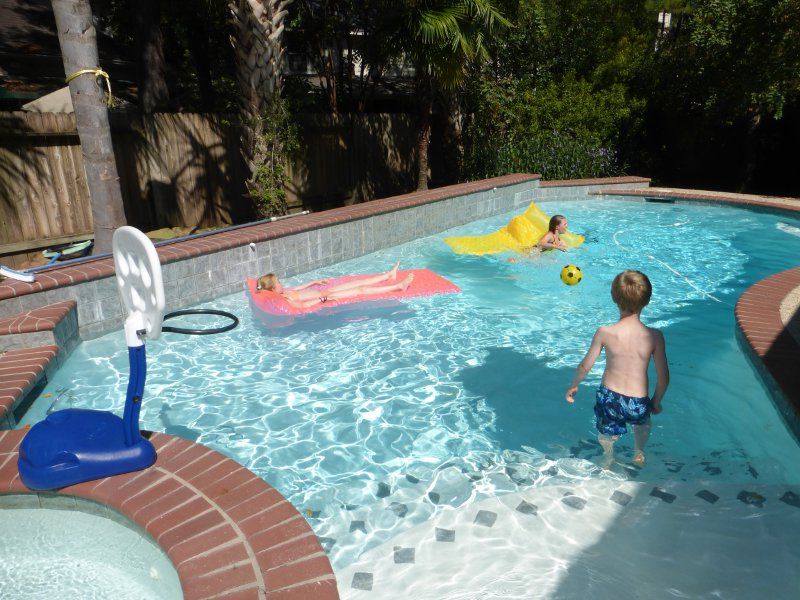 The green belt – a long narrow stretch of woods running north – south along an overflow ditch with a powerline clearing next to it added brown snakes,
Storeria dekayi
, broadbanded water snakes,
Nerodia fasciata
, western ribbonsnakes,
Thamnophis proximus
, red eared sliders,
Trachemys scripta
, common snapping turtles,
Chelydra serpentina
, eastern narrowmouth toads,
Gastrophryne carolinensis
, bronze frogs,
Lithobates clamitans
, bullfrogs,
Lithobates catesbeianus
, southern leopard frogs,
Lithobates sphenocephalus
, and green treefrogs,
Hyla cinerea
, to the list. Also heard at night were other annoyingly unID'ed frogs, also seen another equally annoyingly unID'ed snake.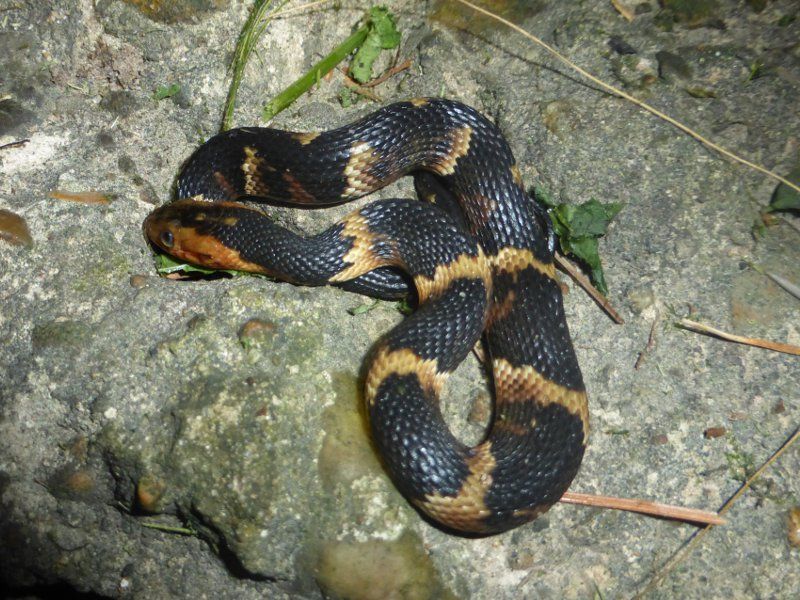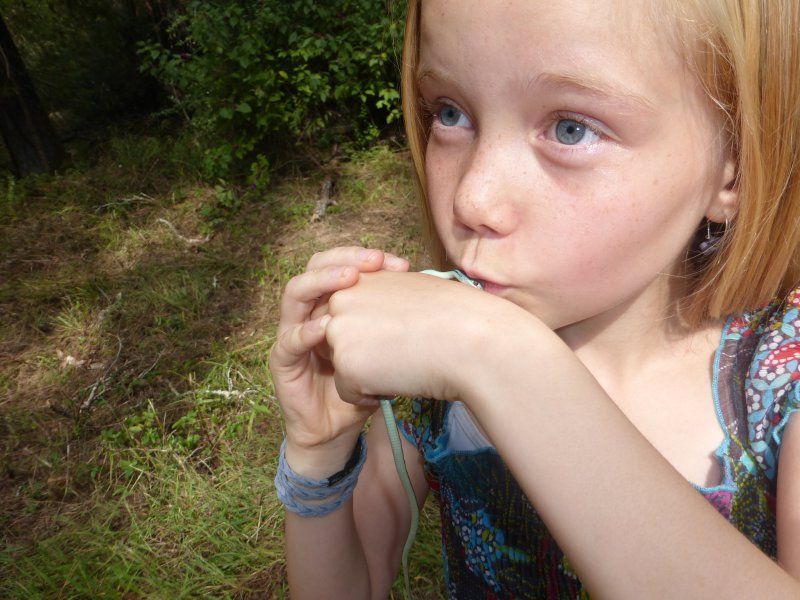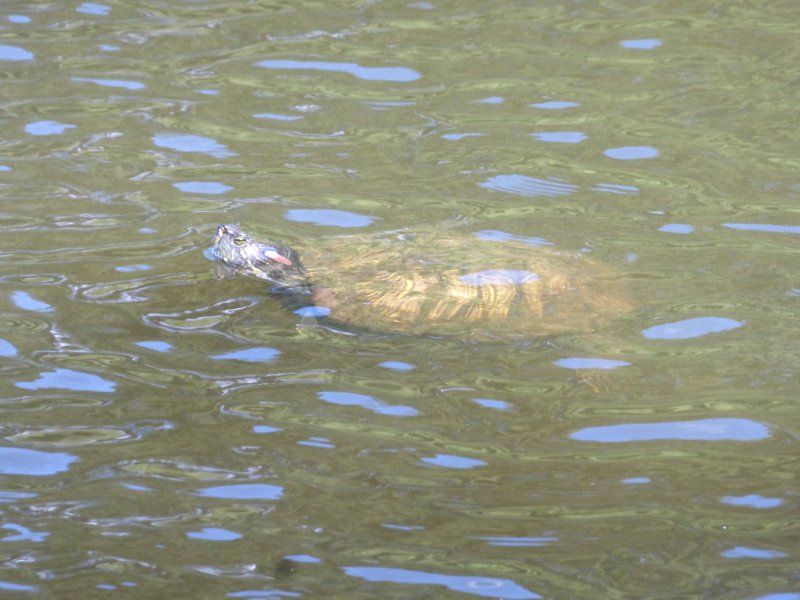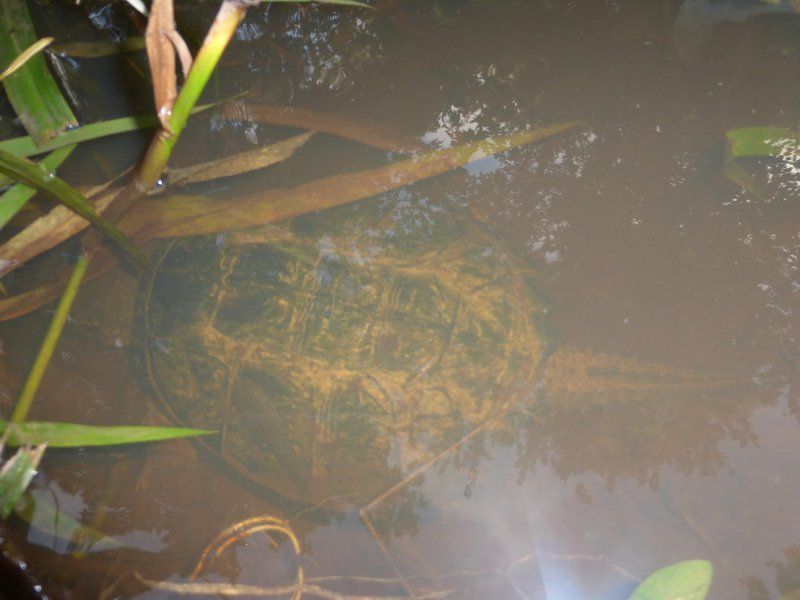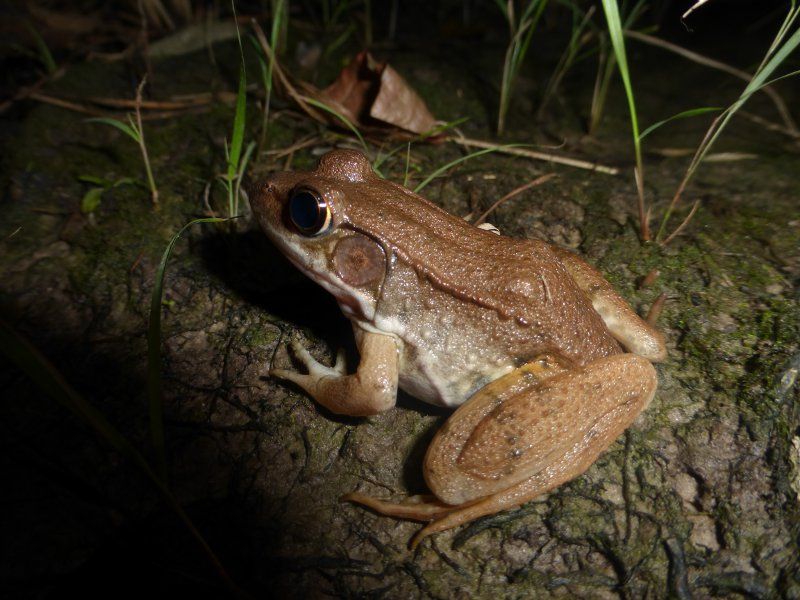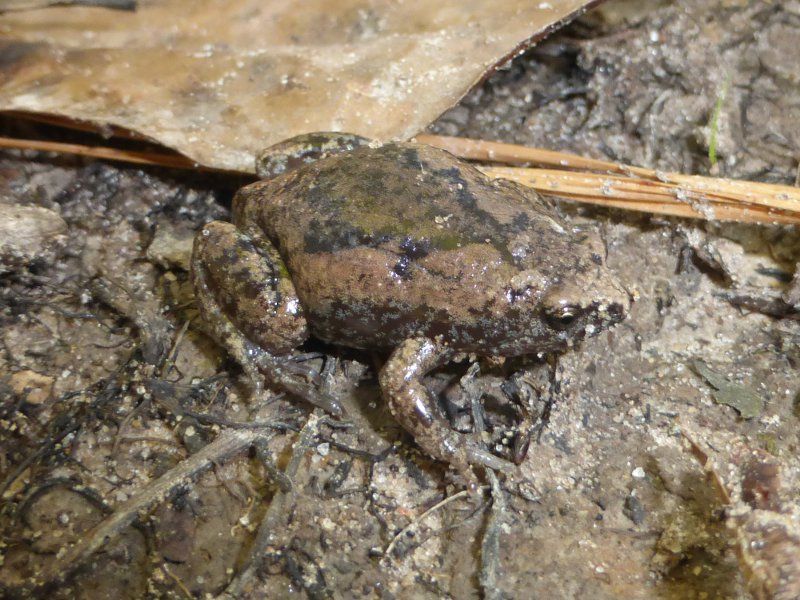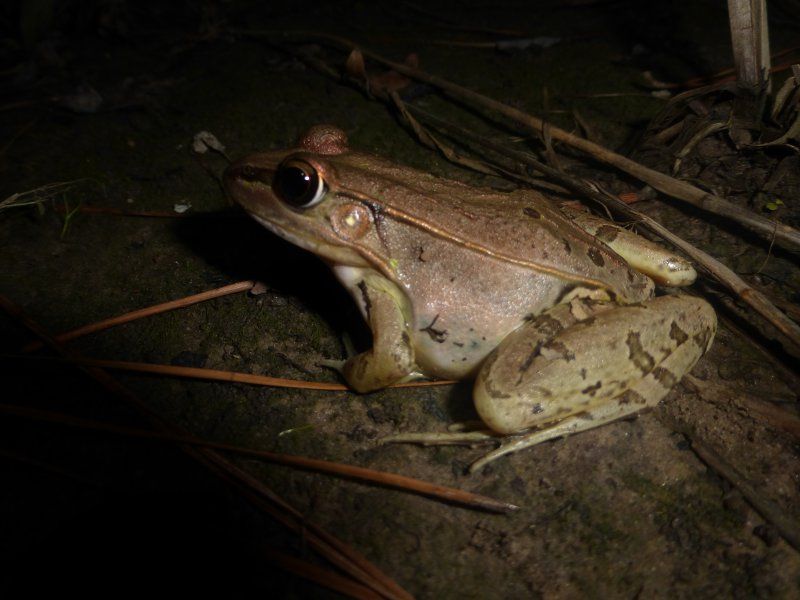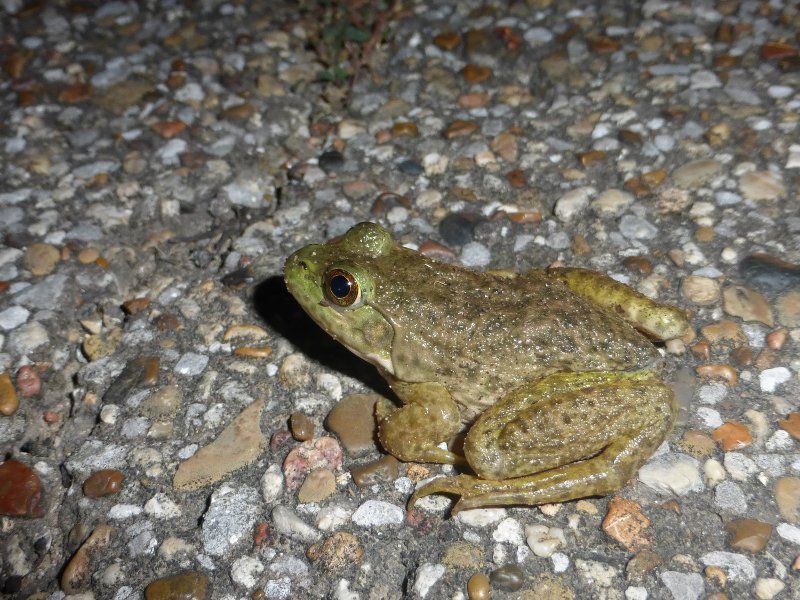 The preserve and state forest further padded the list with plainbellied water snakes,
Nerodia erythrogaster
, brown anoles,
Anolis sagrei
, and cricket frogs,
Acris crepitans
.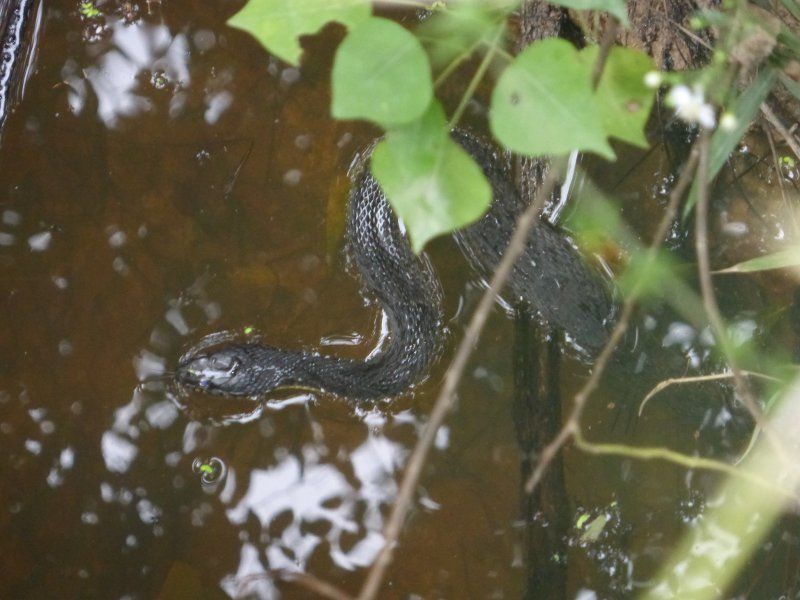 Preserve habitat: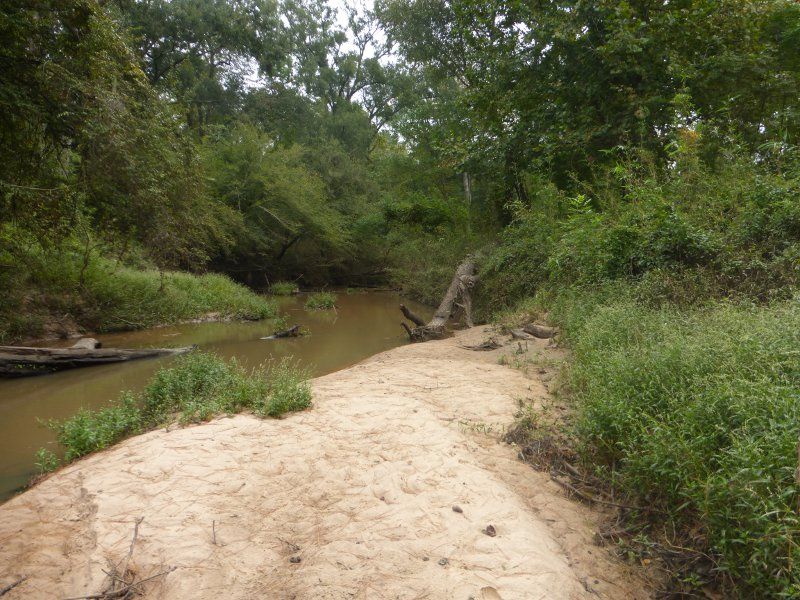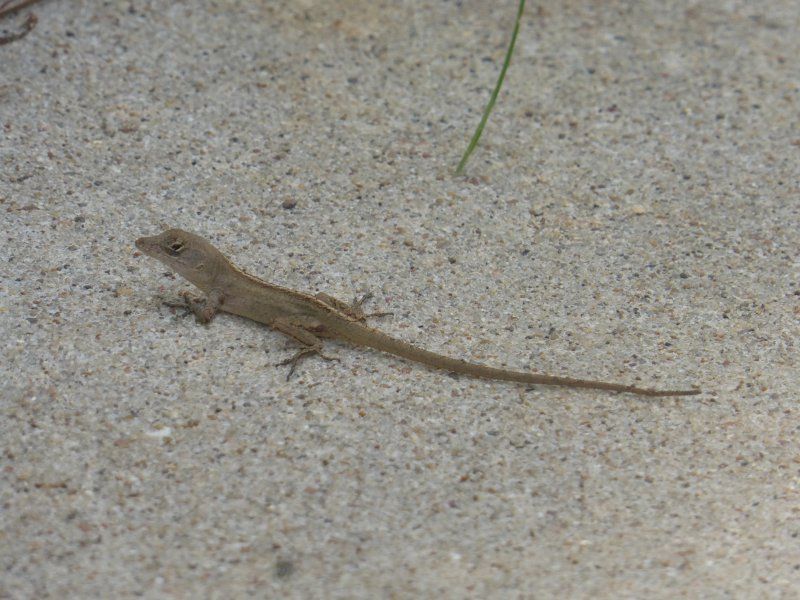 Forest: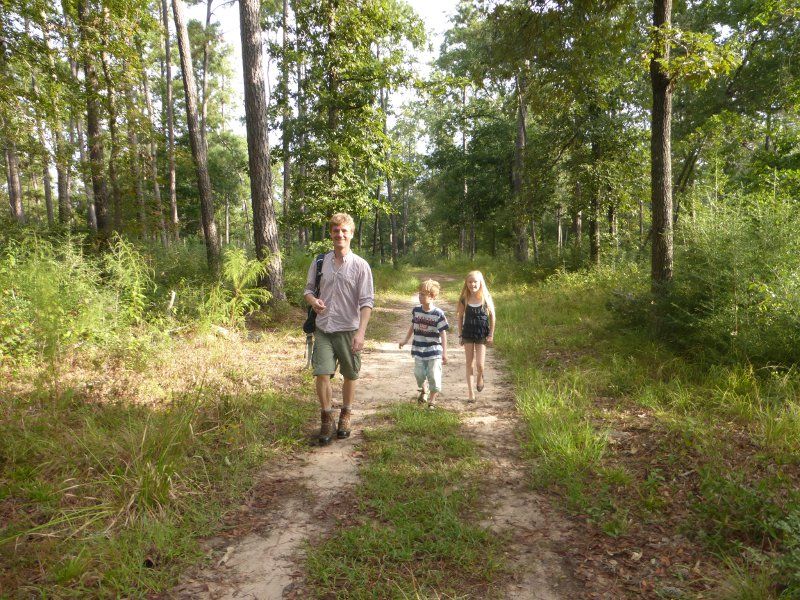 Apart from herps The Woodlands offered plenty of other wildlife, extraterrestrial planarians under the rocks in the garden, beautiful butterflies, impressive beetles, intriguing stick insects, lots of (for a foreigner) pretty and cool though exceedingly common birds (various herons, cardinals, vultures, etc.), raccoons, gray squirrels, bats, gray foxes, cottontails, etc. The most amusing wildlife encounter of the entire trip was delivered by a white tail deer, though, however sadly unphotographed.
As the name suggests The Woodlands is "a community carved into the forest" and they love to advertise it. One of their means of doing so is by this greeting as you enter.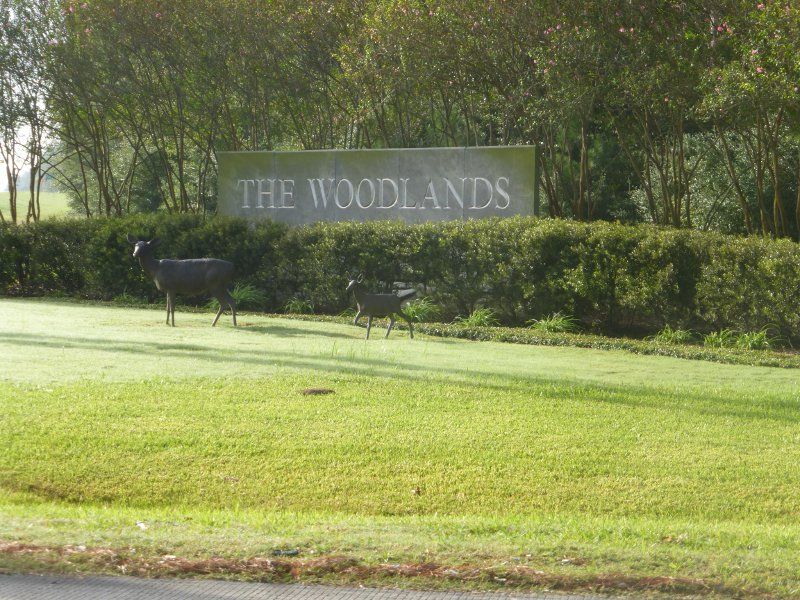 One morning we were headed for the freeway and as we stopped here at a red light a buck – conspicuously aroused – mounted his metallic female mate in an amazing and sincere tribute to the artist.
While we stayed at my sister's I also made time for two short evening trips a little to the north. The first produced a bunch of anurans and mammals, 3 DOR's (two very freshly hit of the supposedly abundant copperheads,
Agkistrodon contortrix
, one racer,
Coluber constrictor
) and finally, as activity seemed to be dying out a single live snake, perhaps my most wanted species of the entire trip, a beautiful Texas coral snake,
Micrurus tener
.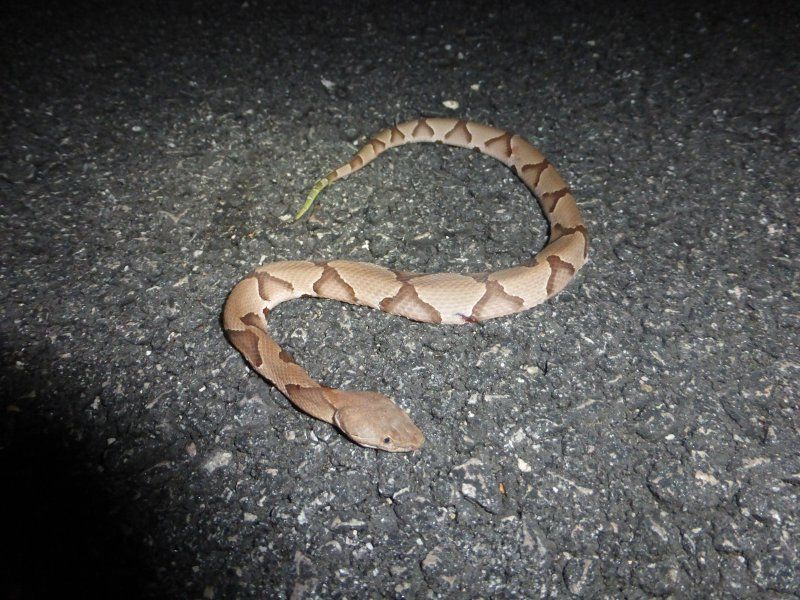 Spider families were plentiful as well.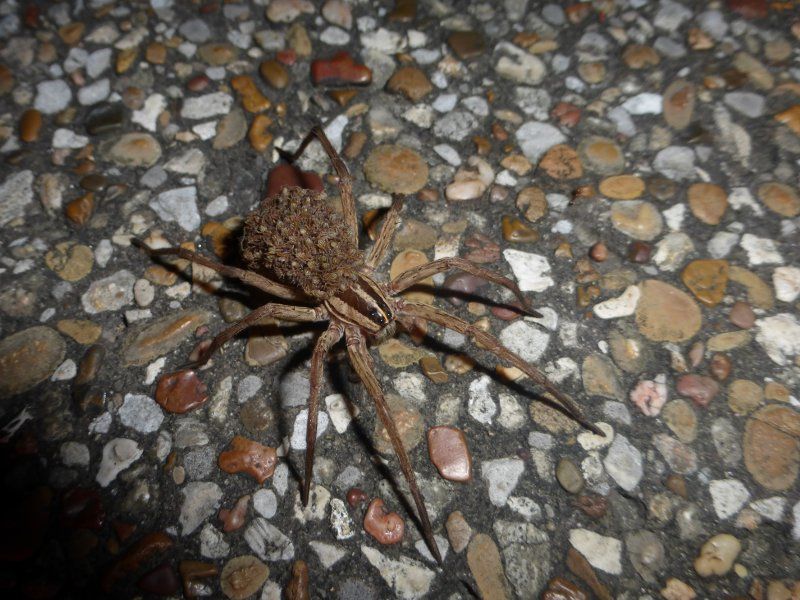 On my second outing I arrived some 20-30 minutes late due to surprisingly heavy traffic and a long detour courtesy of Montgomery County Police Deparment who had closed a road for reasons not obvious to us outsiders. At my destination I immediately came upon a DOR rough green snake,
Opheodrys aestivus
. Minutes later I passed a group of obvious herpers photographing something by the side of the road, a cute and highly desired pigmy rattlesnake,
Sistrurus miliarius
.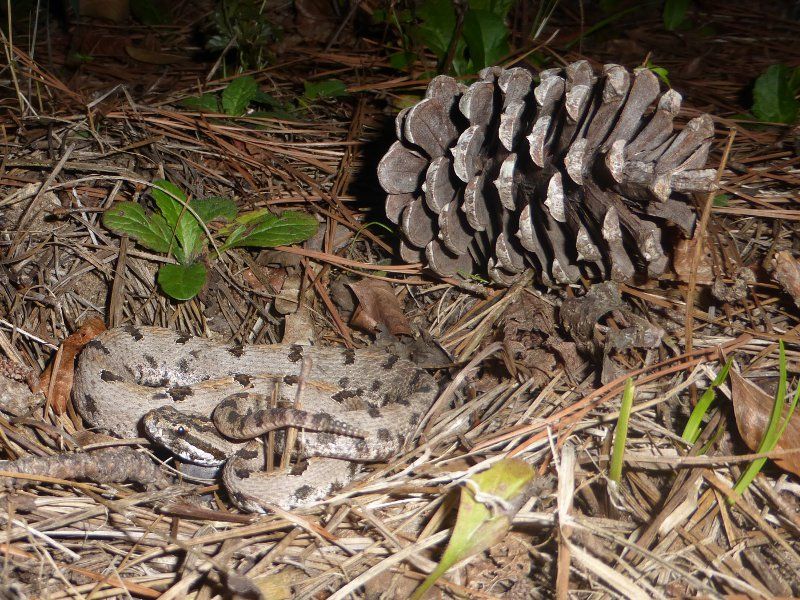 5 minutes before they had, of course, seen a large copperhead crossing the road. I saw no other snakes that night. Missing a live and well copperhead would prove one of the few genuine herpetological disappointments of the trip.
On Wednesday we embarked on a little two day trip. First stop was at Johnson Space Center then onwards to Galveston before we headed south along the coast where I spent Thursday morning flipping for western diamondback rattlesnakes,
Crotalus atrox
(my second most wanted), speckled king snakes,
Lampropeltis getula
and perhaps a coachwhip while my family hung out at the beach. Another disappointment the only snakes I saw were DOR (1 atrox, 1 king) and all I found under the AC was crickets and fire ants I could have done without.
Pelicans and cute fiddler crabs running around on the mud flats provided a little entertainment, though.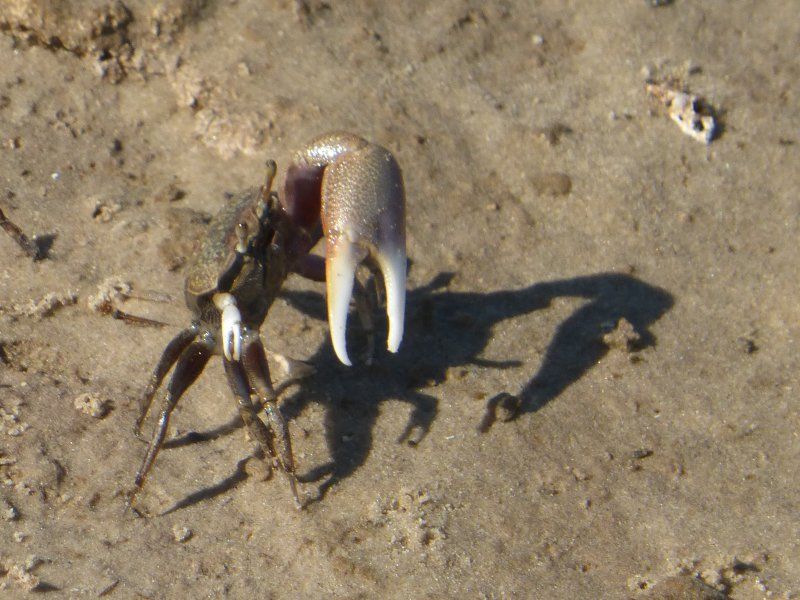 In the afternoon we went to Brazos Bend, saw a bunch of American alligators,
Alligator missisissippiensis
, the first of two spiny softshell turtles,
Apalone spinifera
(neither of which I managed to get a picture of), some nice birds and a few other common herps.
This looks like the right place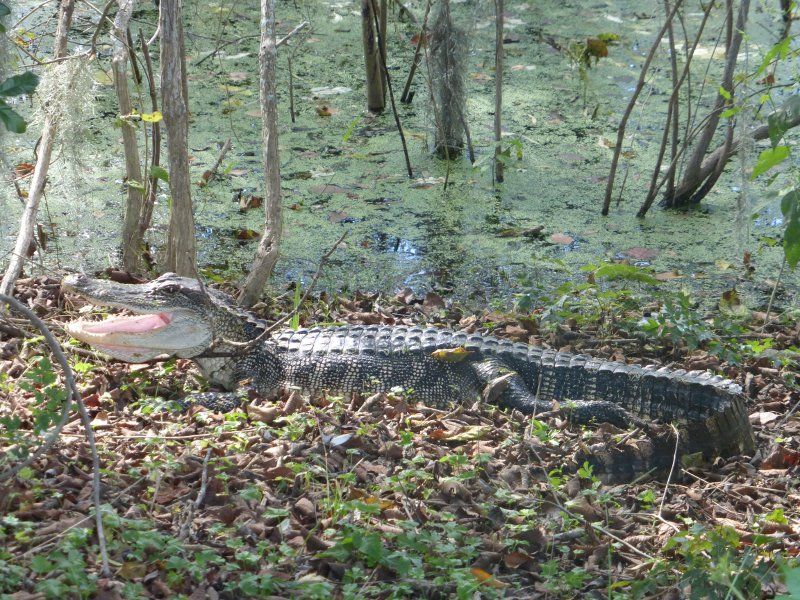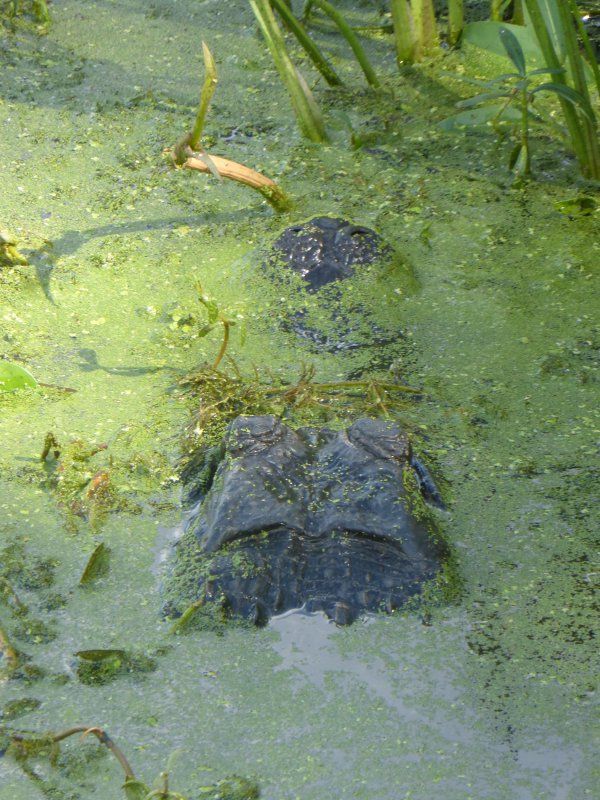 Friday was city time in Houston, Saturday another lazy day in The Woodlands.
On Sunday we drove west, headed for Big Bend. Following a stop in San Antonio we arrived Monday early in the afternoon. While in The Woodlands we spent a fair amount of time doing each our own thing and Brazos Bend was a dedicated herping (gator watching) stop this was a full time family trip and all herps were essentially incidental. I was pleased to see a few nice critters nonetheless
On our way into the park, going 70 mph in midday heat I suddenly had to break as I spotted this gorgeous, seemingly hypomelanistic, Sonoran gopher snake,
Pituophis catenifer
, basking in full sunshine on the shoulder of the road.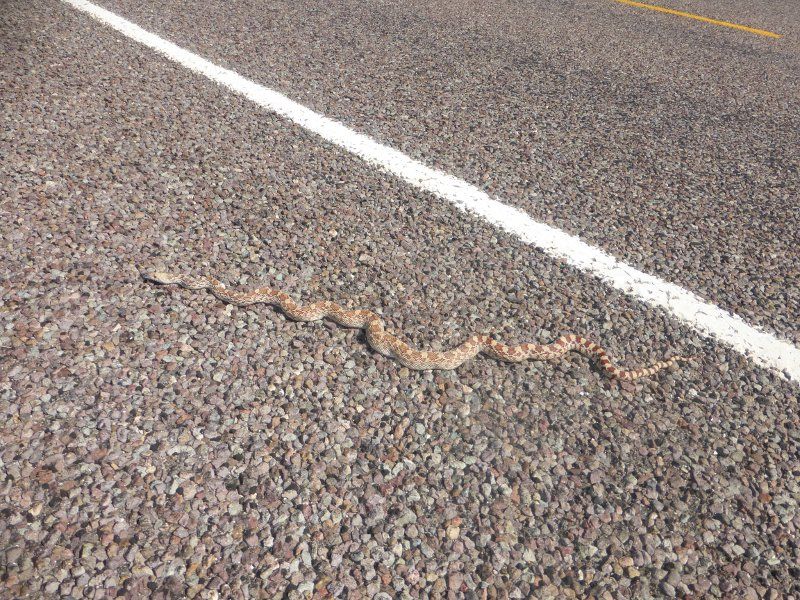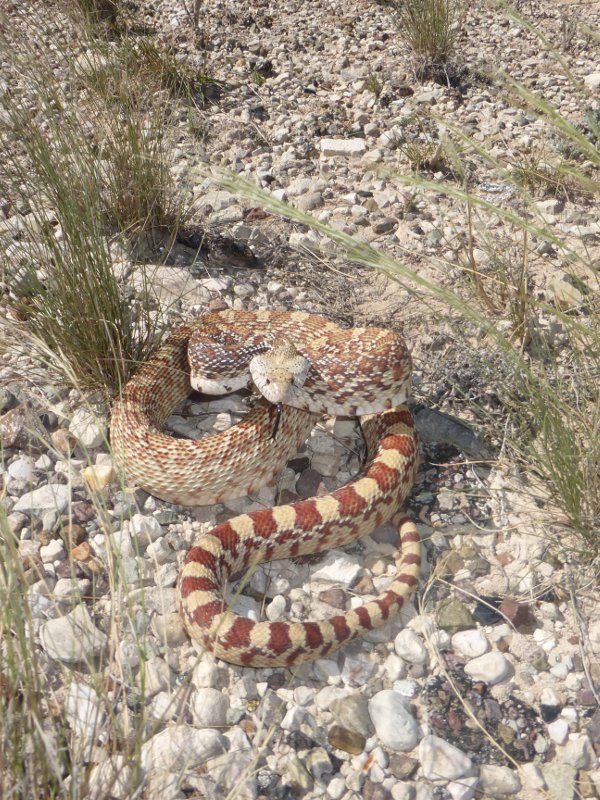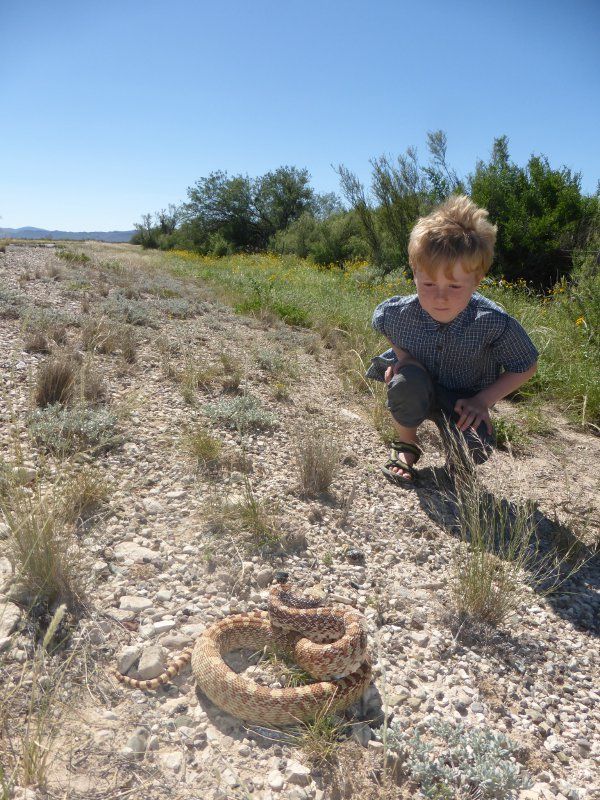 Inside the park, stunningly beautiful, the desert green and blooming after recent rains, the colours of the mountainsides everchanging with the setting sun of late afternoon, alongside roadrunners, flycatchers, butterflies, rock squirrels, jackrabbits, desert cottontails, mule deer and more we found a bunch of lizards, most of them at the same site down by the river. There were sideblotched lizards,
Uta stansburiana
, marbled whiptails,
Aspidoscelis marmoratus
, canyon lizards,
Sceloporus merriami
, twinspotted spiny lizards,
Sceloporus magister / bimaculosus
(whichever you choose, I haven't kept track of the taxonomical quibbles, and a jewel of a greater earless lizard,
Cophosaurus texanus
, found by Gustav.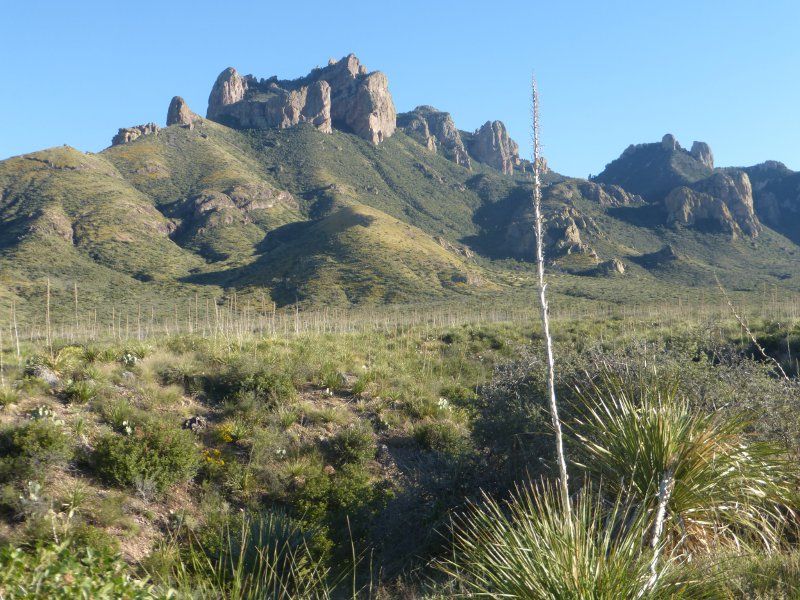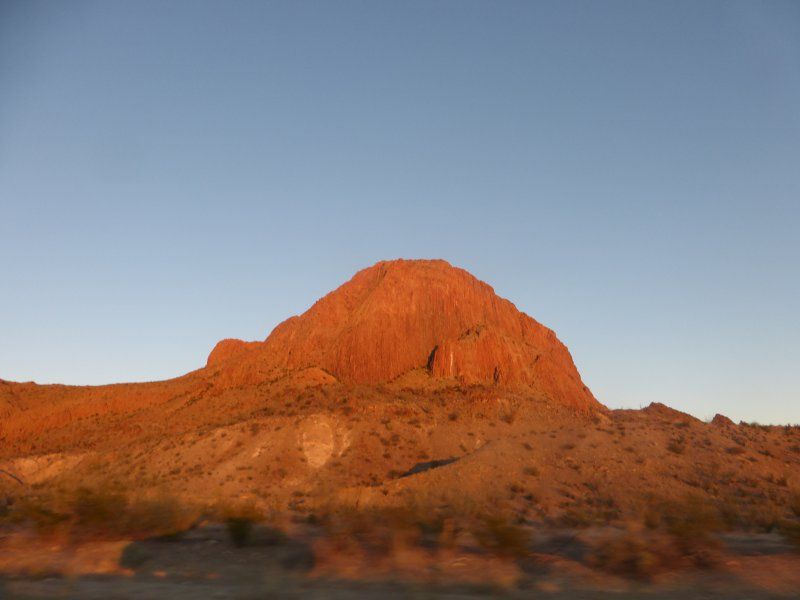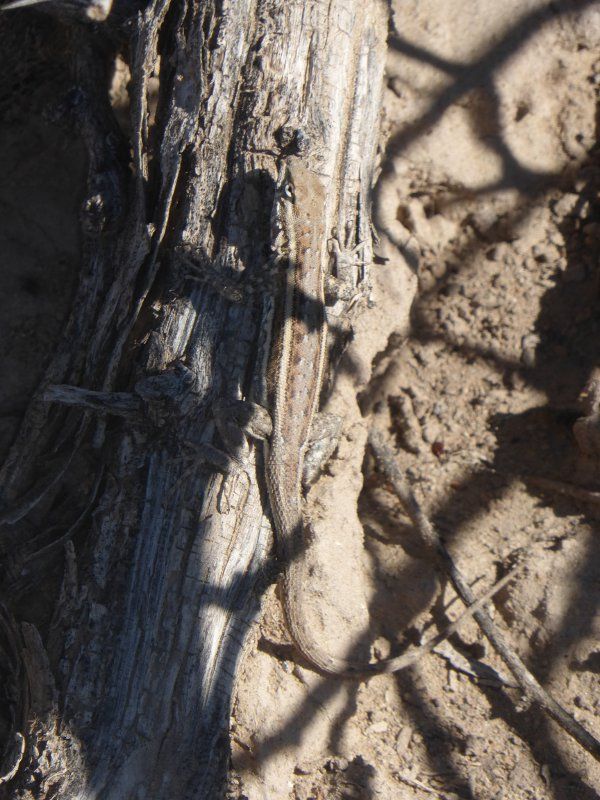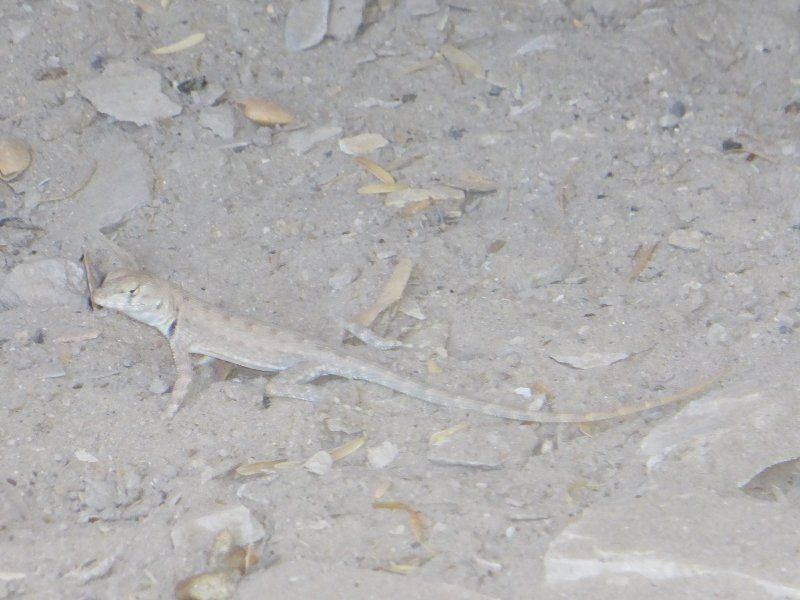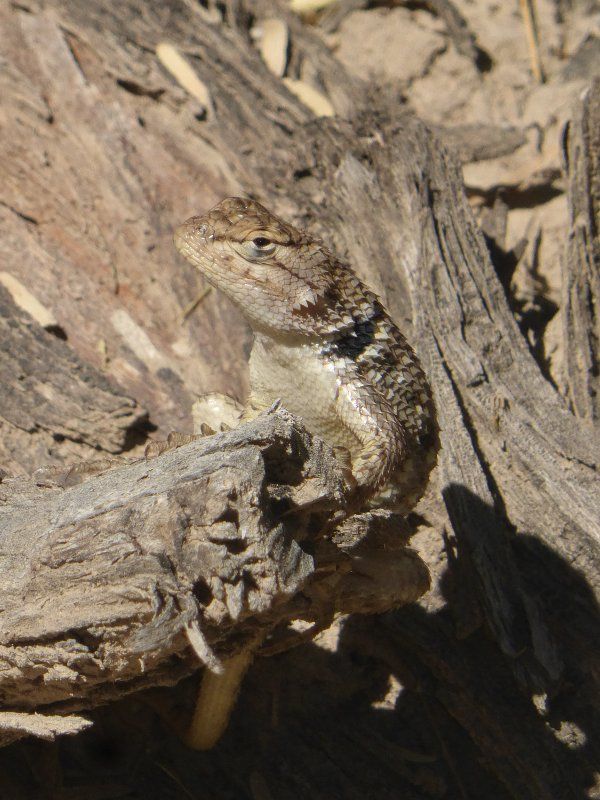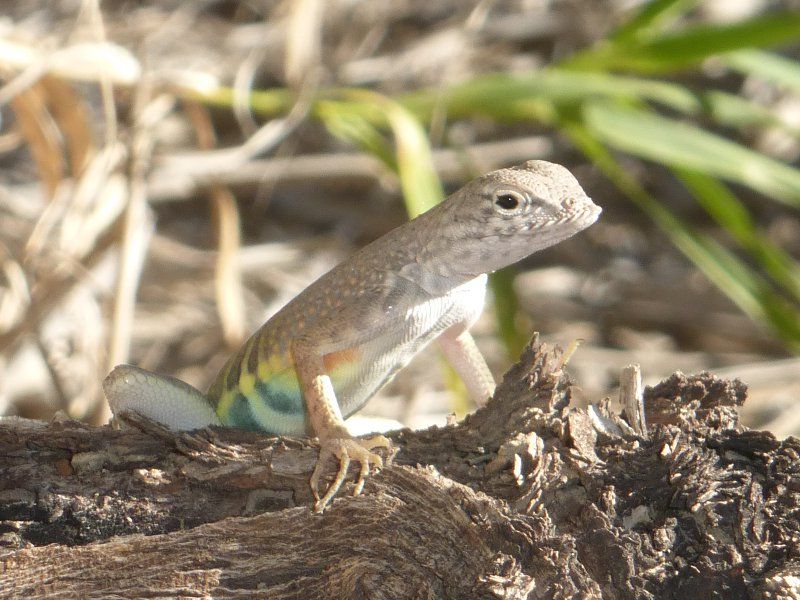 We drove on to Terlingua where we spent the night at a motel where the med geckos shared the walls with stick insects, mantids, solpugids and huntsmen. Next morning we had a nice breakfast at the Chili Pepper Cafe, talked to some interesting people and soaked up the desert atmosphere before driving back into the park. We went for another hike down by the river, saw more cool butterflies, stick insects, spiders, hummingbirds, and a couple of common checkered whiptails,
Aspidoscelis tessellatus
.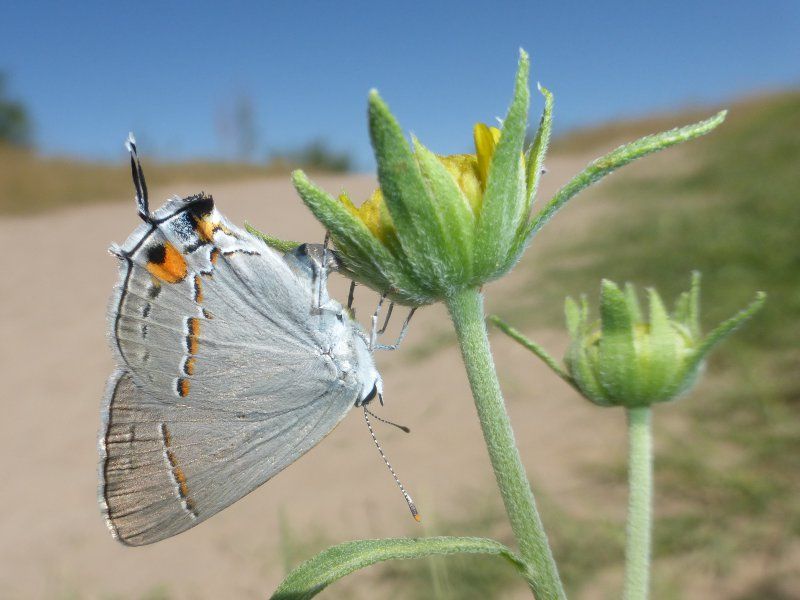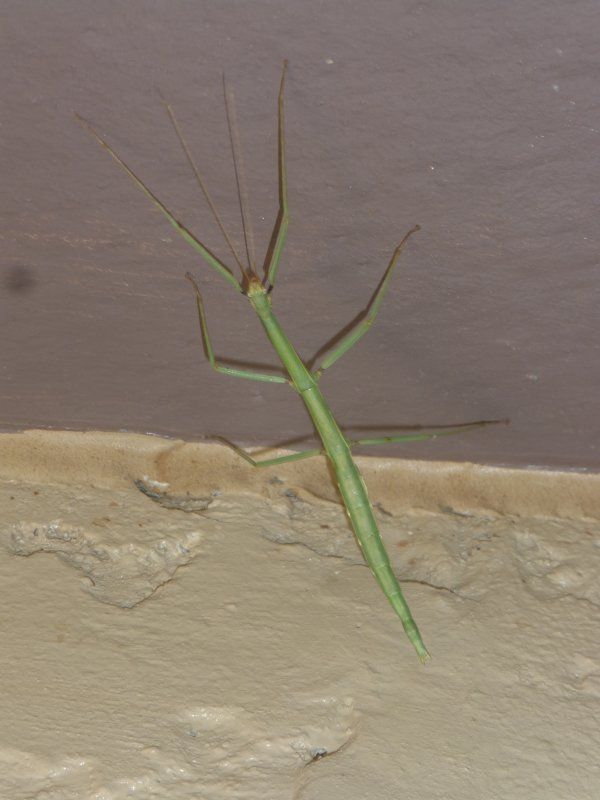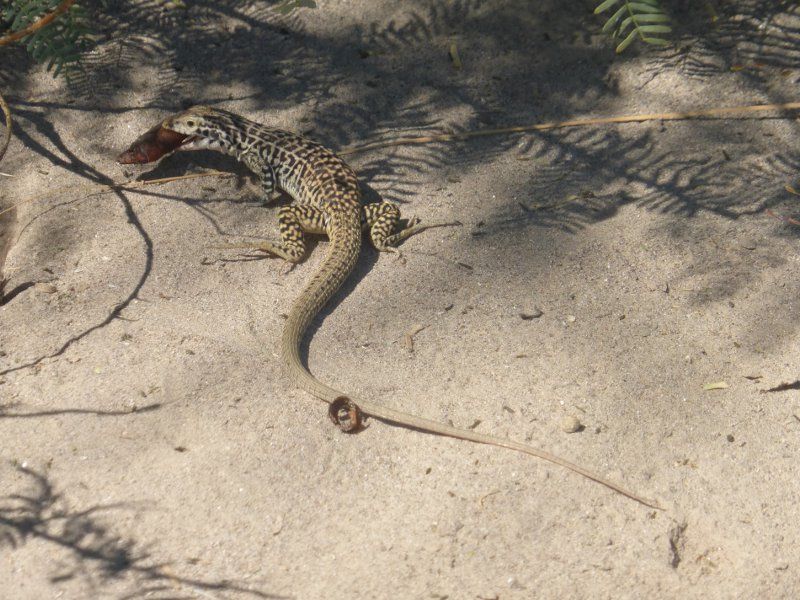 Along the way the path narrowed where the reed beds encroached on one side and the canyon wall efficiently blocked off the other. Right at the narrowest point we heard a loud buzz from the edge of the canes directly next to the path. Another party turned around but I grabbed a few pictures of the western diamondback rattlesnake who was kind enough to alert us to its presence, before moving onwards. The snake just stayed there, still rattling when we came back.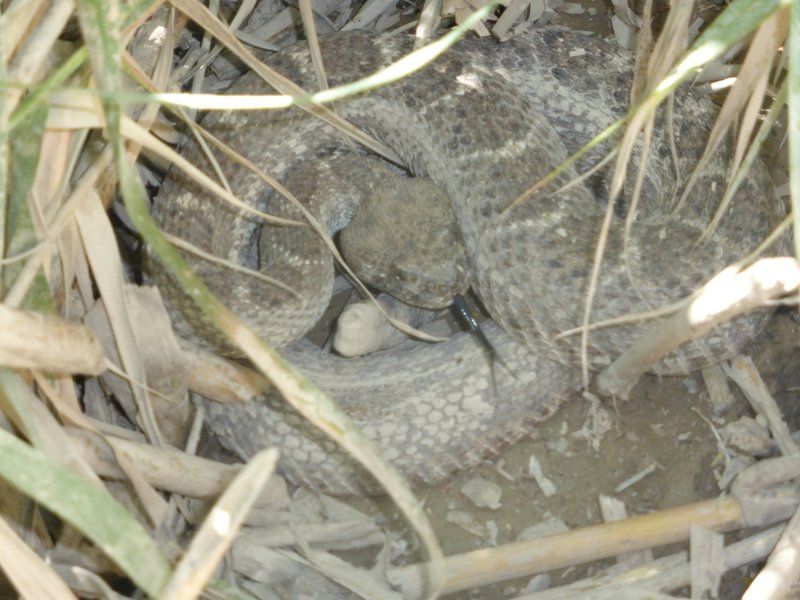 Driving back north we stopped for a view of the Mule Ears. We were approached by a professional photographer who asked if he could photograph our children. Since his shots are of course way better than mine I'm including them here though perhaps somewhat O/T. Photo credit goes to Jon B. Barry.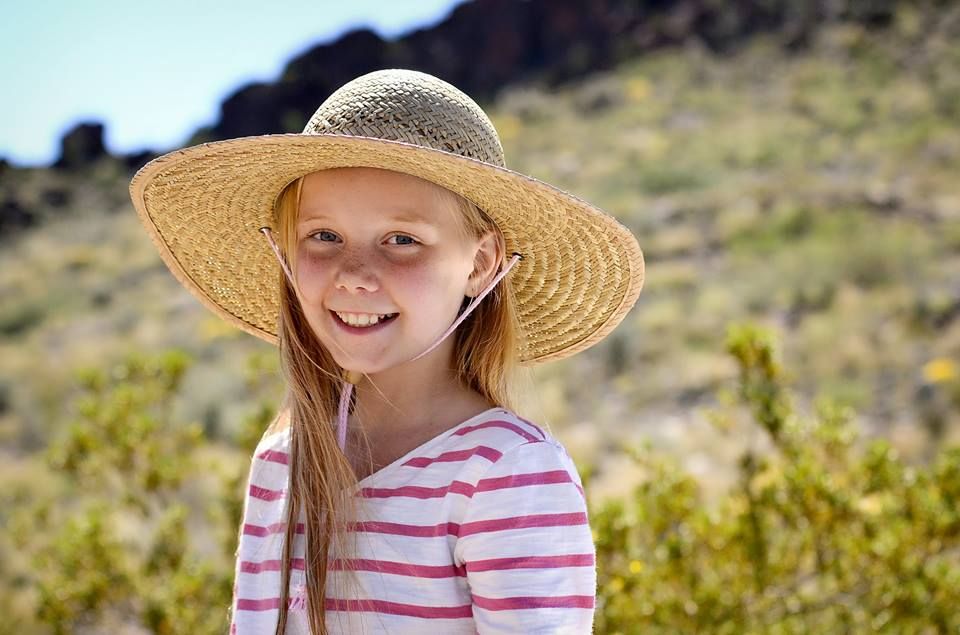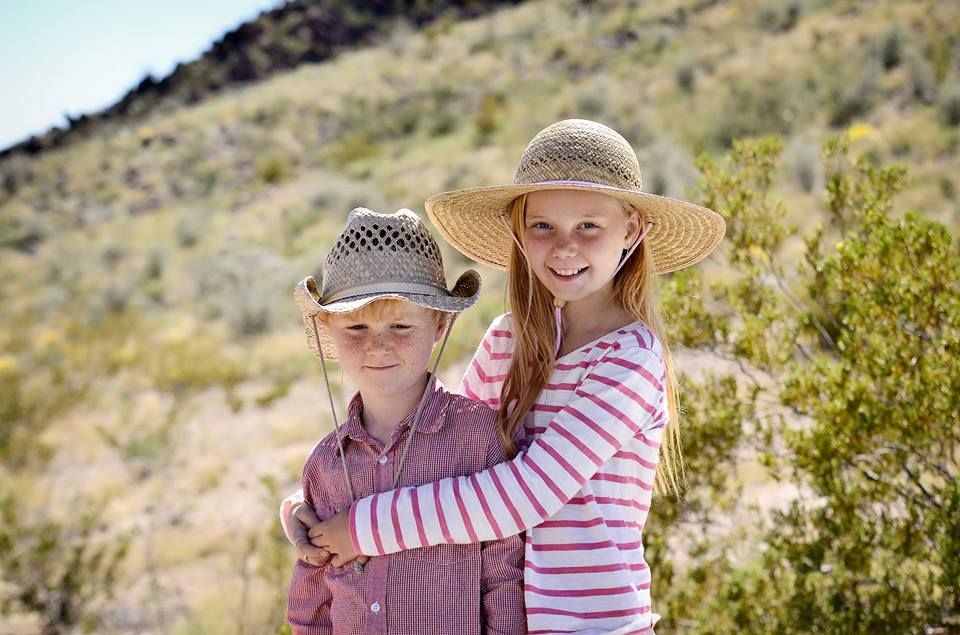 In the afternoon we went for a nice hike in the Chisos Mountains. Back at the visitors center this little fellow was walking around on the pavement.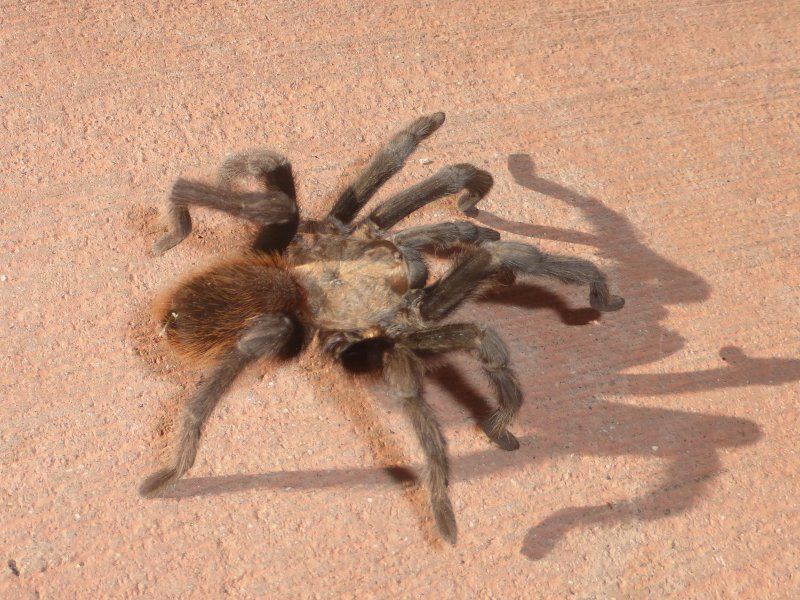 On our way back down we noticed two cars parked by the roadside, everyone outside with camera or binoculars pointed up the mountainside. The object of their attention turned out to be a young black bear.
Again, this must be the right place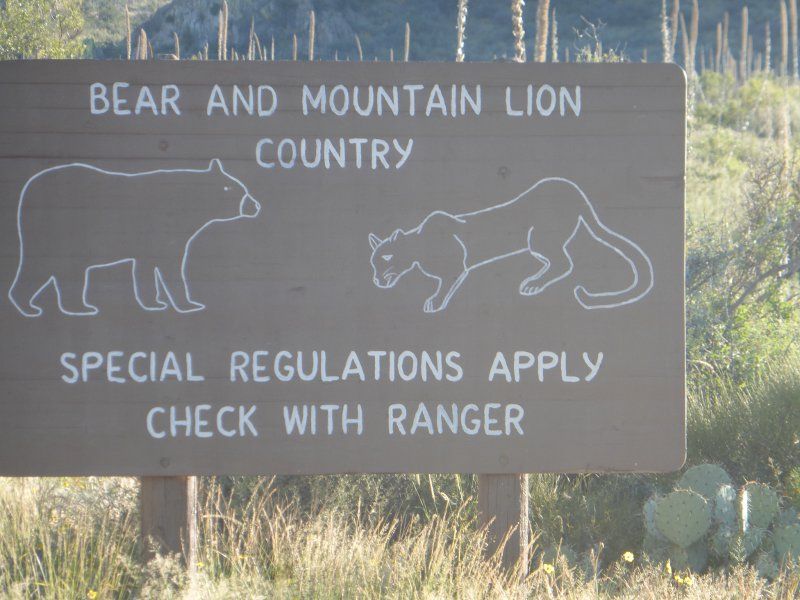 En route back to the motel after dinner at the Chili Pepper a large javelina crossed the road in front of the car. Traffic (a single car just behind us) didn't allow us to stop for pictures.
As it was a family outing I never really found the time to do any road cruising in west Texas. I went out Tuesday night but it was a little late and already getting cold. After just about an hour and a half of cruising and shining cuts seeing only a kangaroo rat, a pocket mouse and assorted inverts I called it quits to be rested for the next day.
Wednesday morning we went rafting on the river inside Big Bend Ranch State Park. Lining the banks were several Big Bend sliders,
Trachemys gaigae
, and a single spiny softshell. On the bank where we stopped for a snack Henriette eyed a red spotted toad,
Bufo punctatus
, jumping around. In keeping with the season a nice little beetle with a jack-o'-lantern thorax sat on a flower.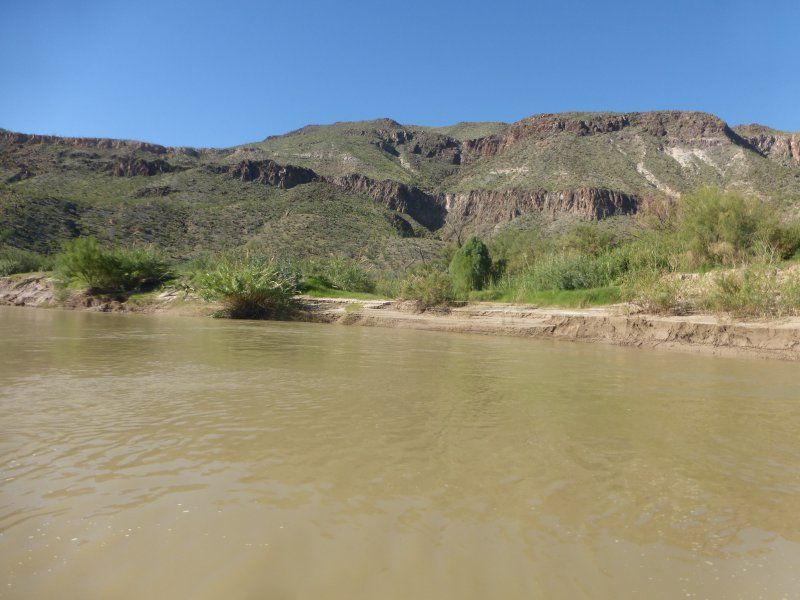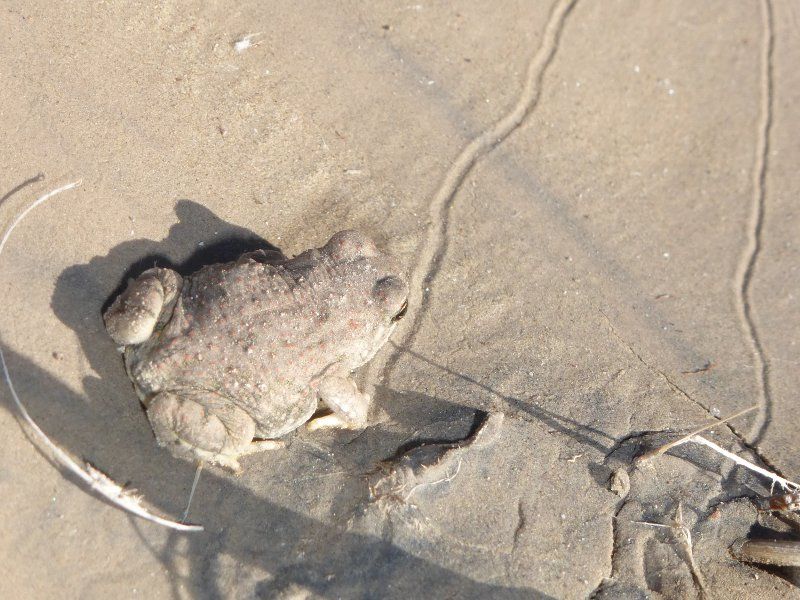 We spent the afternoon hiking in the Chisos again, enjoying spectacular views, beautiful flowers, butterflies and grasshoppers, but no herps.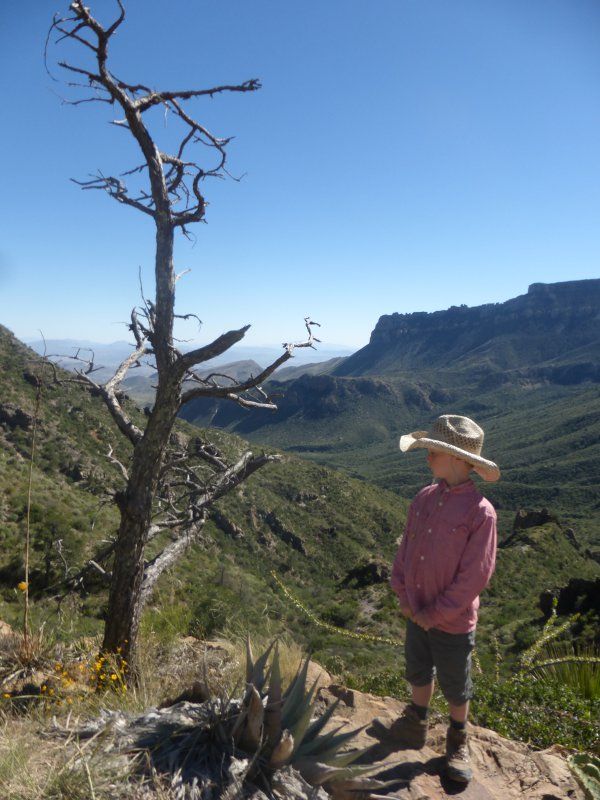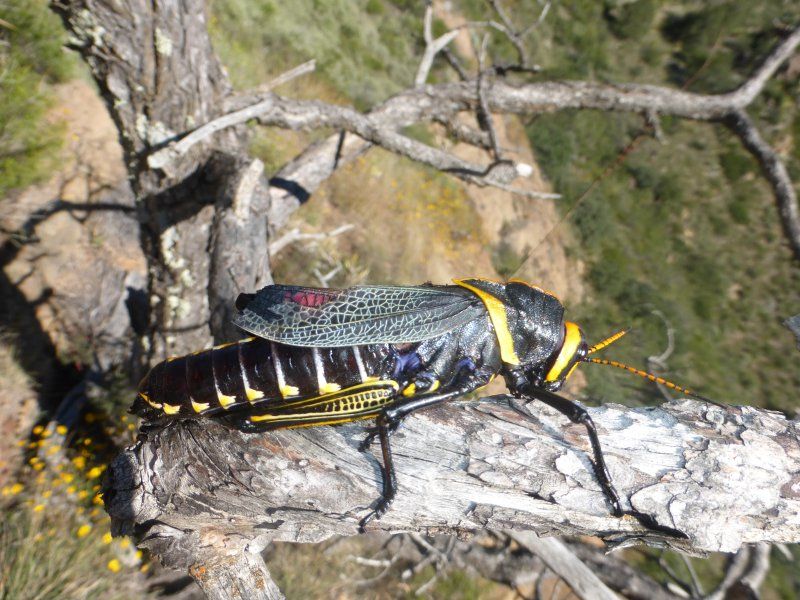 The night we spent at Marathon to have a slightly shorter drive back the next day. On our way out of the park a patchnosed snake crossed the road. I am almost certain it was a mountain patchnosed snake,
Salvadora grahamiae
, but sadly didn't get any pics. I'm still cursing over it as this was only due to my own camera clumsiness.
At the French Grocer in Marathon we met perhaps the greatest character of the whole trip, Brian, a fellow herper and muskogee creek veteran down from Quebec on his second transcontinental ride with his horse, mule and dog.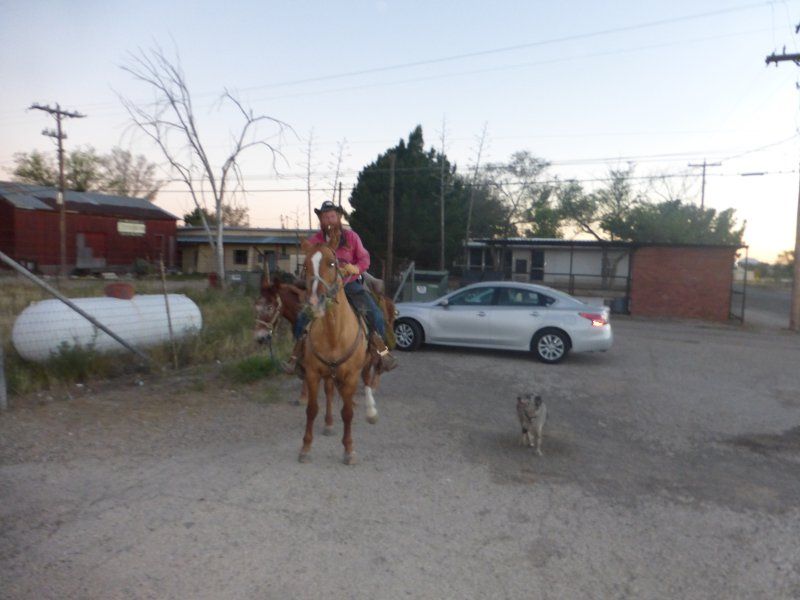 Back at The Woodlands we spent the last day and a half hanging out with my sister's family, shopping, cooking a farewell dinner for our hosts, and the like. On one last walk in the woods I found my final species for the trip, a central newt,
Notophthalmus viridescens
. All I have on offer for the sally lovers, I really should at least have gotten you a better pic (sorry, Laura).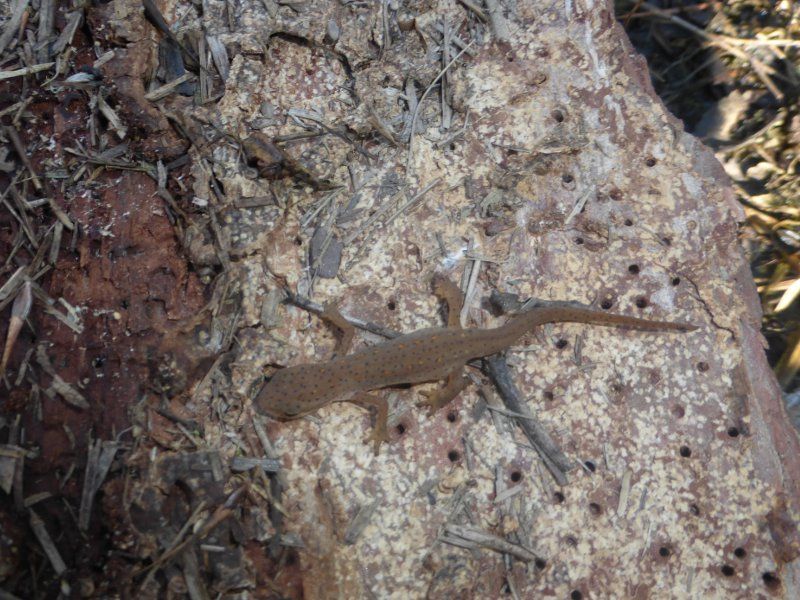 In conclusion we had a great trip, enjoyed seeing my sister and her family and getting a taste of their lives now, had some nice outings in eastern Texas and a wonderful trip to Big Bend. Herpwise, there were a few disappointments and I could probably have done better with a more dedicated effort but under the circumstances I am very pleased.
My crew: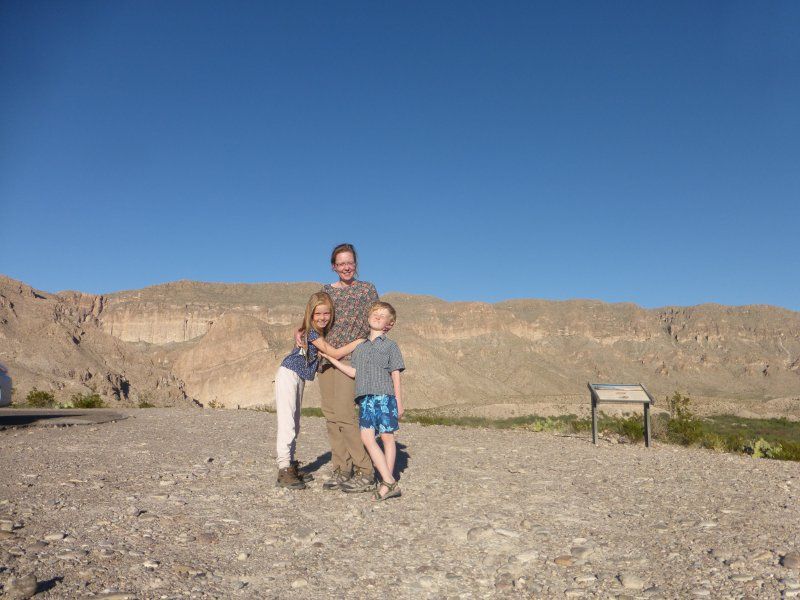 Species list:
Notophthalmus viridescens
1
Lithobates catesbeianu
s many
Lithobates clamitans
many
Lithobates sphenocephalus
many
Acris crepitans
many
Bufo valliceps
many
Hyla cinerea
3
Gastrophryne carolinensis
2
Bufo punctatus
1
+ unidentified calling frogs of at least one other species, probably two
Alligator missisissippiensis
16+
Trachemys scripta
many
Trachemys gaigae
~15
Apalone spinifera
2
Chelydra serpentina
1 (+1 DOR)
Scincella lateralis
many
Uta stansburiana
many
Aspidoscelis marmoratus
many
Hemidactylus turcicus
~20
Anolis carolinensis
~10
Sceloporus magister
~10
Anolis sagrei
5+
Aspidoscelis tessellatus
5+
Plestiodon fasciatus
2
Sceloporus merriami
1
Cophosaurus texanus
1
Thamnophis proximus
4
Storeria dekayi
2
Nerodia fasciata
2
Pituophis catenifer
1 (+1 DOR)
Crotalus atrox
1 (+1 DOR)
Nerodia erythrogaster
1
Salvadora grahamiae
1
Micrurus tener
1
Sistrurus miliarius
1
Ophidia sp.
1
DOR only:
Agkistrodon contortrix
2 (1 still twitching)
Coluber constrictor
1
Opheodrys aestivus
1
Lampropeltis getula
1
Pantherophis obsoletus
1
Bogertophis subocularis
1
unidentified several