On my previous trip to this area of the Western Cape in February was quite a different experience, in February the weather was hot, dry and relatively quiet on the reptile front with hours spent in the field offering very little rewards. This time around thankfully was a vastly different experience. Earlier in the year I purchased a few tickets on a Flysafair third birthday sale for R3(inclusive each way) no strings attached so a round trip to Cape Town cost R6.00 you can't even buy a bottle of water for that price - let alone a bottle of water on a flight. Although buying tickets that far in advance has it's down side...a week before my trip I was reminded about the flights. Usually, meticulous planning is my thing, from times, dates, kilometres and even the animals I'd plan on seeing this time was a little different. Fortunately, good friend Andries Cilliers who's based in Durbanville in the Northern Suburbs of Cape Town is always up for a quick trip and we made some last minute accommodation plans and it was set.
After arriving at a rather cold and damp Cape Town, we didn't waste much time and set out to photograph some Cape Dwarf Chameleons in the nearby hedges and ivy covered walls around where Andries stays. Much like most of the Dwarf Chameleons around South Africa they're incredibly well adapted to thrive in suburban environments and in well-planted gardens and hedge rows these secretive animals can be plentiful, although they're heavily affected by domesticated cats. Some light rain and low temperatures didn't prove a damper on our search and we turned up 5/6 Cape Dwarf Chameleons in quick succession.
Bradypodion pumilum
- Cape Dwarf Chameleon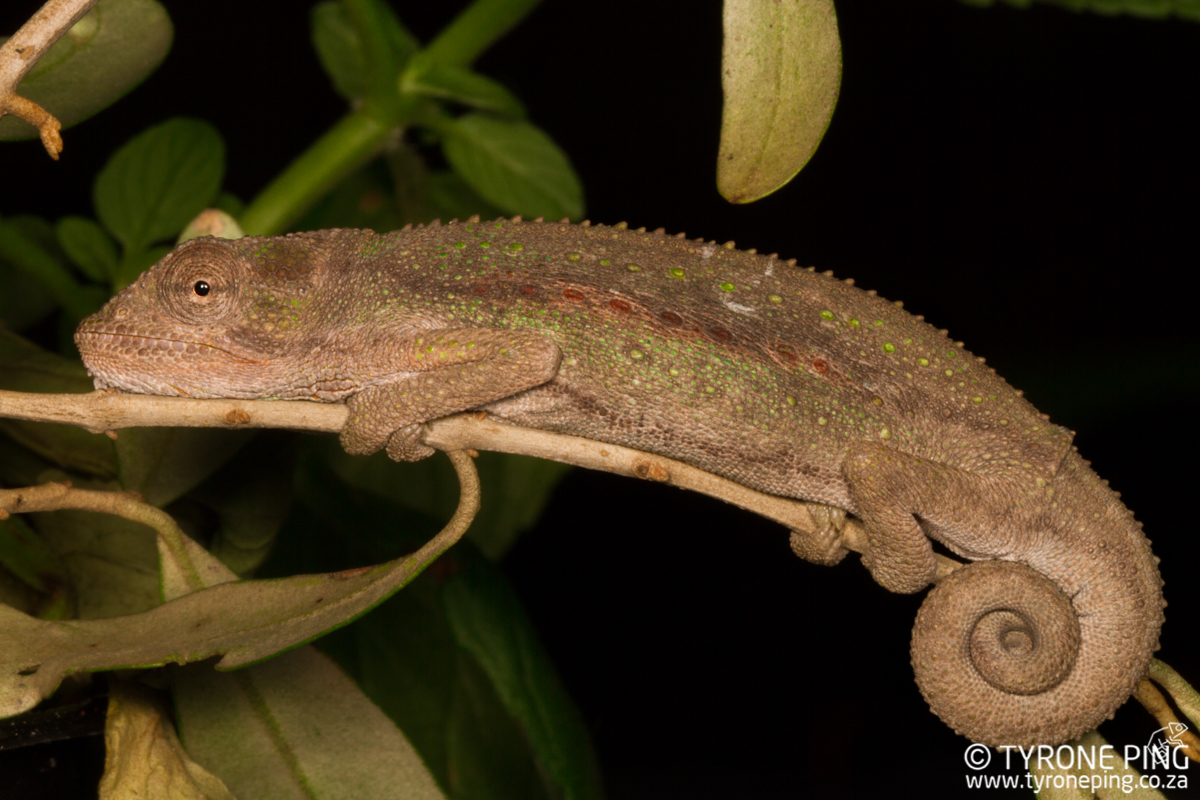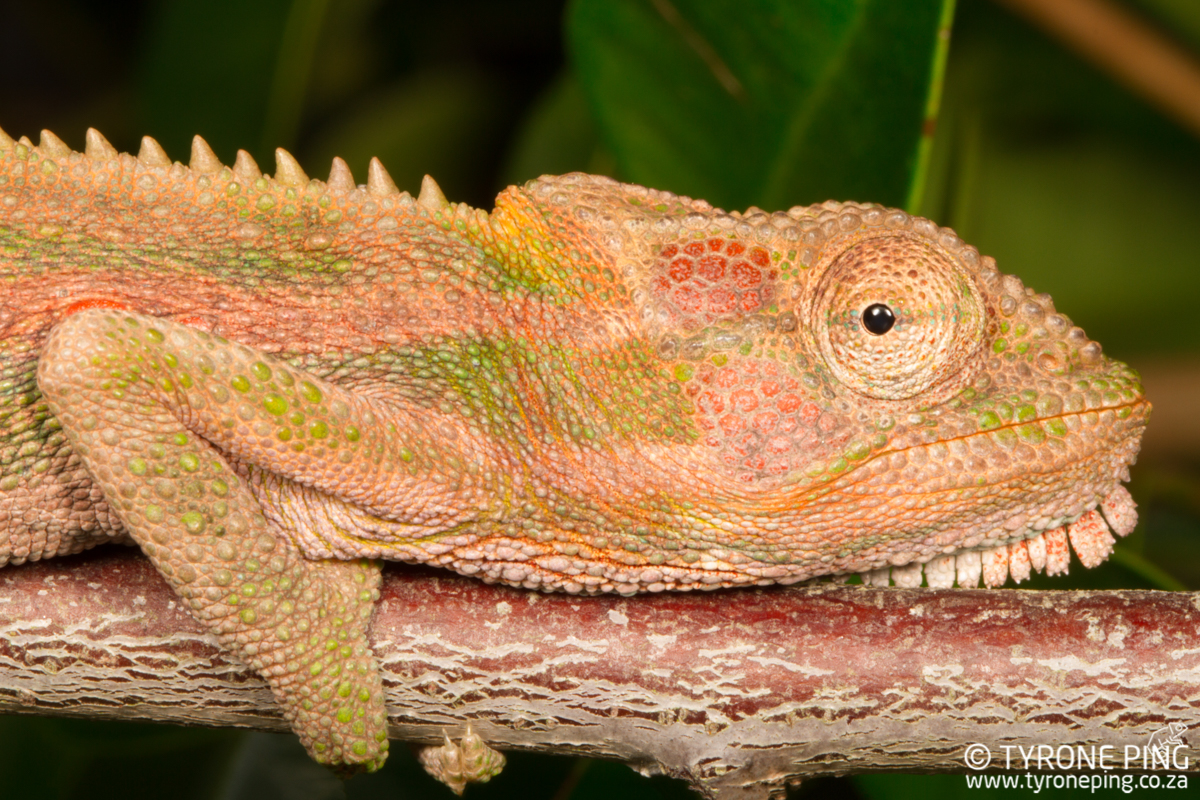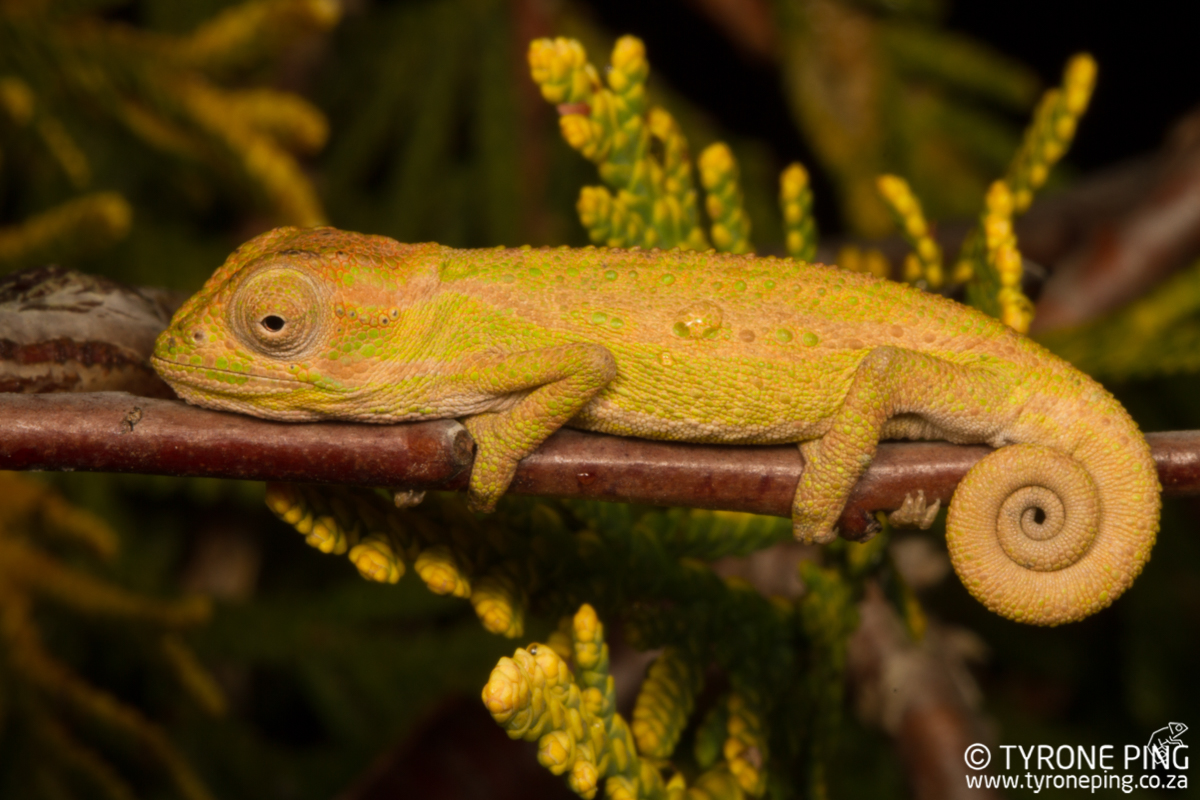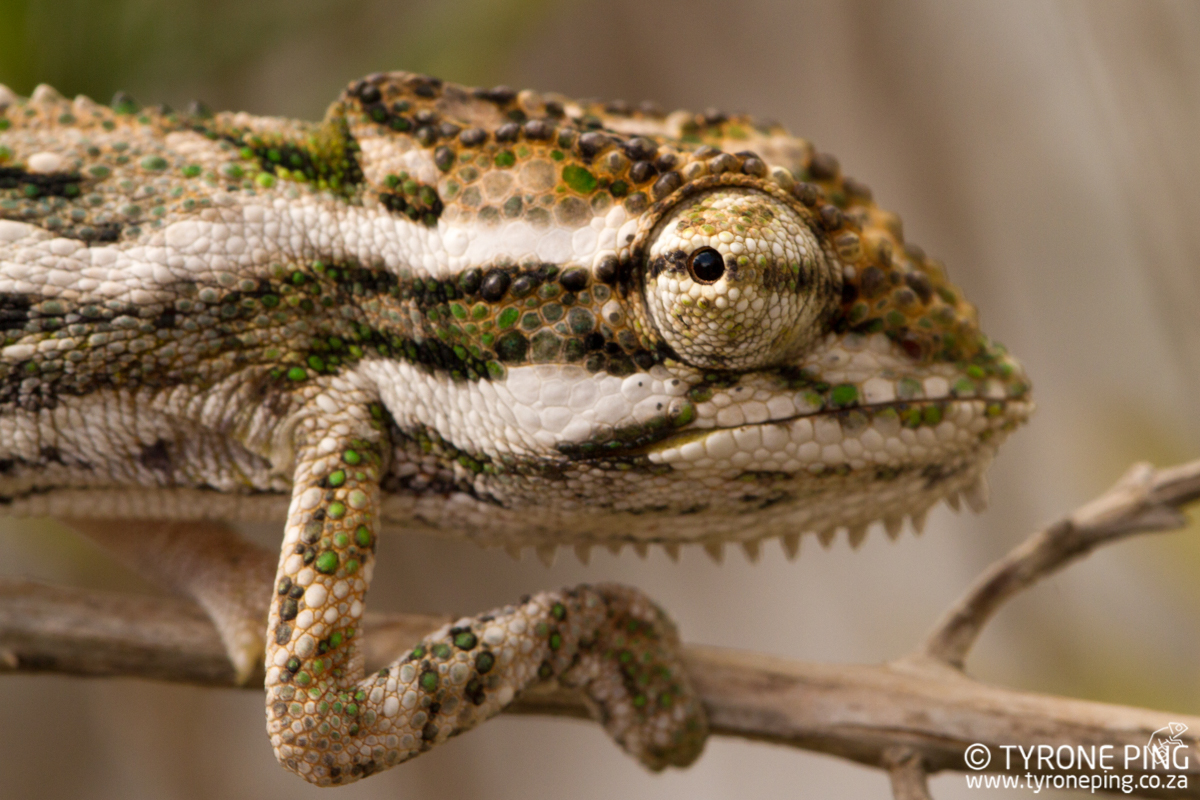 Some other tree dwelling animals
Afrogecko porphyreus
- Marbled lead-toed Gecko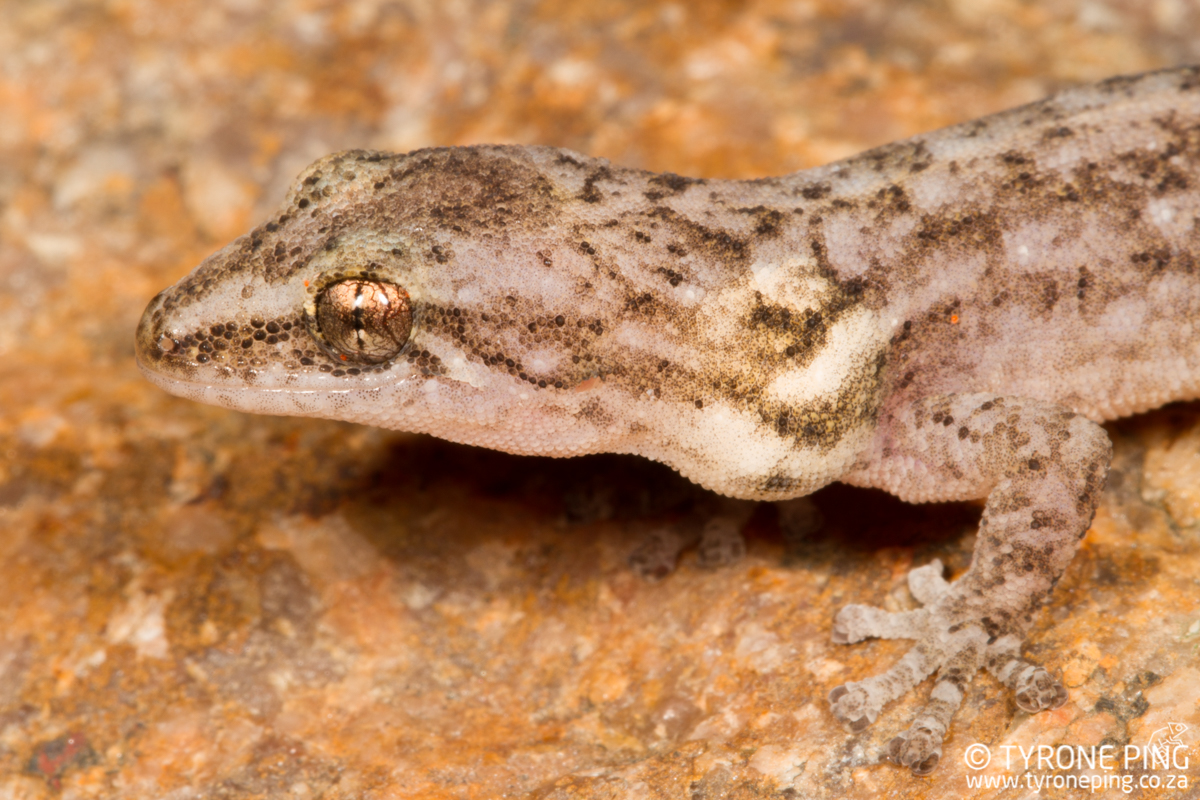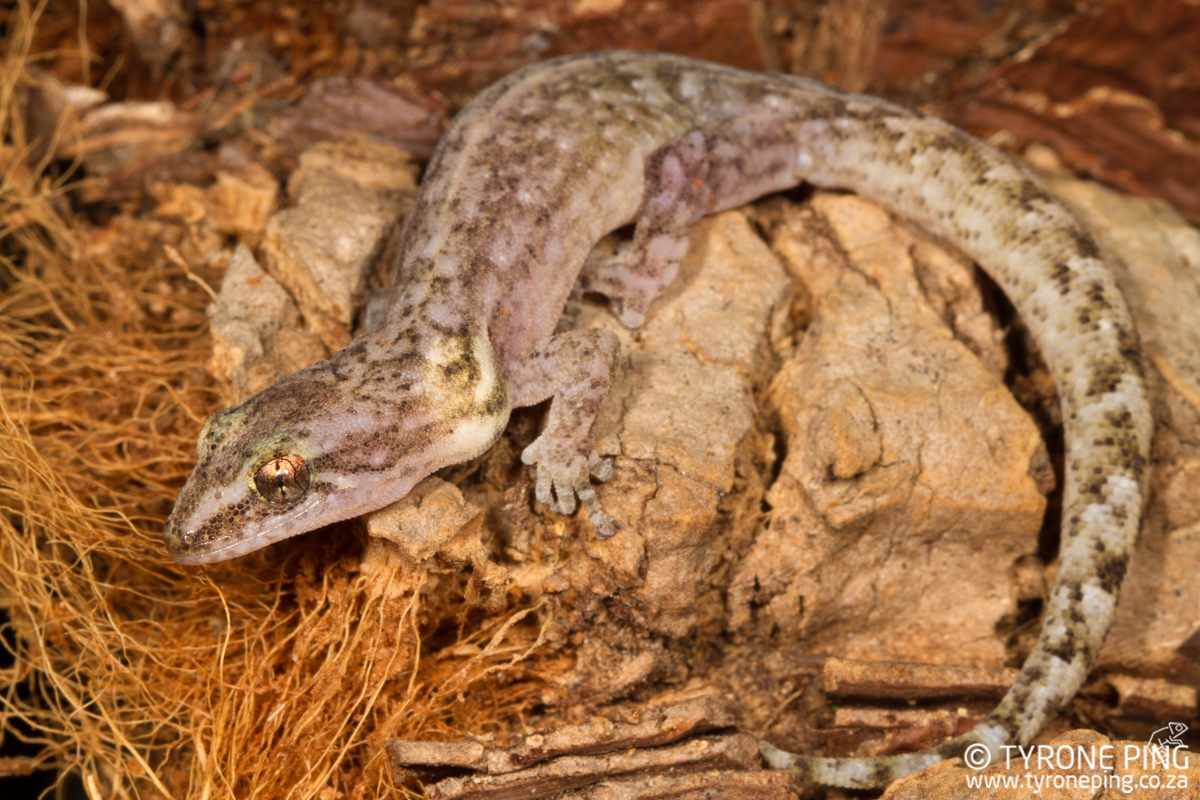 With a major tick on my list for the trip already done within the first two hours of the trip I couldn't complain about that. After a few more photos we started to plans for Saturday morning where we'd meet with another friend Theo and we would make our way to the West Coast National Park our last visit proved to be a bit under whelming with the prolonged periods without rain had certainly kept the reptiles in short supply. We were hoping tomorrows trip would be different.
We left Durbanville at around 7am still dark and driving through heavy mist, I was hoping this wouldn't be set the tone for the day. Around 125kms later we had reached out destination and hopefully going to make a success of it.
Trachylepis capensis
- Cape Skink
http://www.tyroneping.co.za/wp-content/ ... 17WM-2.jpg
In this particular are it's known to be a great spot for the Namaqua Rain Frog (Breviceps namaquensis) but sadly we couldn't see them get it it right. Being in the right habitat, with the right conditions but finding a frog the size of a brusselsprout is altogether another thing. Although we manages to find two other frogs in the same niche habitat as the Rain Frogs so the time searching wasn't totally in vain. Along with the two Cape Sand Frogs and some Dwarf Burrowing Skinks.
i]Tomopterna delalandii[/i] - Cape Sand Frog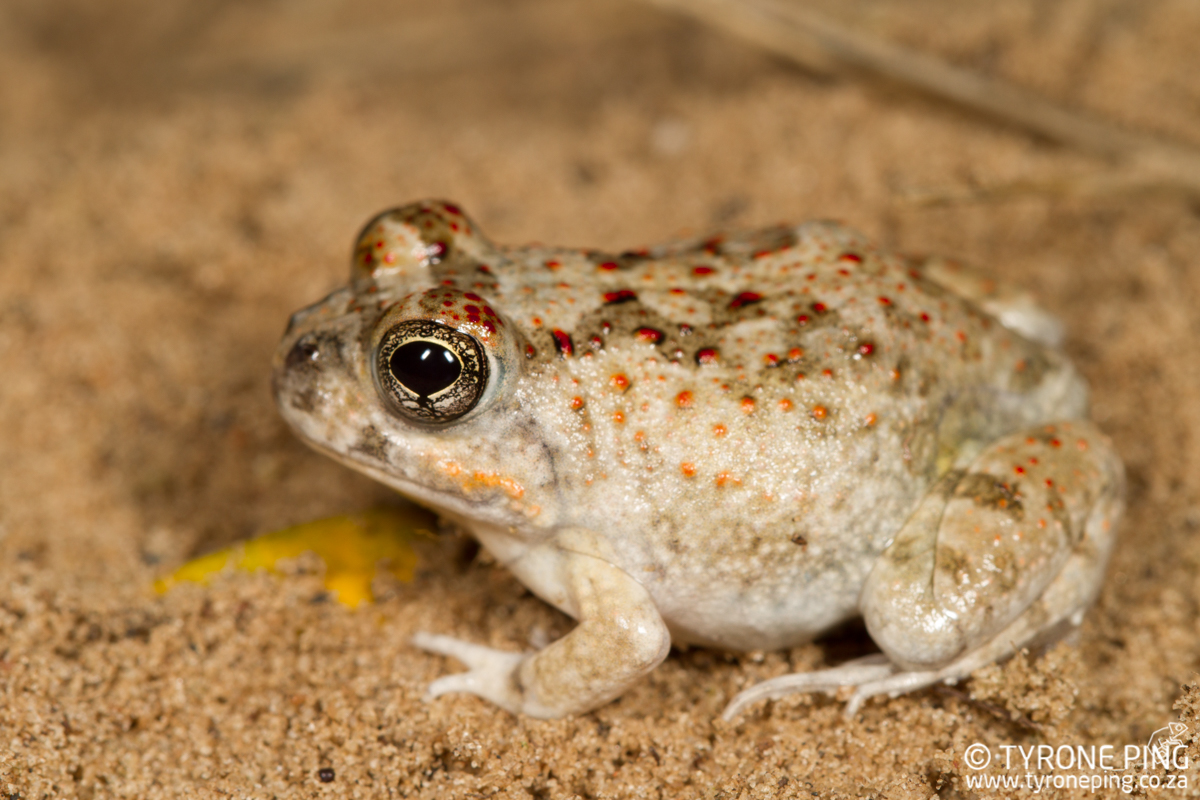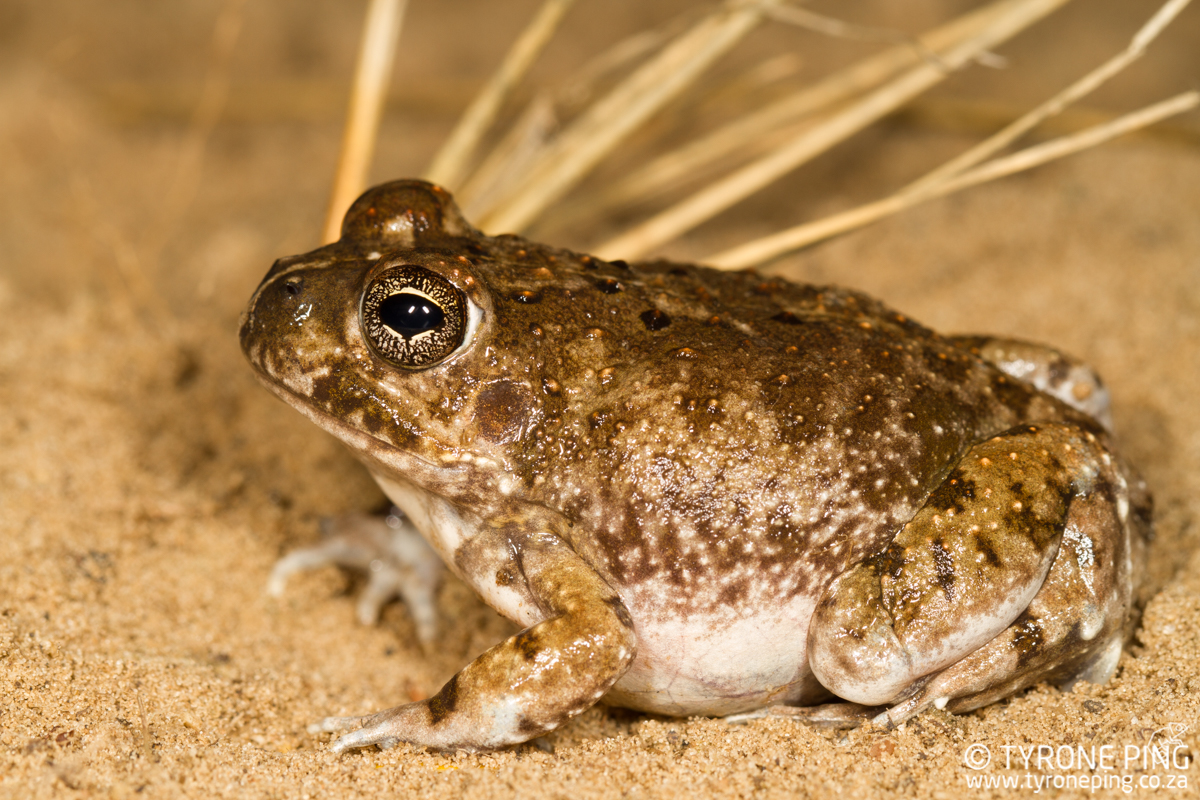 Pachydactyus getjie
- Occelated Gecko
http://www.tyroneping.co.za/wp-content/ ... 017_WM.jpg
Acontias meleagris
- Cape Legless Skink
Now after most of the morning has lapsed and the sun had come out in force we headed over to Geelbek restaurant for lunch and replenish ourselves as we still had a another good two or three spots to check out and a number of species still to see in the reserve and hopefully a few more photos to take. We all had a surprisingly good lunch although as usual the Sanparks facilities in a lot of the Western Cape parks seldom disappoint.
We made our way closer to the large coastal dunes where you can often see whales just over the breakers on occasion flanked by dolphins. Not a bad place to scratch around for some reptiles and take in the sights and sounds of the West Coast. I've been to this spot a good few times and have seldom been disappointed and more often than note being quite successful here, this time seemed no different. Andries spotted a "lizard" and clambered over some rocks and had found out first reptile at this point – which was in fact a new species for him (myself included!)
Cordylus macropholis
- Large Scaled Girdled Lizard
Dasypeltis scabra
- Rhombic Egg Eater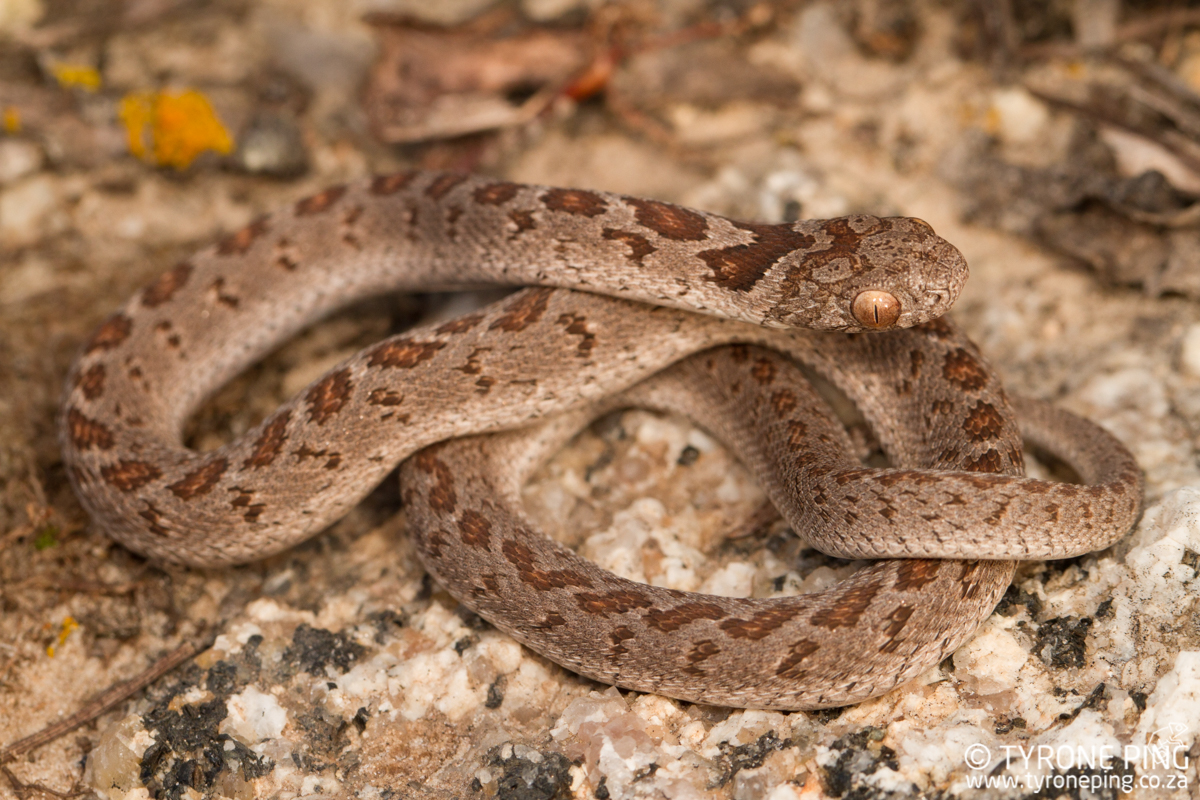 Rhinotyphlops lalandei
- Delalande's beaked blind snake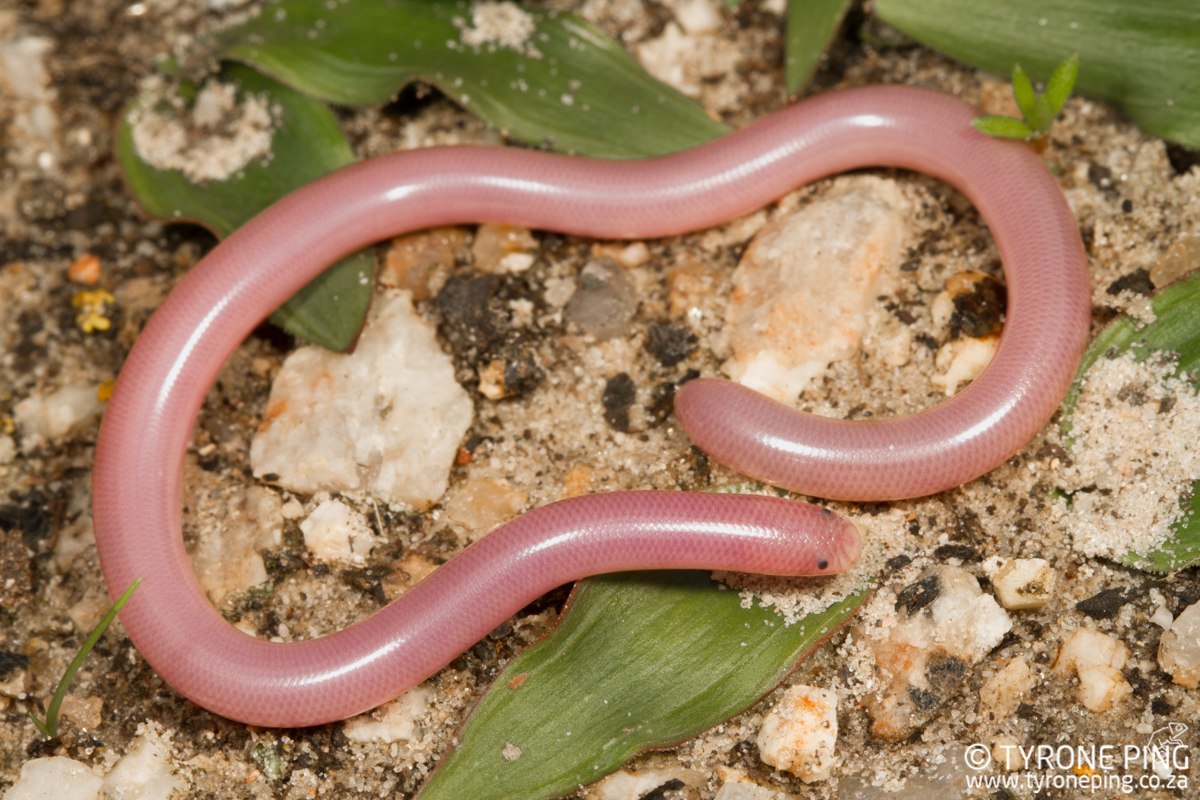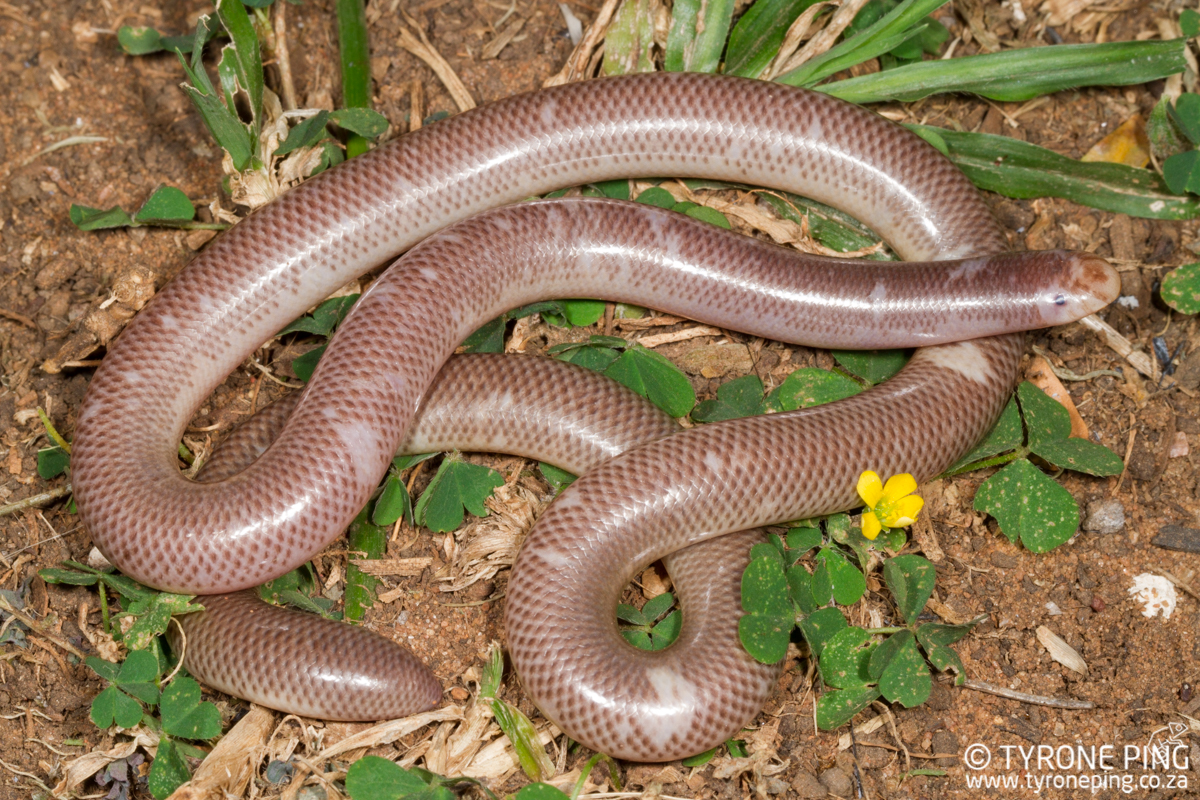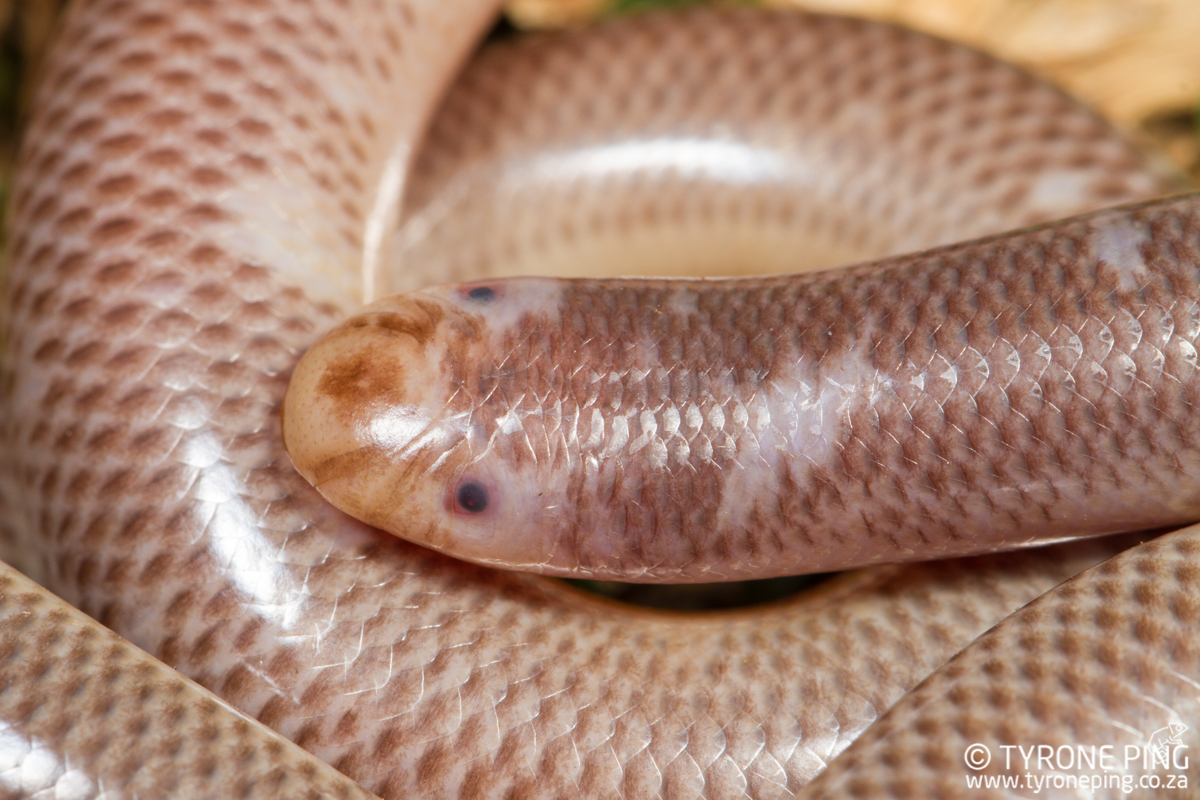 Goggia lineata
- Pygmy Striped Gecko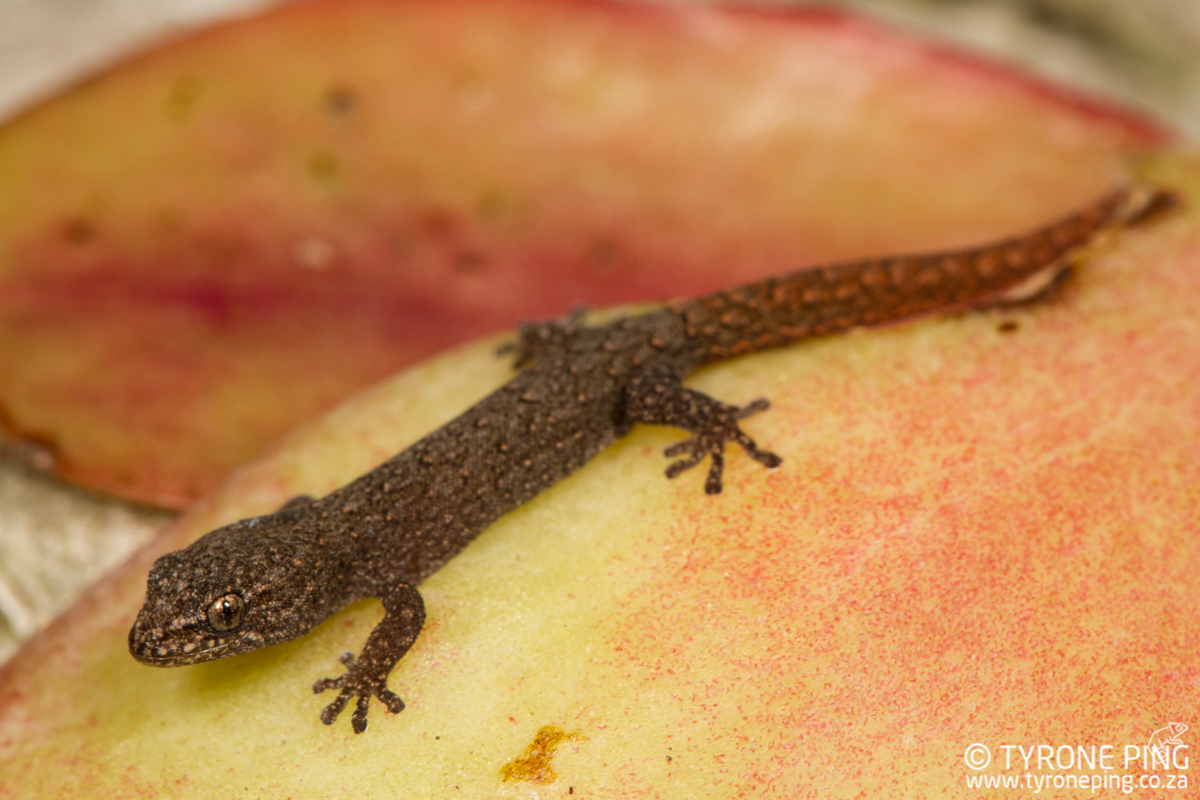 Homoroselaps lacteus
- Spotted Harequin Snake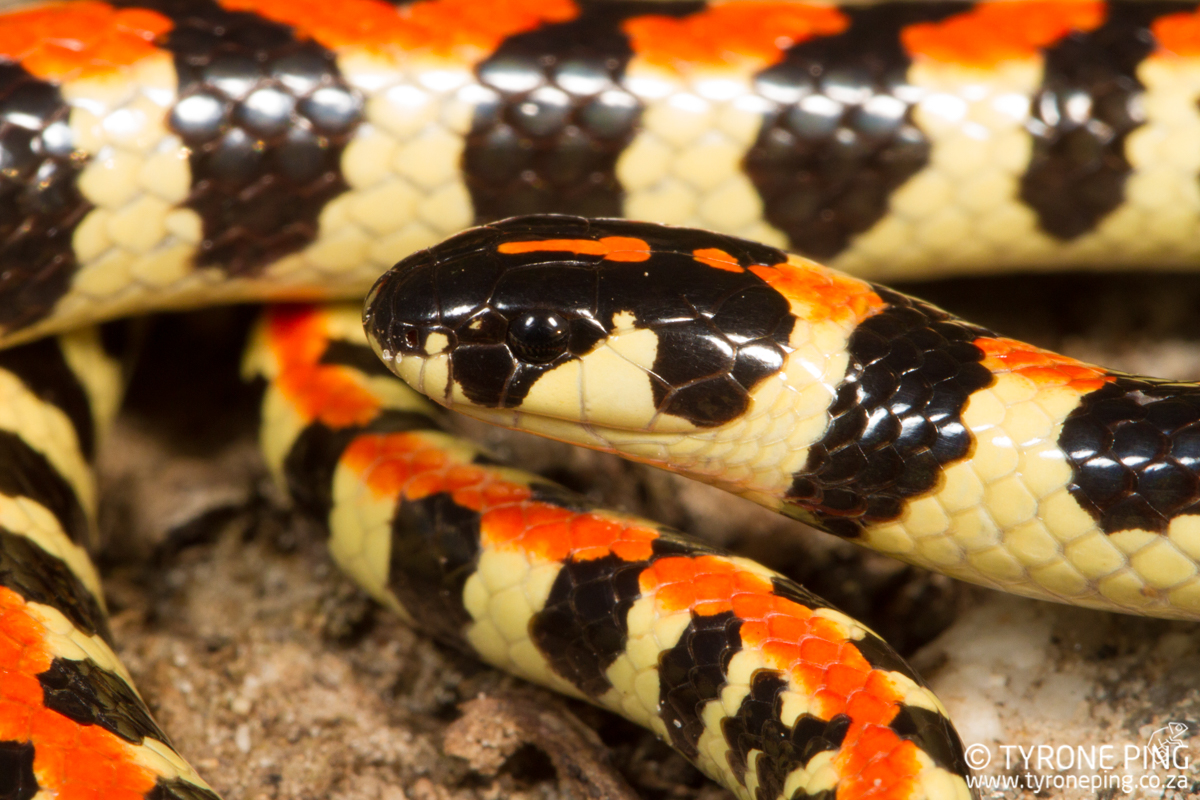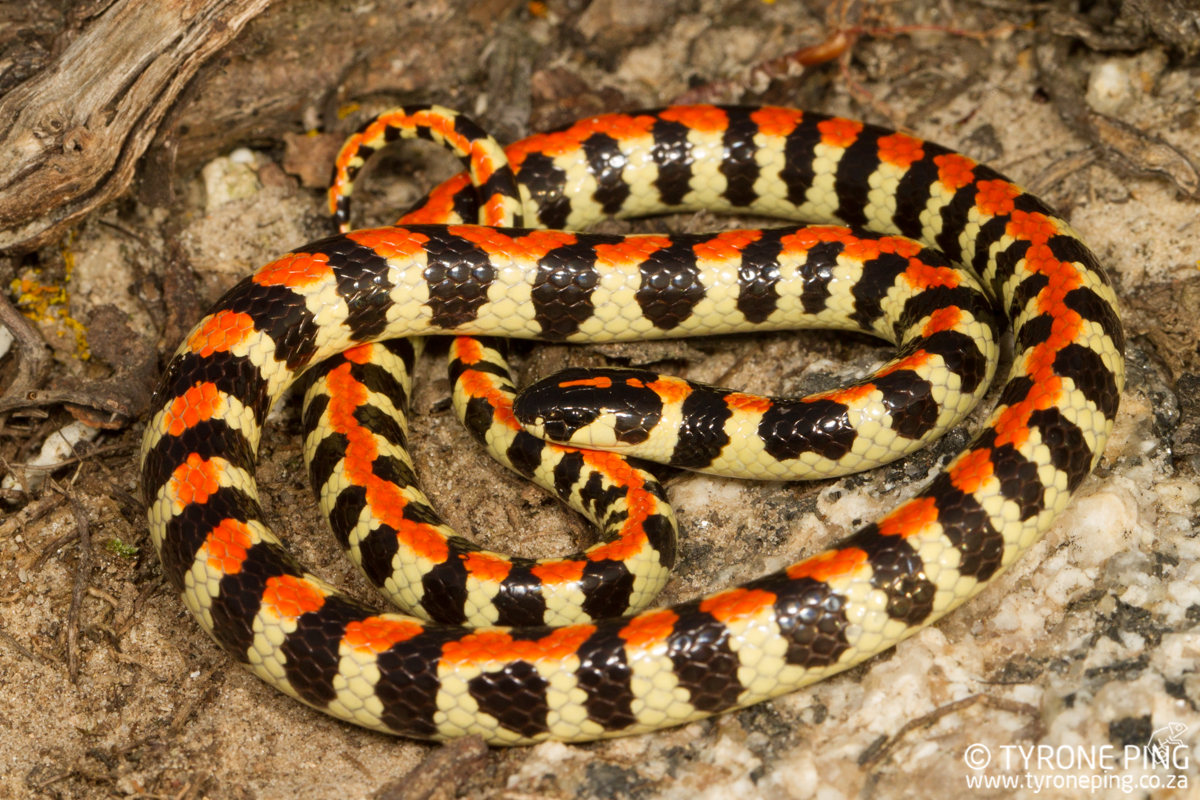 Psammophis leightoni
- Cape Sand Snake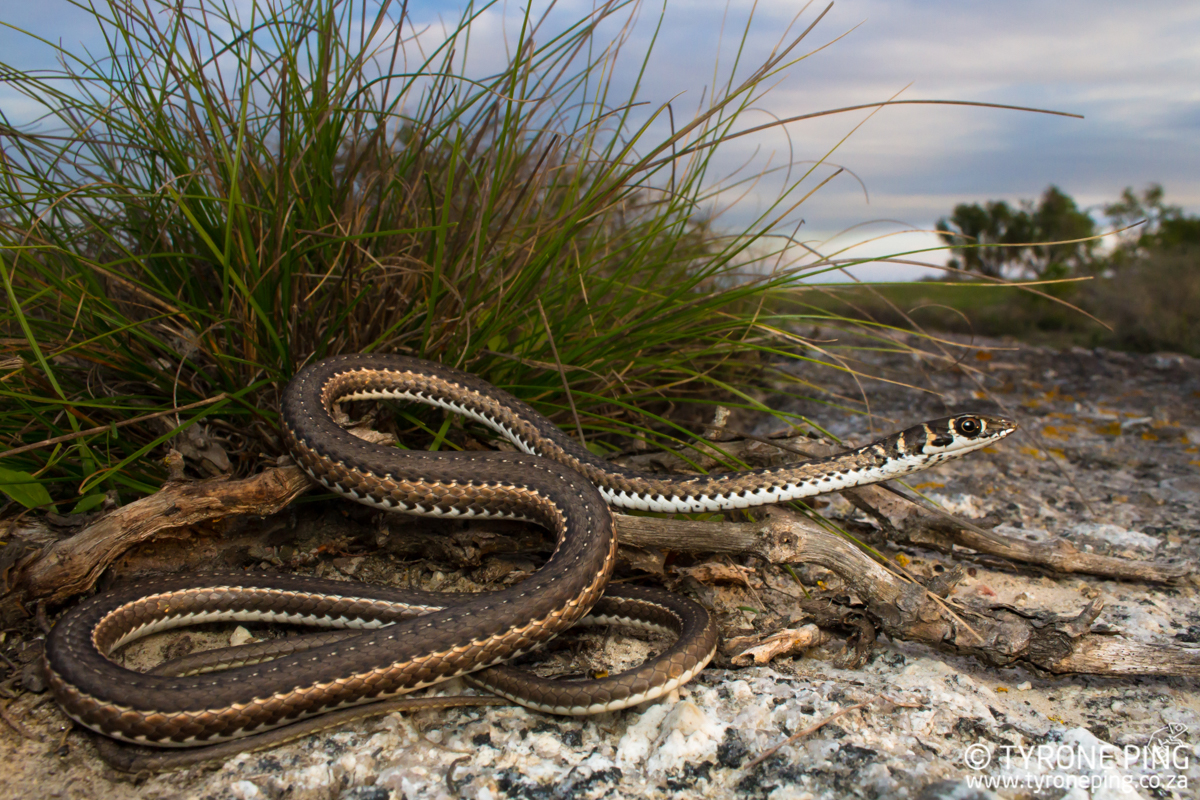 Psammophylax rhombeatus rhombeatus
- Rhombic Skaapsteker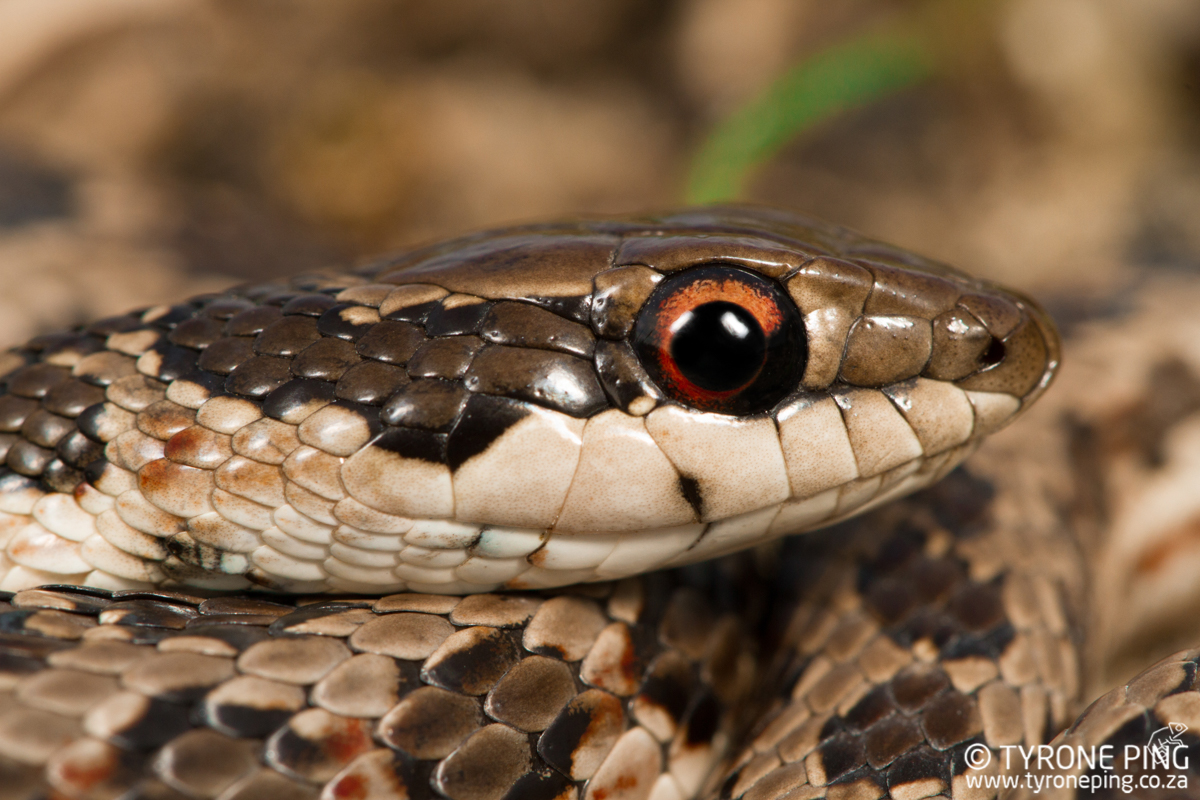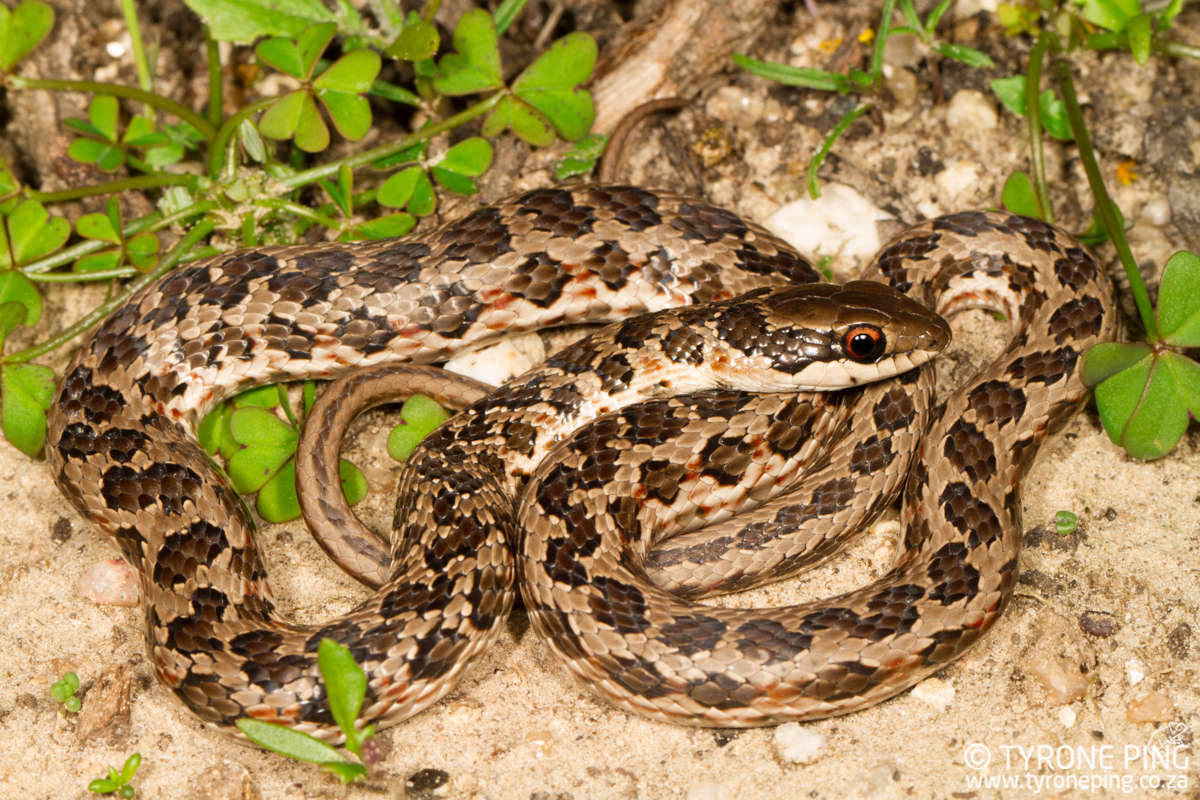 These skinks are well adapted to burrowing in the loose soft soil often bought to the surface by the large amounts of moles here on the West Coast. The theory is the loose sand heats up during the day and allows the skinks to be able to thermoregulate and move freely in the soil without obstructions like roots and rocks to stop them.
Scelotes bipes
- Silvery Dwarf Burrowing Skink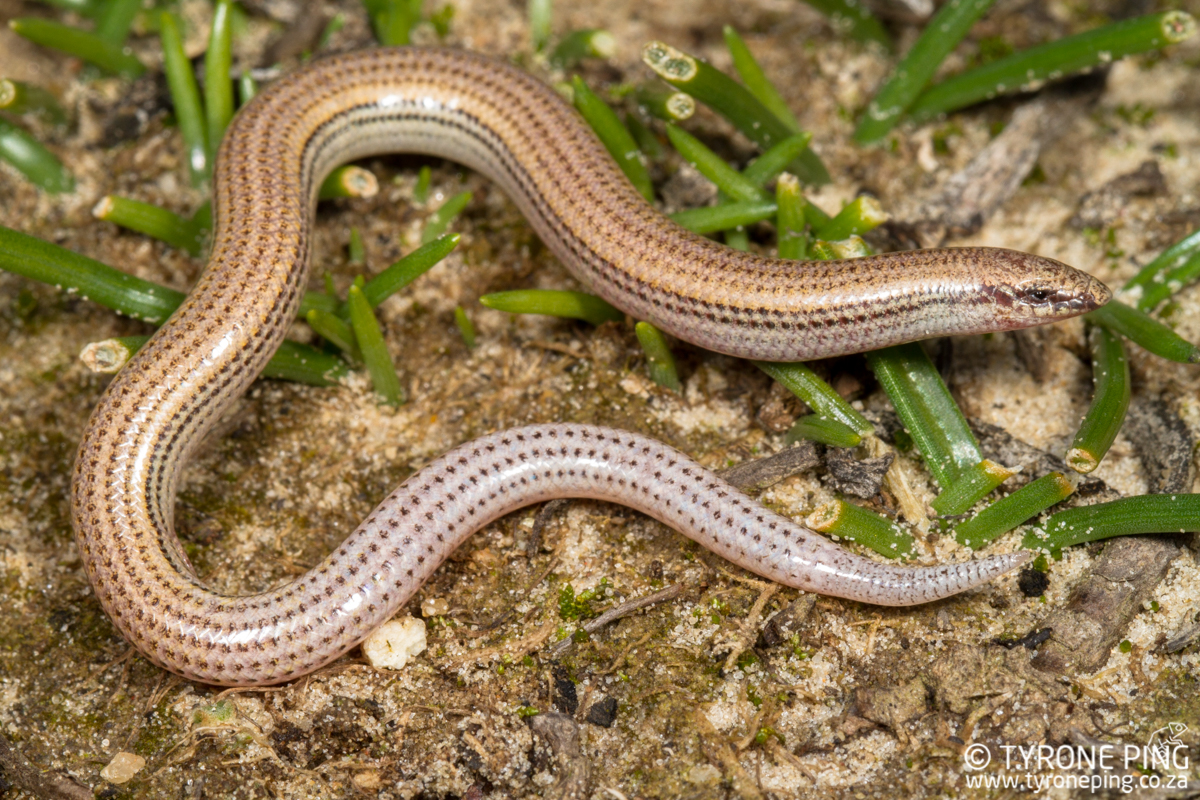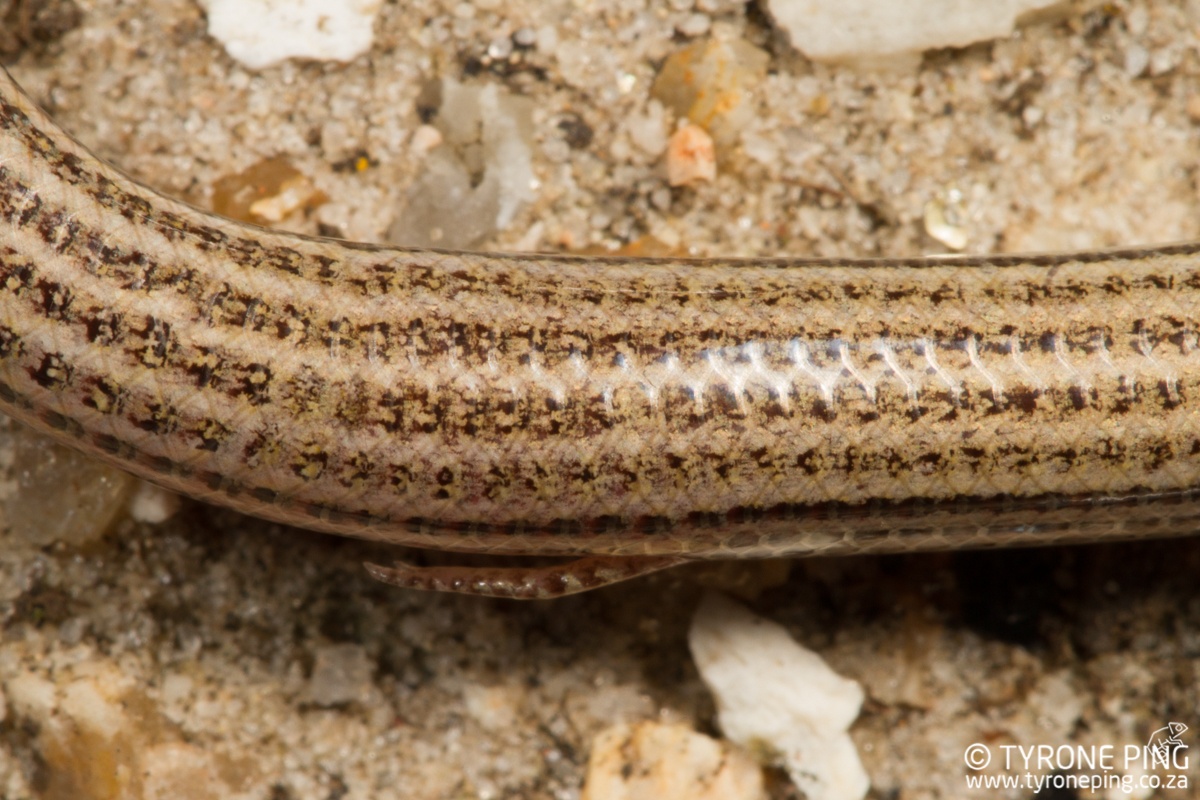 Strongylopus grayii
- Clicking Stream Frog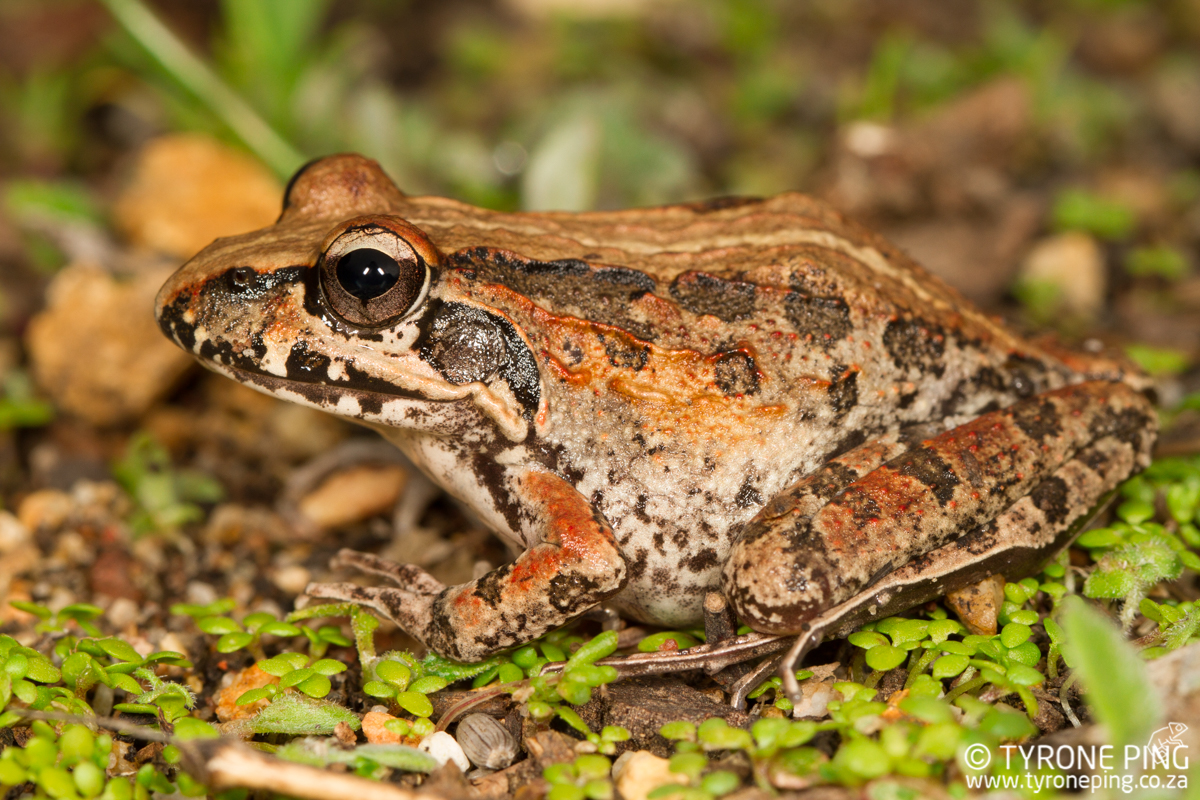 More exquisite Cape Dwarf Chameleons from a different locality
Bradypodion pumilum
- Cape Dwarf Chameleon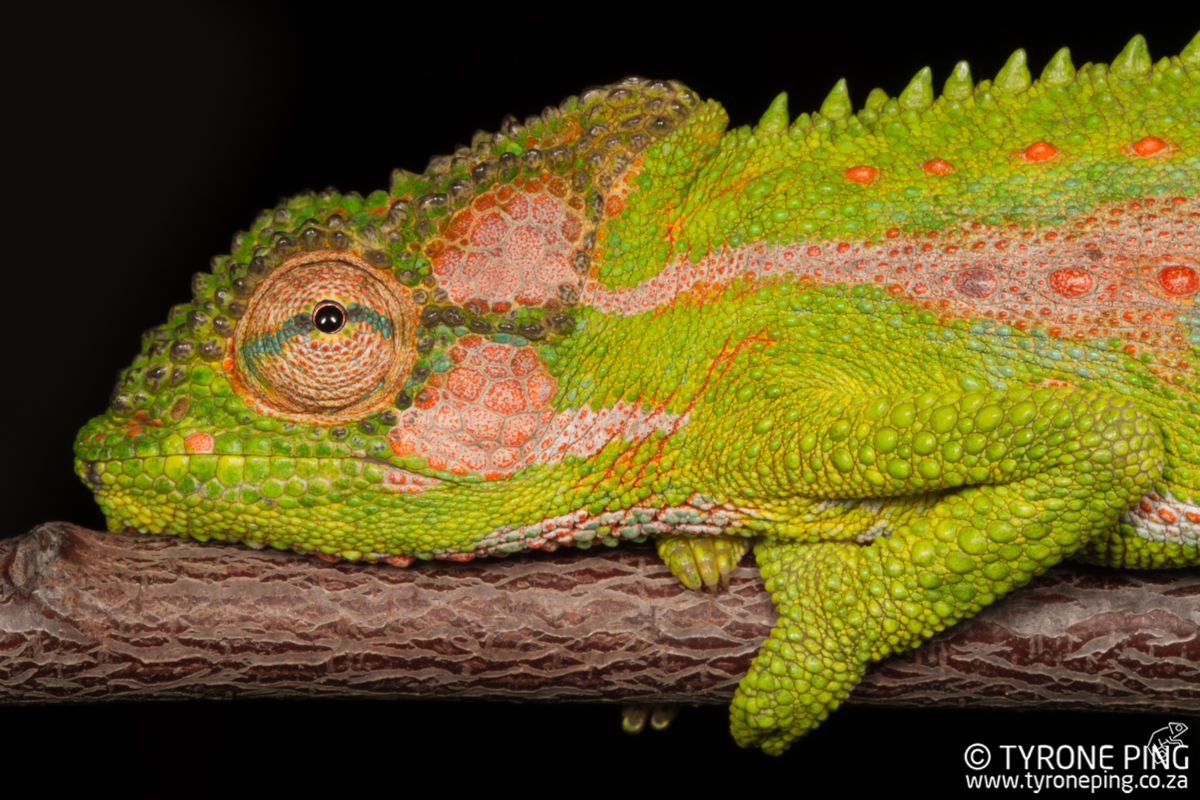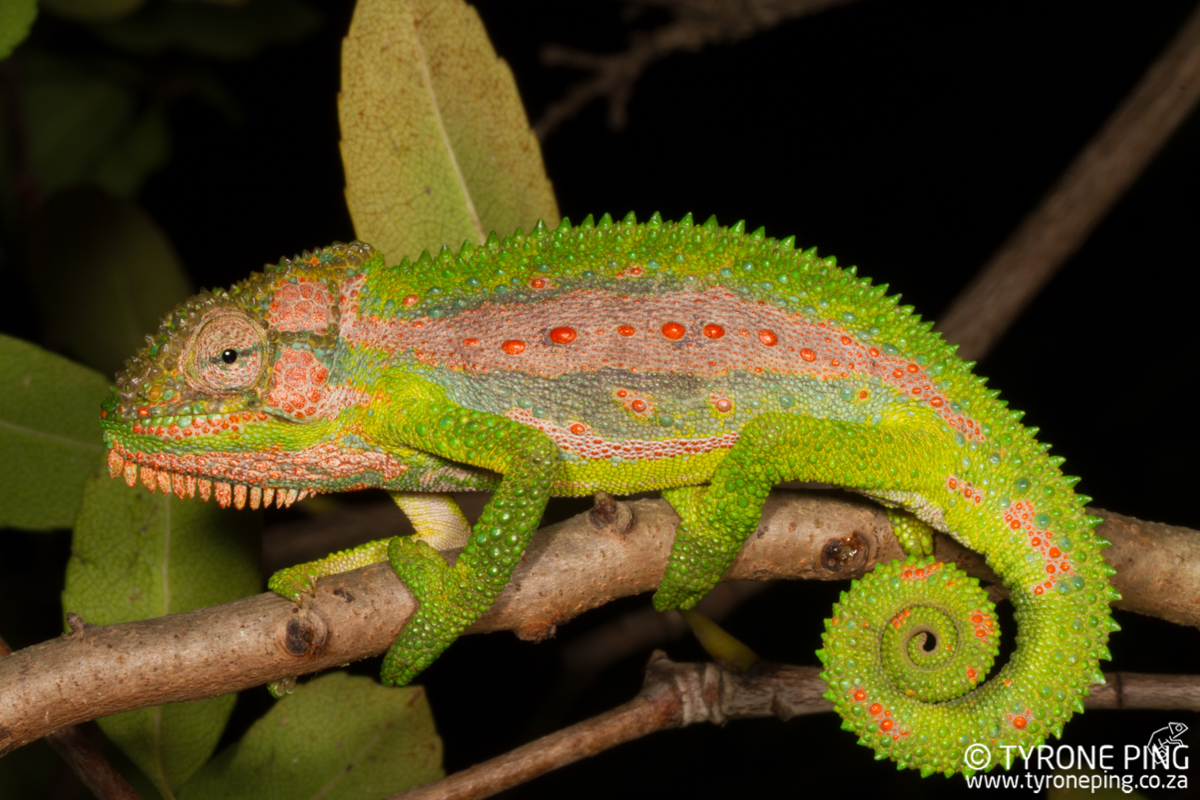 The Following day Andries and I headed to Stellenbosch in search of some of the vibrantly coloured Cape Dwarf Chameleons this small town is known for. We walked the town checking in at the Stellenbosch Botanical Gardens but no such luck on the chameleon front. We walked around a bit longer when I noticed two lavender plants and after finding a few different species on these in the past gave it and there was a rather bolding marked juvenile Cape Dwarf Chameleon amongst the foliage.
I came across this animal during the day between these flowers catching flying insects, I tried to capture images of it feeding but couldn't quite get the right frames.
Insitu: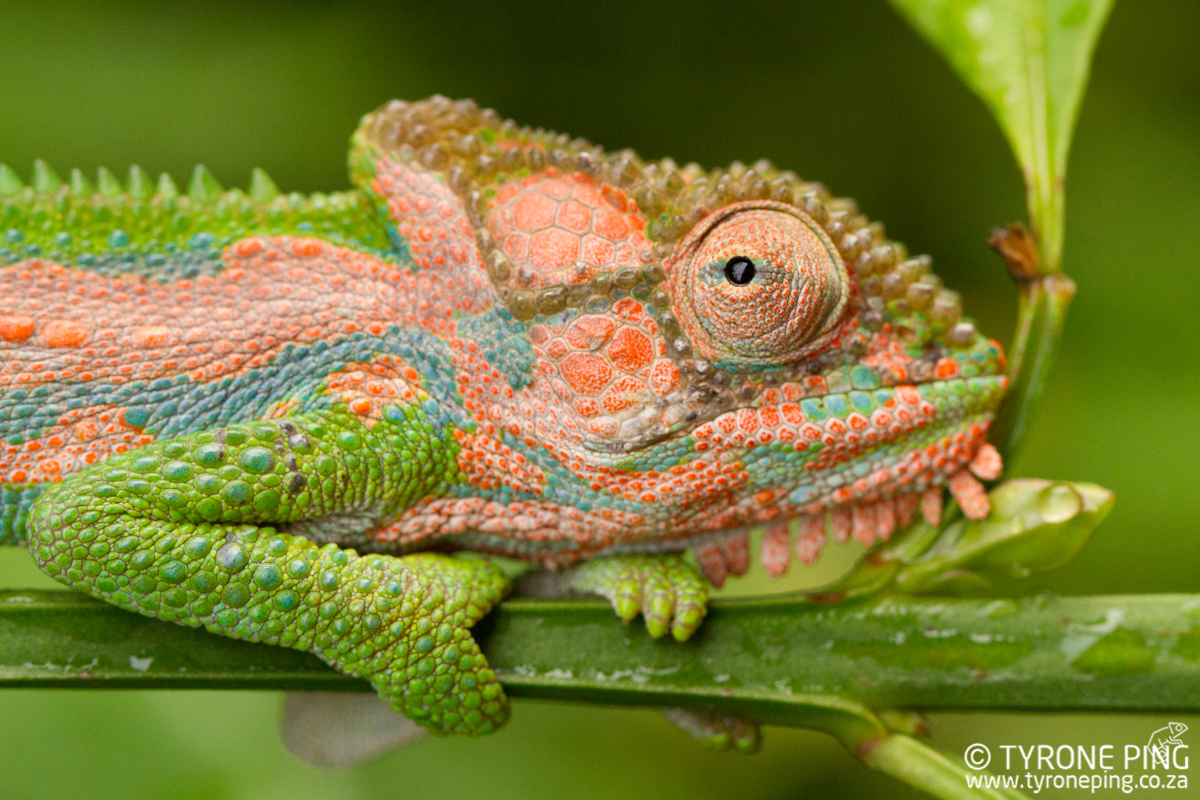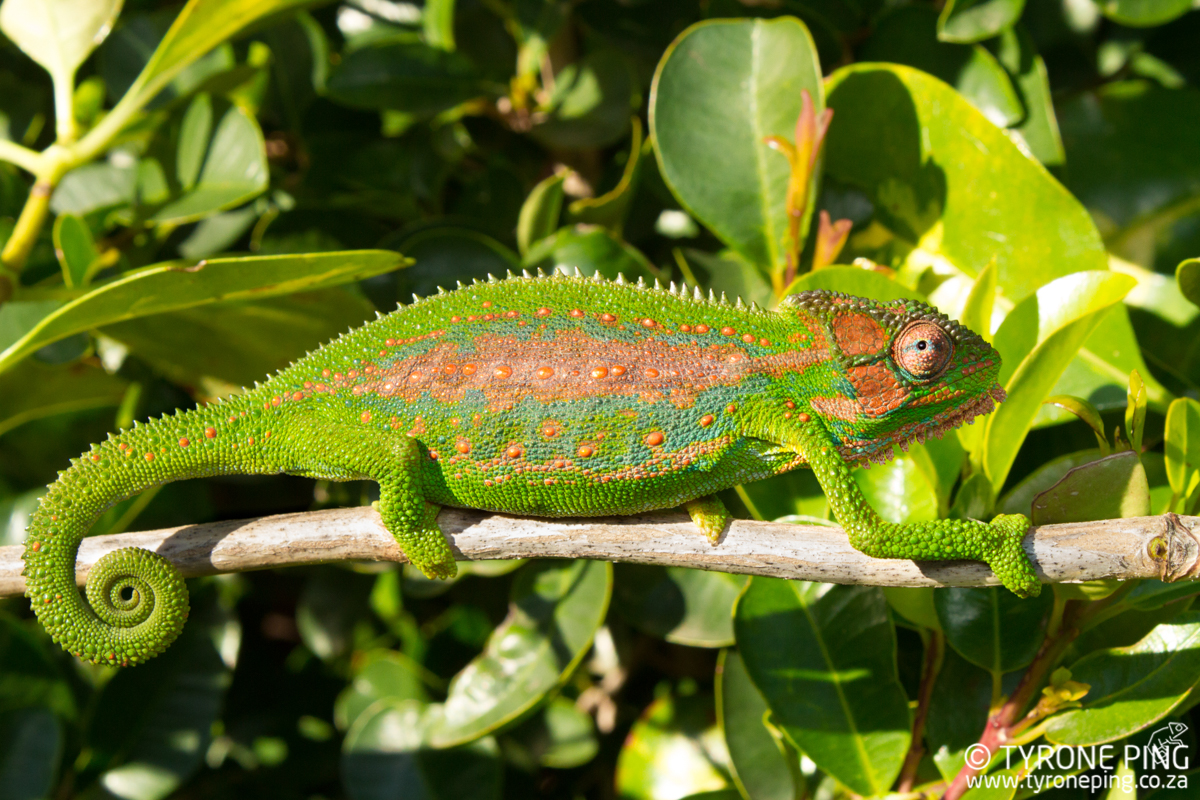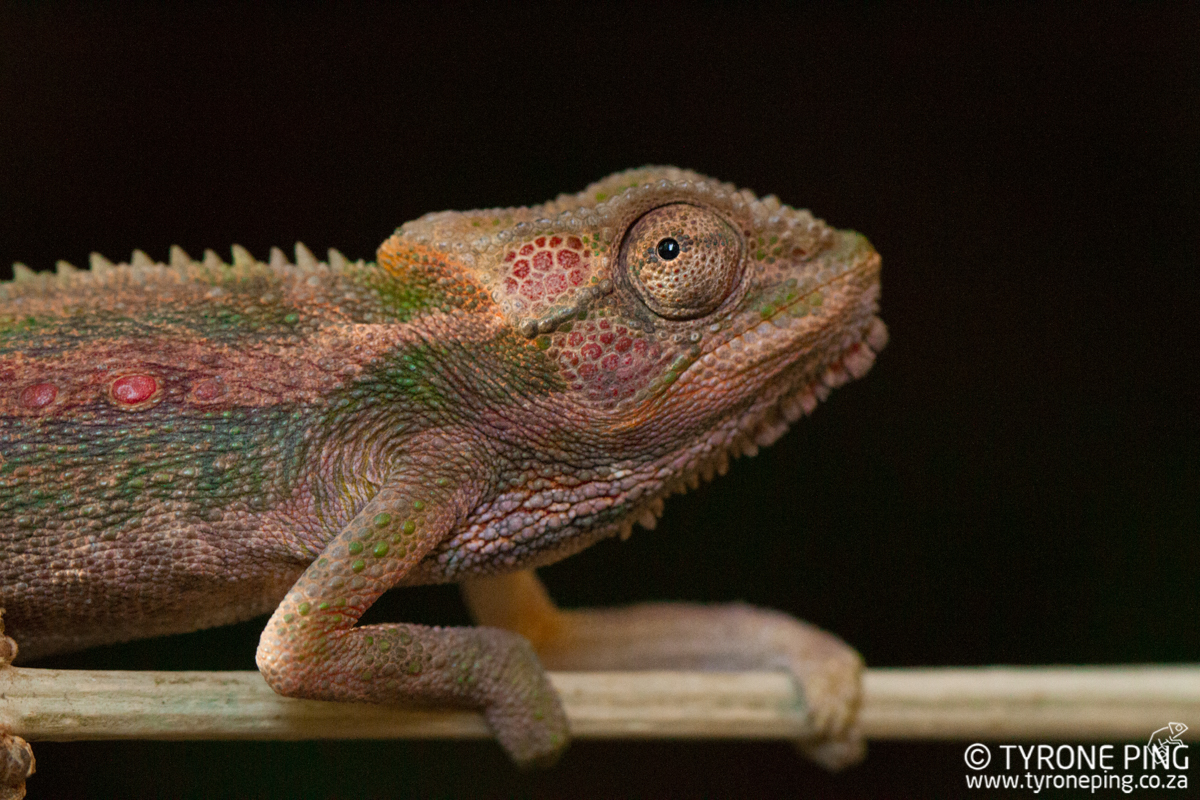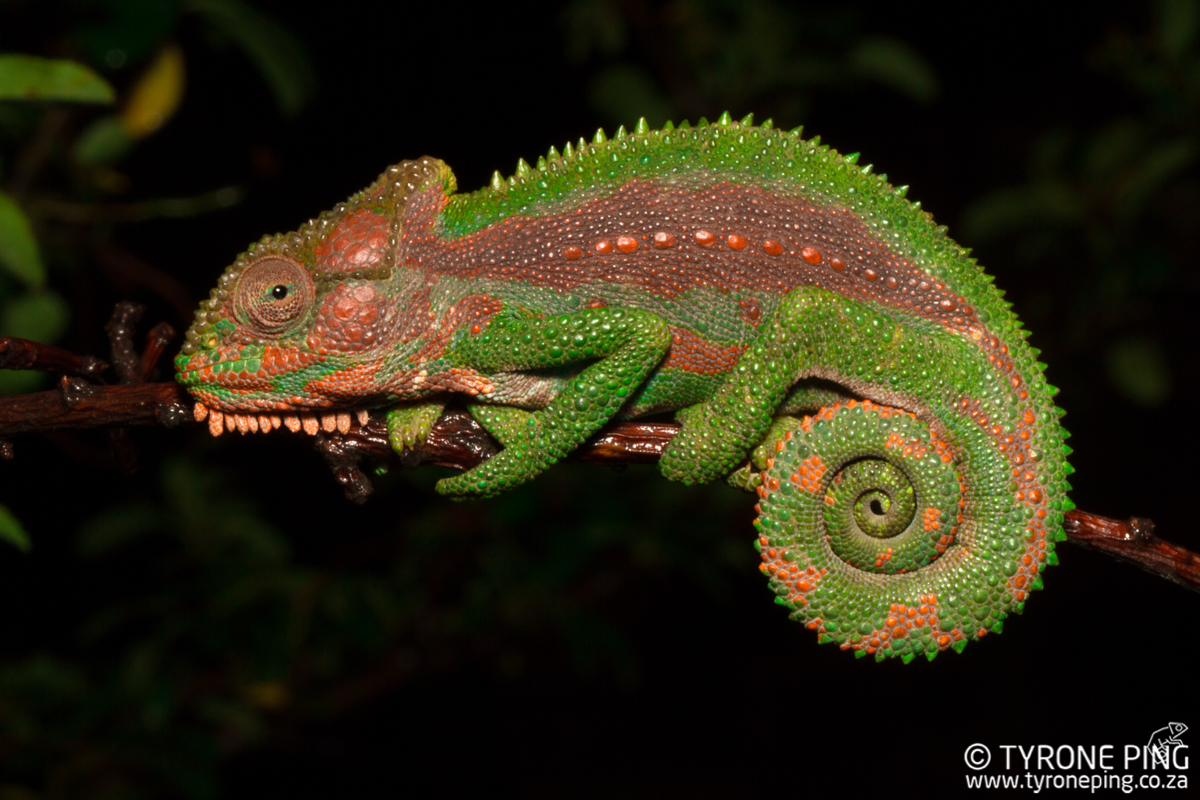 Typical chameleon tails in sleeping posture.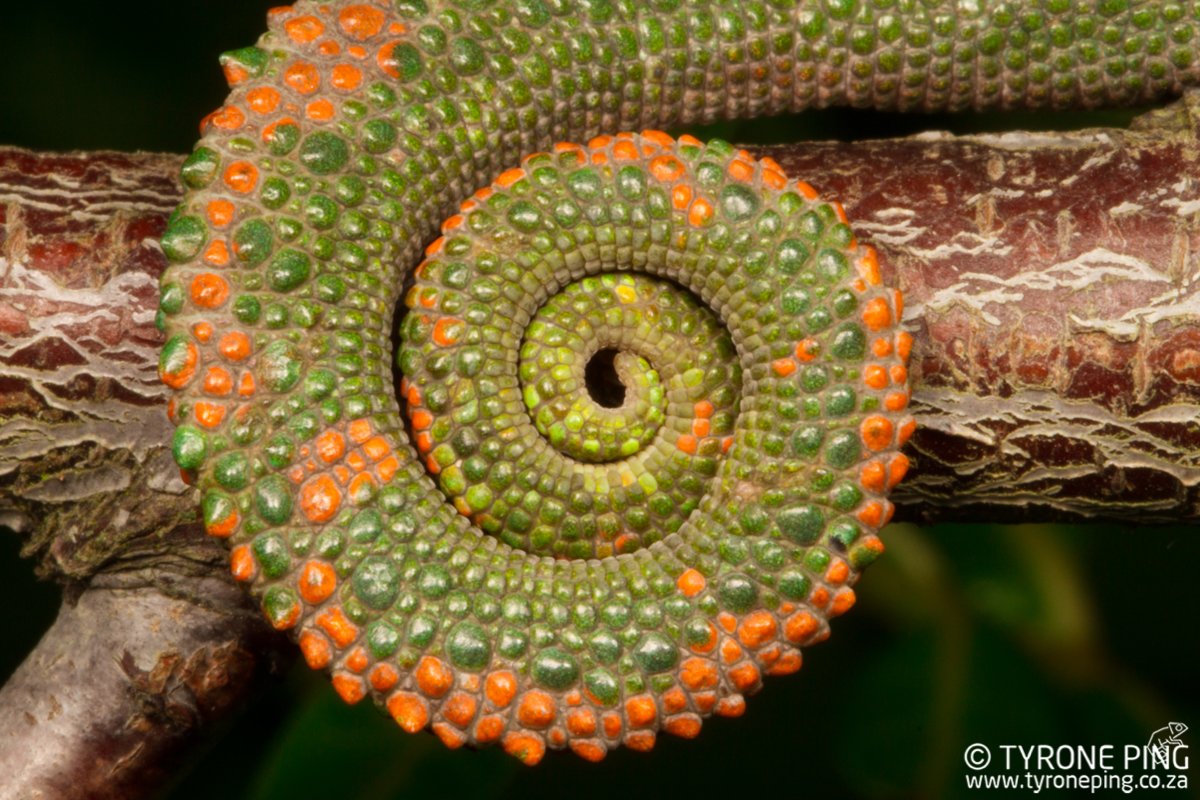 Species list:
Acontias meleagris
- Cape Legless Skink
Afrogecko porphyreus
- Marbled lead-toed Gecko
Bradypodion pumilum
- Cape Dwarf Chameleon
Cordylus macropholis
- Large Scaled Girdled Lizard
Dasypeltis scabra
- Rhombic Egg Eater
Goggia lineata
- Pygmy Striped Gecko
Homoroselaps lacteus
- Spotted Harequin Snake
Pachydactyus getjie
- Occelated Gecko
Psammophis leightoni
- Cape Sand Snake
Psammophylax rhombeatus rhombeatus
- Rhombic Skaapsteker
Rhinotyphlops lalandei
- Delalande's beaked blind snake
Scelotes bipes
- Silvery Dwarf Burrowing Skink
Strongylopus grayii
- Clicking Stream Frog
Tomopterna delalandii
- Cape Sand Frog
Trachylepis capensis
- Cape Skink
Thanks for looking: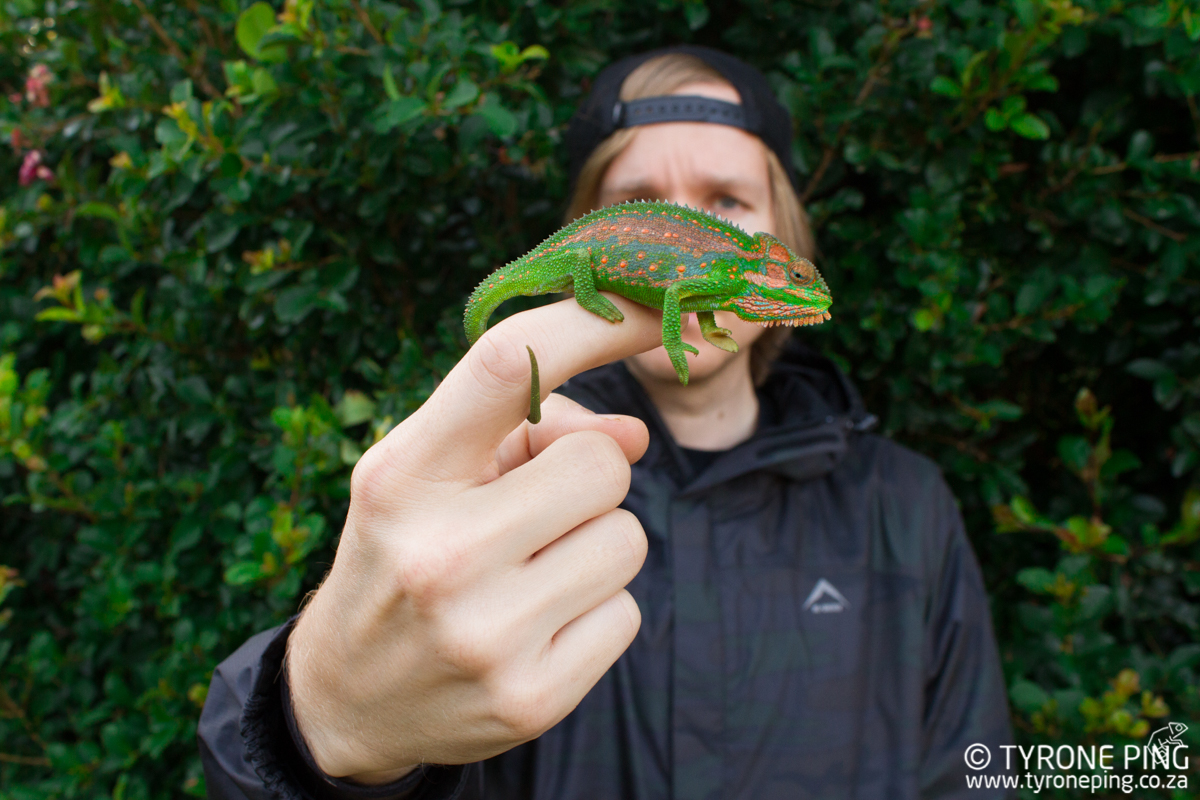 More over on
http://www.tyroneping.co.za
: