Travelling in a country like Israel on a family vacation - not a herping trip - lizards are a blessing. They are everywhere, in the cities & the mountains, the dunes & the grass, on the walls and the roads...
Variety was not quite as great as on last year's trip, yet I was quite pleased.
Geckoes:
Hemidactylus turcicus
were found in several places - mostly in urban settings where they're always nice to watch on the hotel walls at night.
This particular little cutie had taken up residence in the arcade outside our door.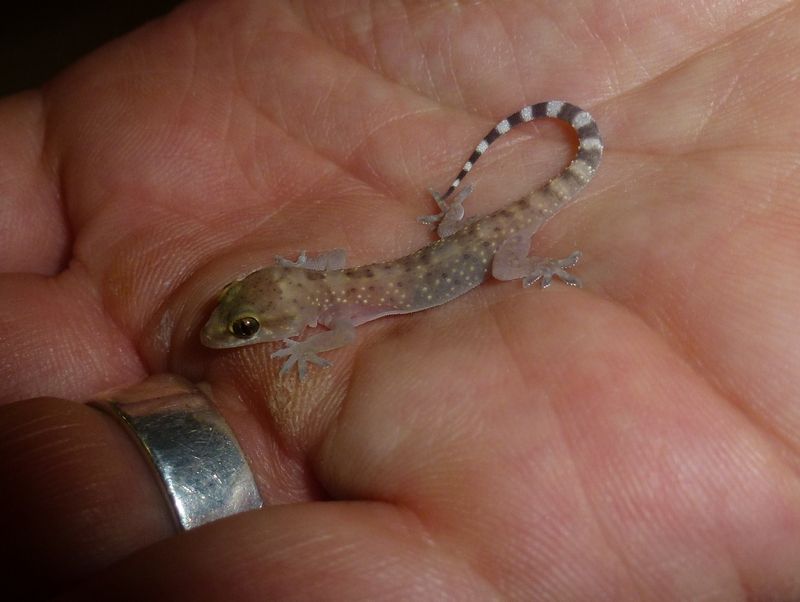 Ptyodactylus species likewise are widespread. In most of the country the genus is represented by
Ptyodactylus guttatus
. We found them by day and night, in the desert and mountains, most among rocks, one on the road and one on a Jerusalem wall the last evening - the final herp of our trip.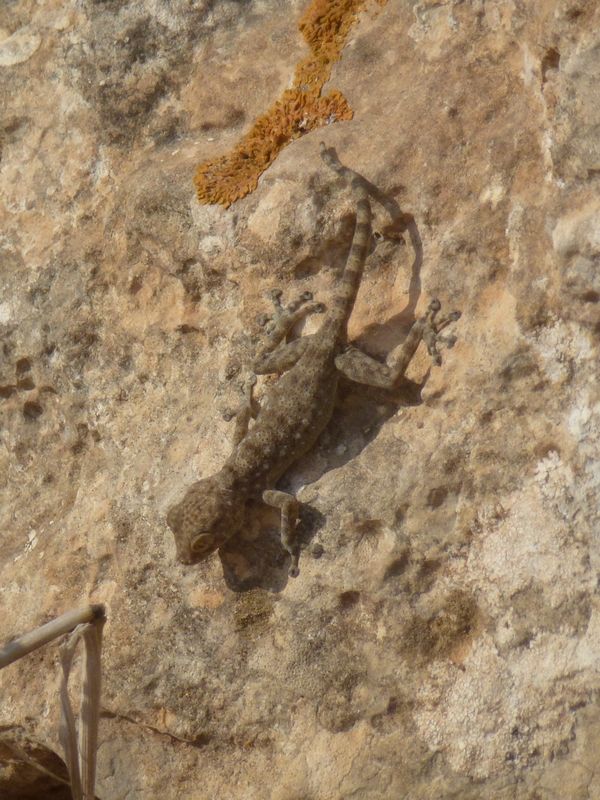 In the Golan Heights to the north they are replaced by the diurnal
Ptyodactylus puiseuxi
.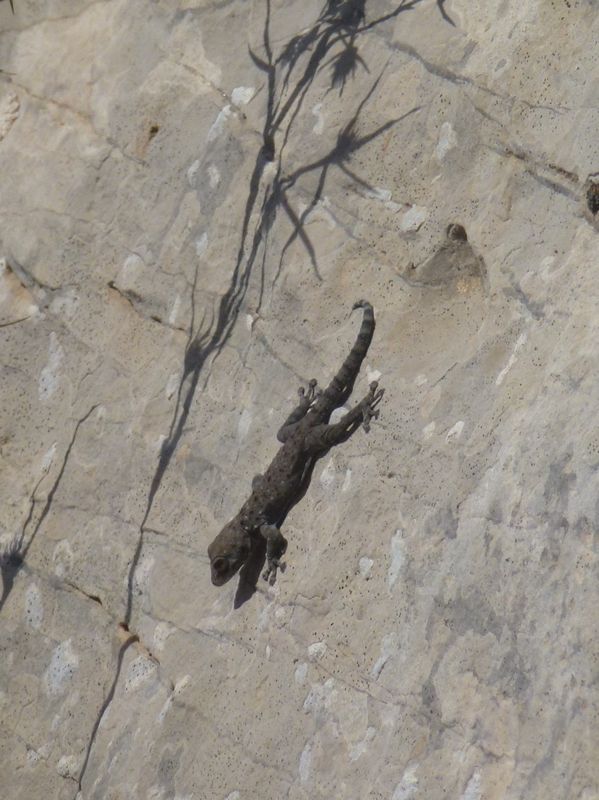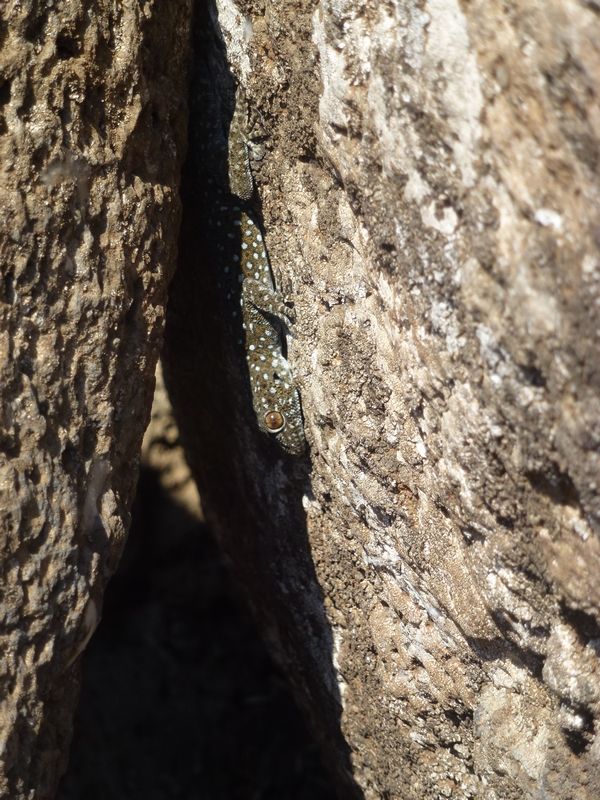 In the extreme south they are replaced by the nocturnal
Ptyodactylus hasselquisti
. These were a new species to me. I was pretty sure I saw one on a wall at dusk the day we arrived in Eilat but it was so far away that my ID was based on just jizz and size - a little uncertain I guess. My attempt at photographing it came out as just a vaguely gecko shaped blob. The next evening upon arriving back from the dunes I looked again. I had caught a quick glimpse of a gecko in a parking garage on a wall that looked a lot like the wall upon which the Eilat specimen photographed in the field guide was sitting so I checked there again. I found a small gecko in the same spot - couldn't really make out the details and didn't believe it to be my quarry but took a quick photo anyway, hoping this would reveal more details. It did and to my delighted surprise it was indeed
P. hasselquistii
. It since crawled a little closer so I could get a better look, but I didn't get any photos other than the first crappy voucher.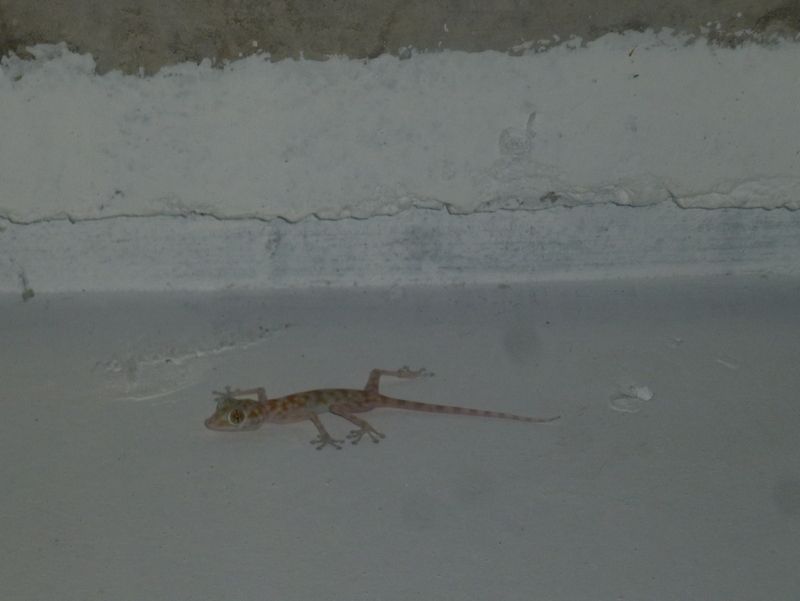 The other species I found on the walls in Eilat of which I saw many more, was another lifer,
Cyrtopodion scabrum
.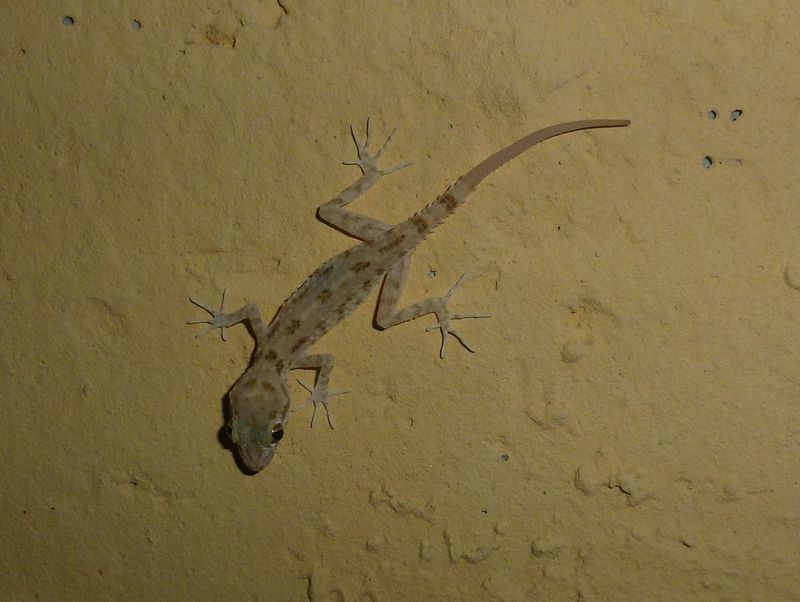 In addition to the ordinary specimens I also found this split tailed freak.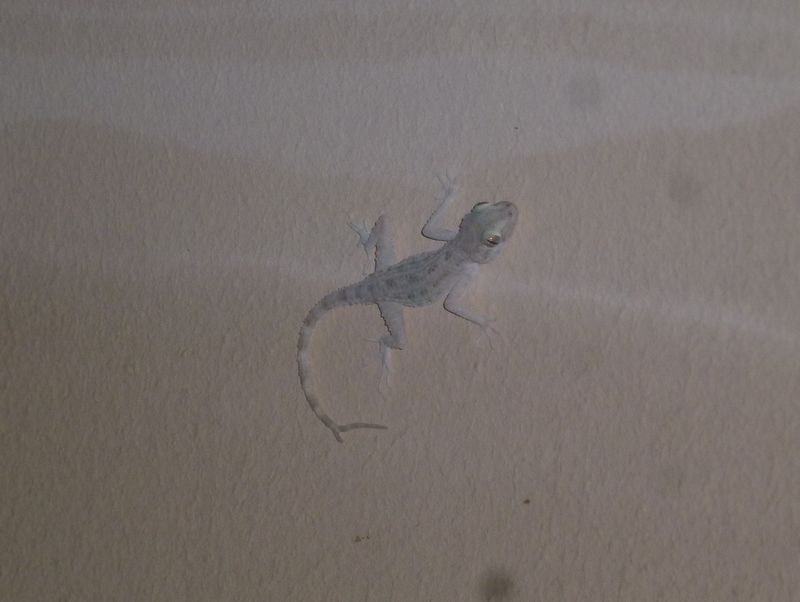 Stenodactylus species are pretty little big eyed nocturnal desert dwellers.
Stenodactylus doriae
is a psammophile Arabian species entering Israel in the dunes of the Arava by the Jordanian border - much like
Cerastes gasperettii
.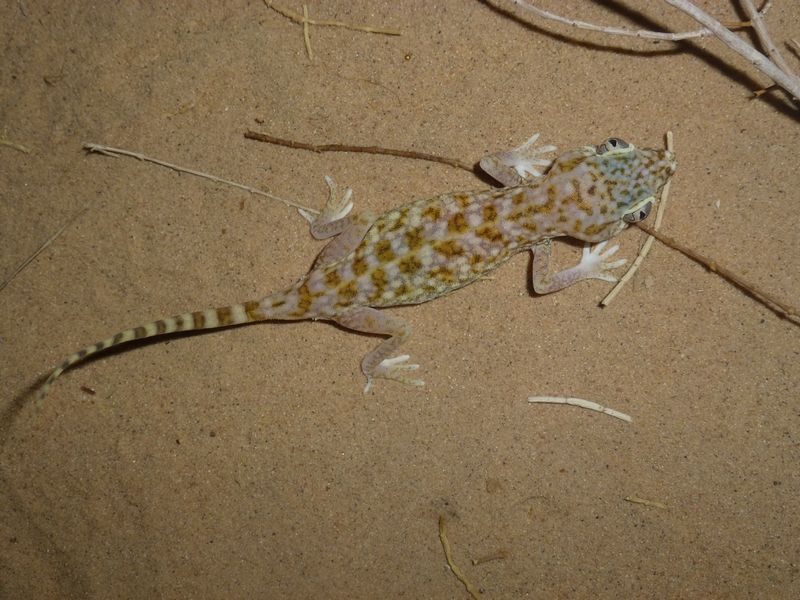 As
C. gasperettii
has a Saharan counterpart,
C. cerastes
, entering Israel in the dunes of the northwestern Negev, so does
S. doriae
in the form of
Stenodactylus petrii
.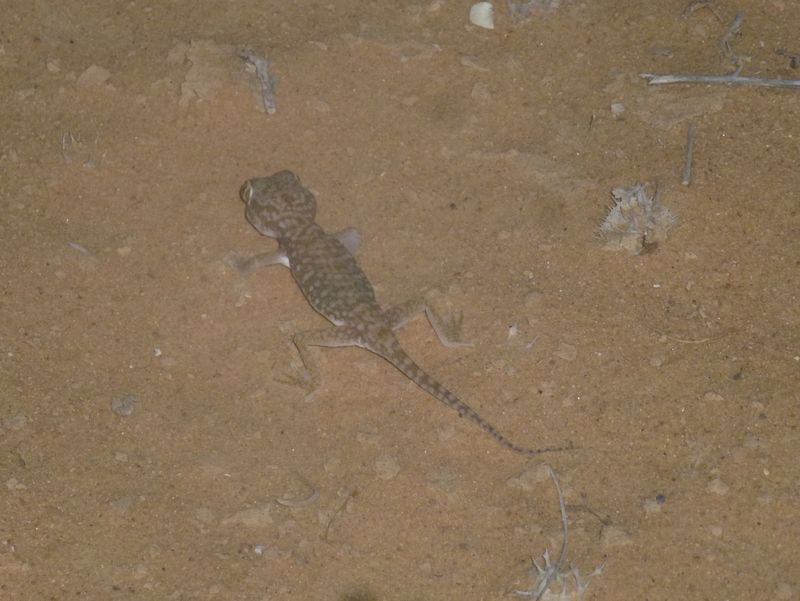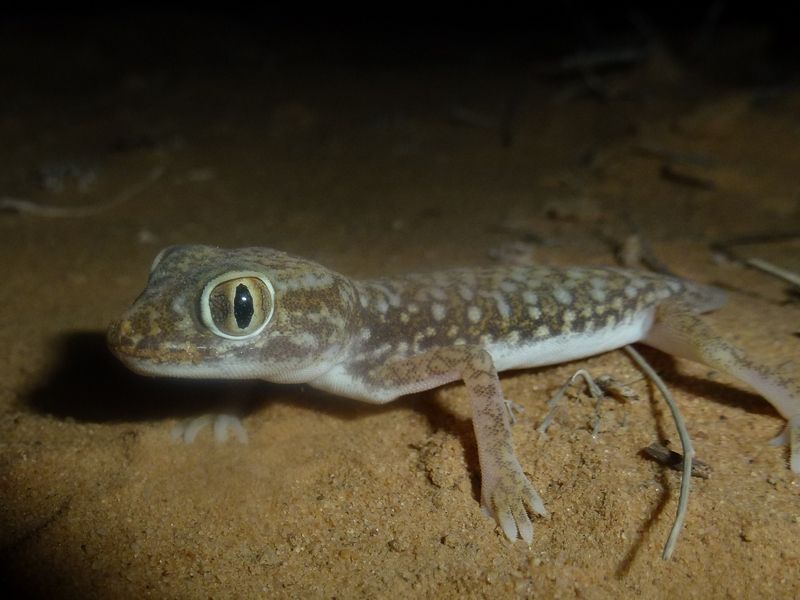 Also seen:
Stenodactylus sthenodactylus
, the third species in the genus is not confined to sandy soil to the same degree as its two relatives. I saw a few of them on the roads in the Negev at night. Focused on searching for snakes, thinking I already had good pictures of them from last year and that I would have plenty of chance I never took the time to photograph one before I had disappointingly run out of opportunities.
Lacertids:
Ophisops elegans
is abundant on Mount Hermon.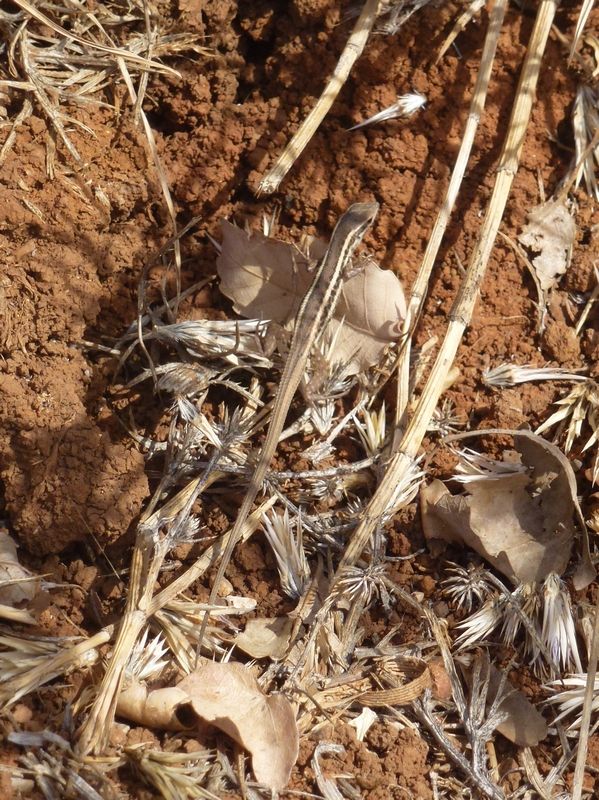 Likewise on Mount Hermon, the endemic
Phoenicolacerta kulzeri
is also common.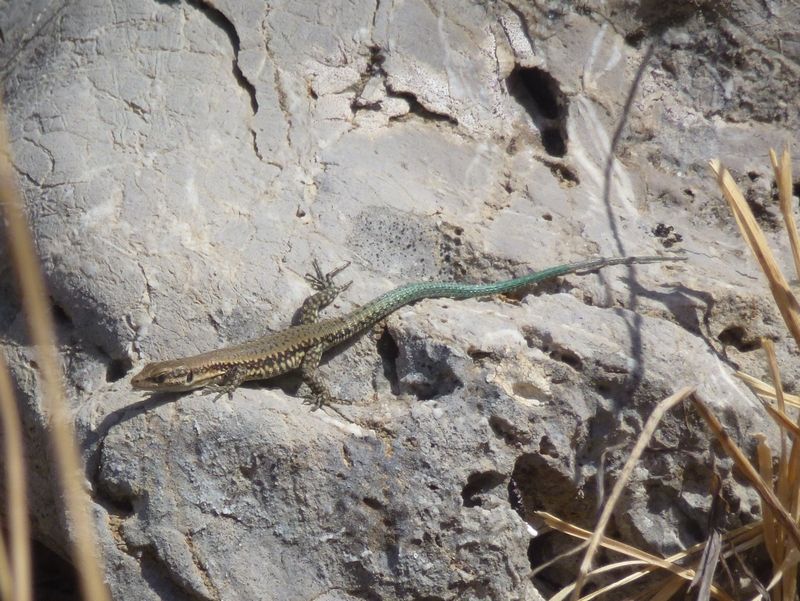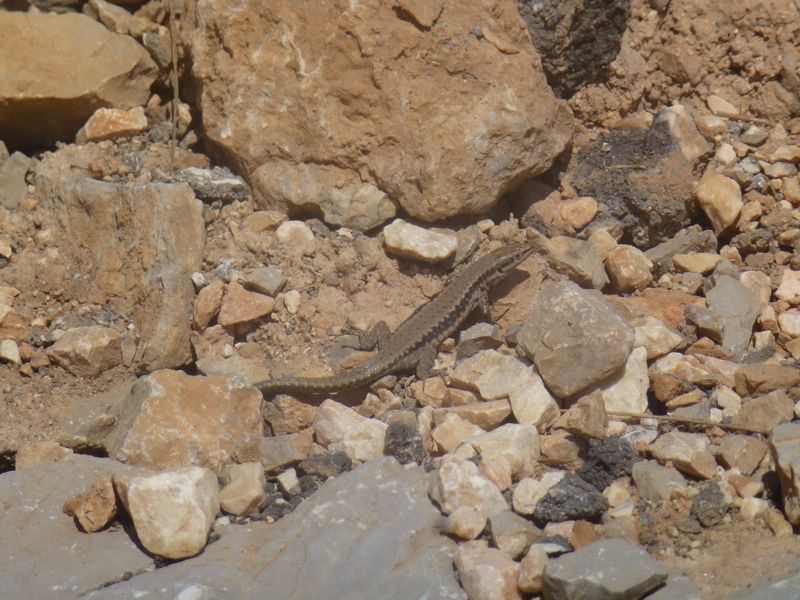 Further south it is replaced by its close relative
Phoenicolacerta laevis
. Gustav found my lifer of this species on our second last day, in a park in Jerusalem as we were on our war to visit the old city, at a time when I had given up on any pretense of herping and no longer held any hopes hopes of finding anything new. It scurried away before I could get a shot of it as did the next specimen. I didn't want my family have to wait for me so I didn't wait for the lizards to come back out again, thinking I'd see many more. As it turned out I saw just one more - on the wall of the Tower of David inside the old city. This time, at least, I got a quick voucher from afar.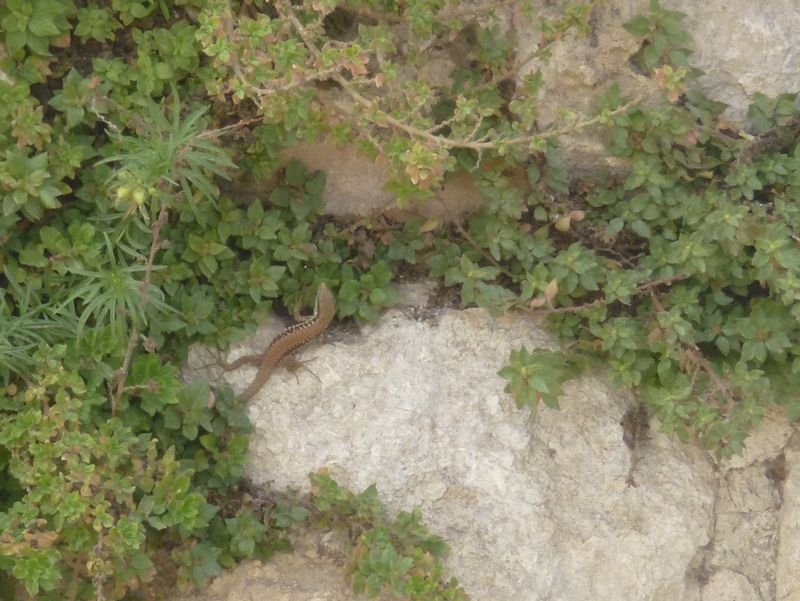 Acanthodactylus species are common in sandy habitats across Israel. They are quick and alert and a pain to tell apart. In the Negev dunes I found this,
Acanthodactylus scutellatus
, characteristic of the solid and semistabilized sands of the lower parts of the dunes.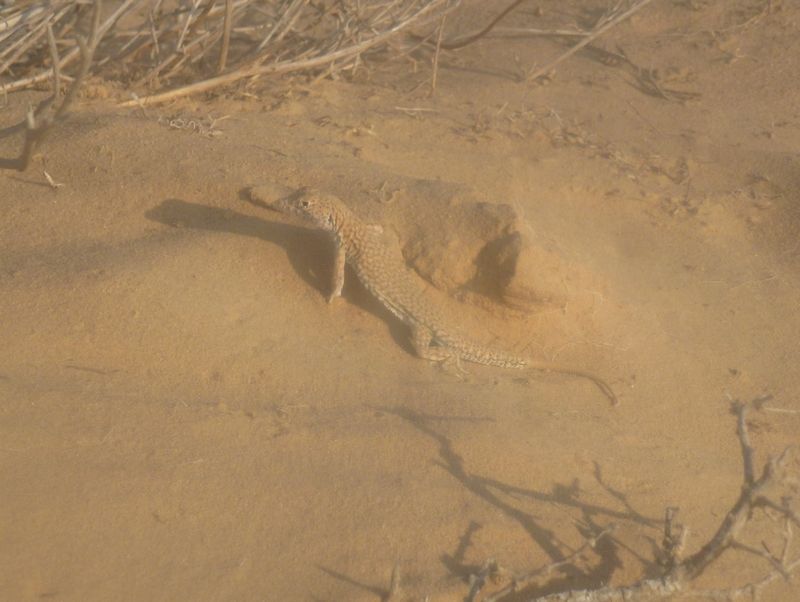 If
A. scutellatus
is difficult to tell apart from
A. aegyptius
living alongsside it,
Acanthodactylus boskianus
is downright impossible to distinguish from
Acanthodactylus opheodurus
. I believe all of these to be
A. boskianus
but only by virtue of this being the more common and widespread of the two.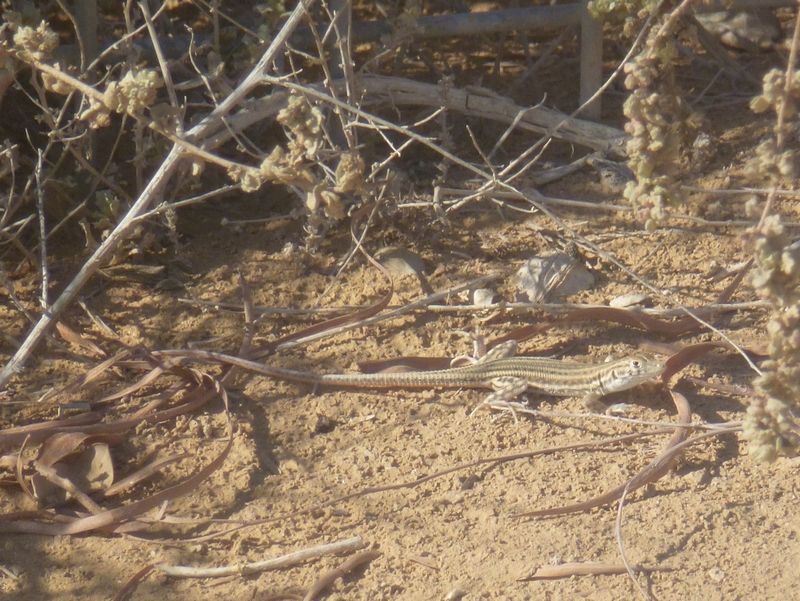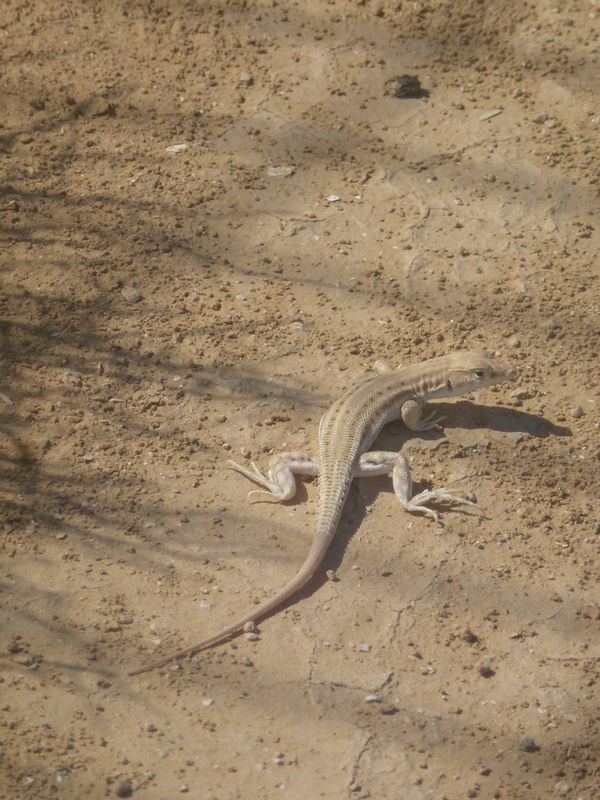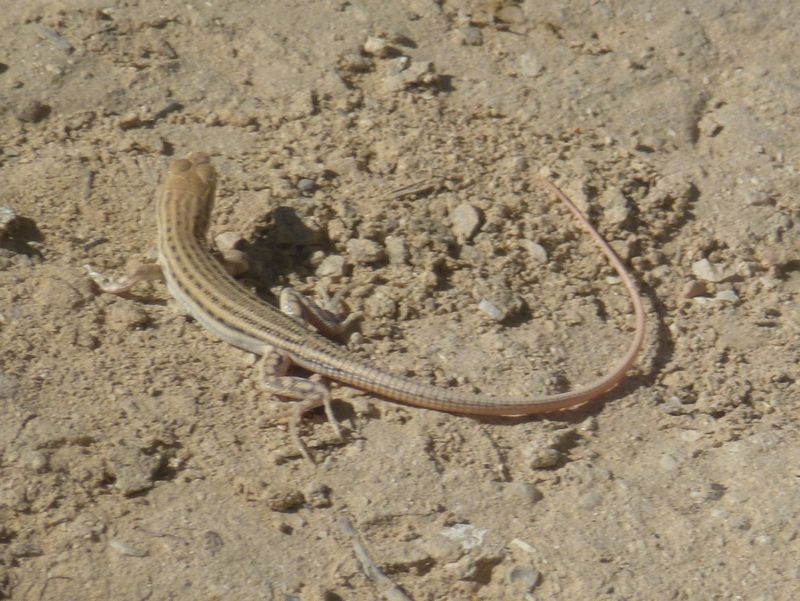 Also seen:
Acanthodactylus aegyptius
. Slighter in build than
A. scutellatus
it inhabits the shifting and semistabilized sands near the top of the dunes and is usually active at slightly warmer times of day than this. I saw just one and as it was alert, I was tired, I already had good pictures of it from last year, and my camera had, hmmm, issues due to the sand, well...
Skinks:
I find skinks to be the worst of herps to photograph, always end up with the crappiest of shots, if any at all. Hence the underrepresentation.
Trachylepis vittata
is abundant and widespread and was commonly seen on my trip last year. This year I was surprised to see just three specimens at just one location, only got photos of one.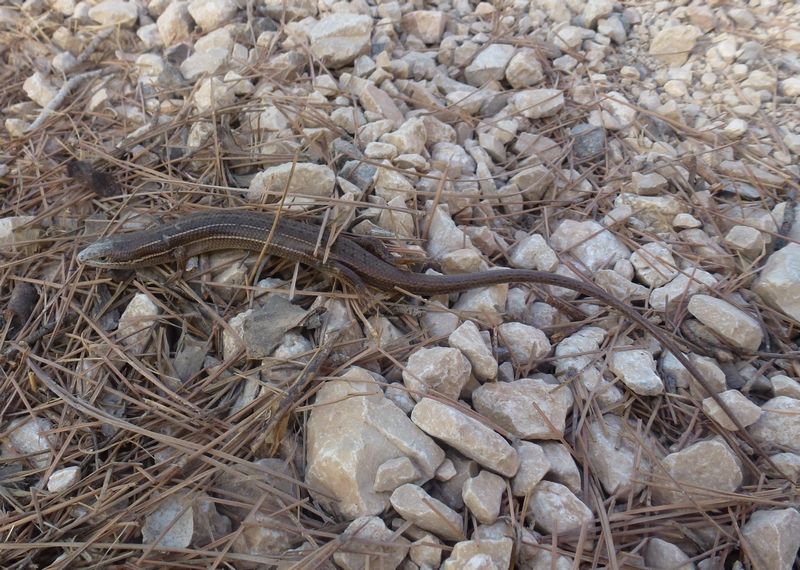 Ablepharus rueppellii
, the snake eyed skink (yep, you guessed the reason
) is the smallest skink in Israel. Henriette found the only specimen of the trip when we had to make an impromptu stop because Gustav had gotten sick in the car. I got just a quick voucher shot, but my first of the species.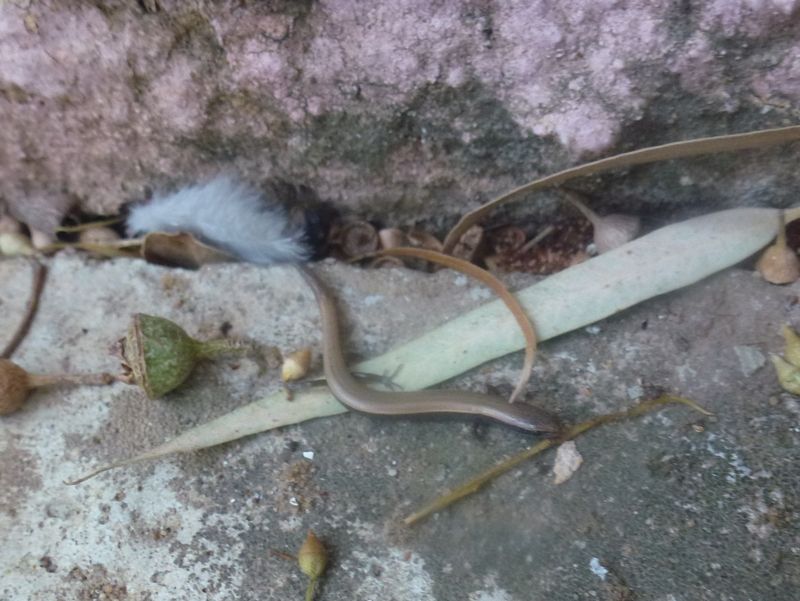 Also seen:
Chalcides ocellatus
is common and widespread. It was the first herp I found on the trip (and one of very few I flipped, conditions being simply too hot and dry at this time of year) at the beach in Tel Aviv the first day. I didn't have my camera along, wasn't bothered as I figured we'd see plenty more. We didn't.
Eumeces schneideri
- I saw a large and beautiful male of this impressive species in the Golan Heights. Unfortunately I was too slow and clumsy to get a picture, ended up with only grass in the frame. Almost exactly the same thing happened a little further south last year. Next time...
Sphenops sepsoides
- Wonderful little sand divers, alas tracks only this time around. These were all over the dunes in the Negev as well as the Arava.
Agamas:
Laudakia stellio
was just about everywhere in the northern 3/4 of the country, the most seen herp of our trip. Throughout most of its Israeli range it is represented by ssp. picea.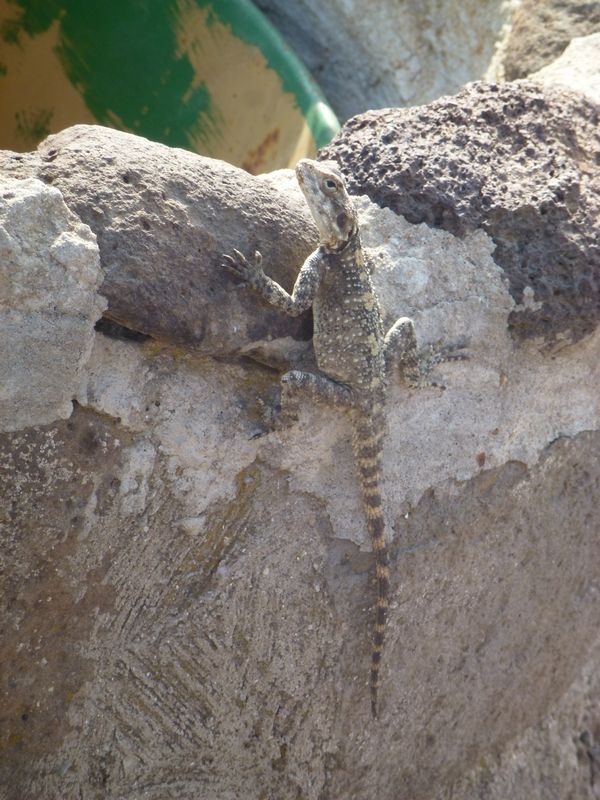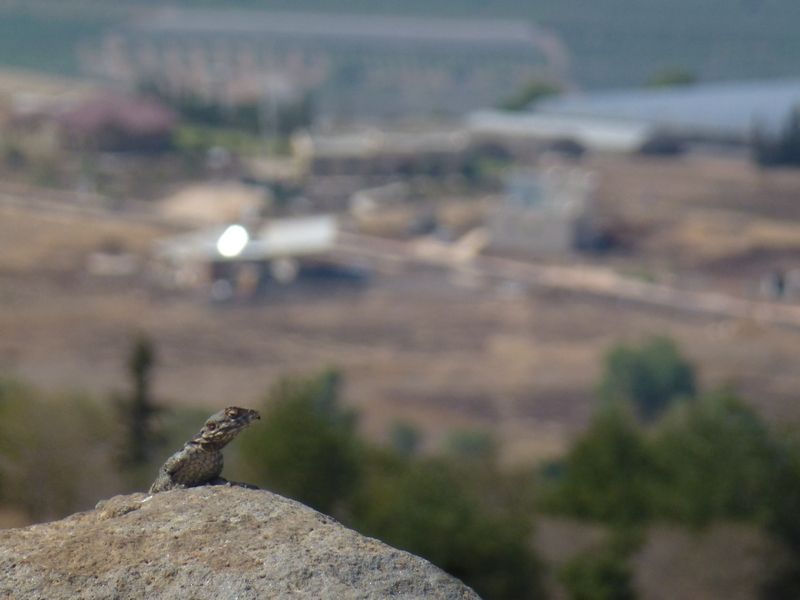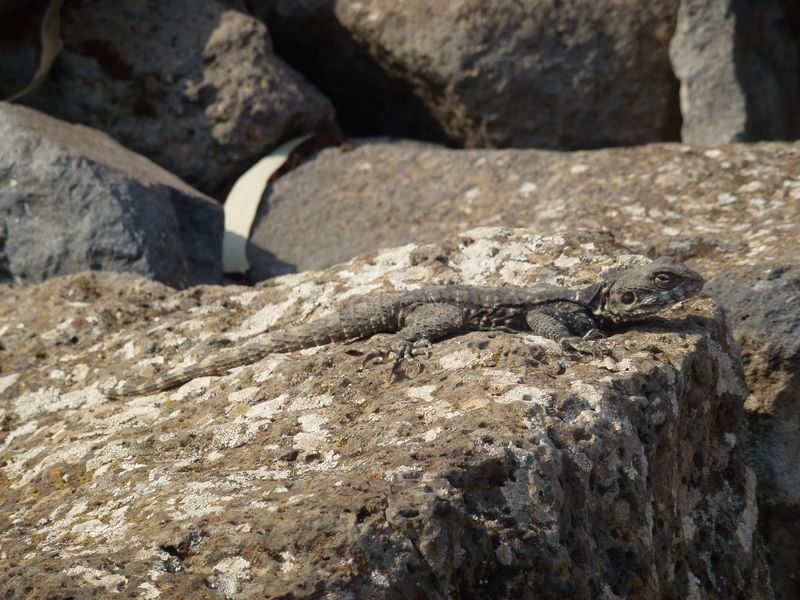 The males are extremely territorial. The one in the top of this picture had just chased of the other male on the rocks below and was now sitting perched atop his rock bobbing his head in a display of dominance.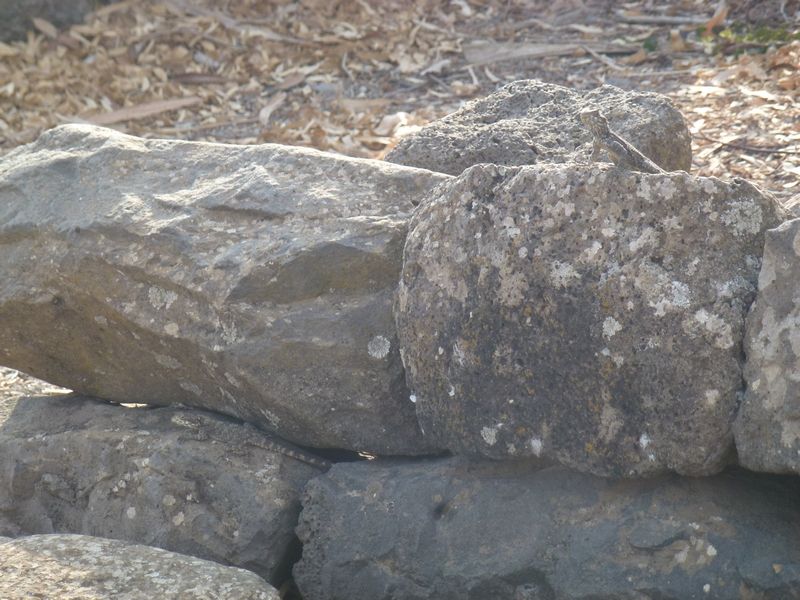 In the south they are replaced by the larger ssp. brachydactyla.
Uromastyx aegyptius
- Henriette spotted both individuals of this impressive species. I only got pictures of one as the second retreated into its burrow.
Also seen:
Trapelus savignyi
- another psammophile, tracks only, Negev dunes.
Chameleons:
We were on a hike in the Golan Heights when we came to a small stream cutting through the dry landscape forming a lush green corridor. I had not thought of chameleons before the hike but upon seeing this immediately exclaimed "There must be chameleons around here". Pauline didn't hear this but two minutes later she asked excitedly. "Dad, what's this?"
Chamaeleo chamaeleon
, the first baby of the species I have ever encountered, terribly cute.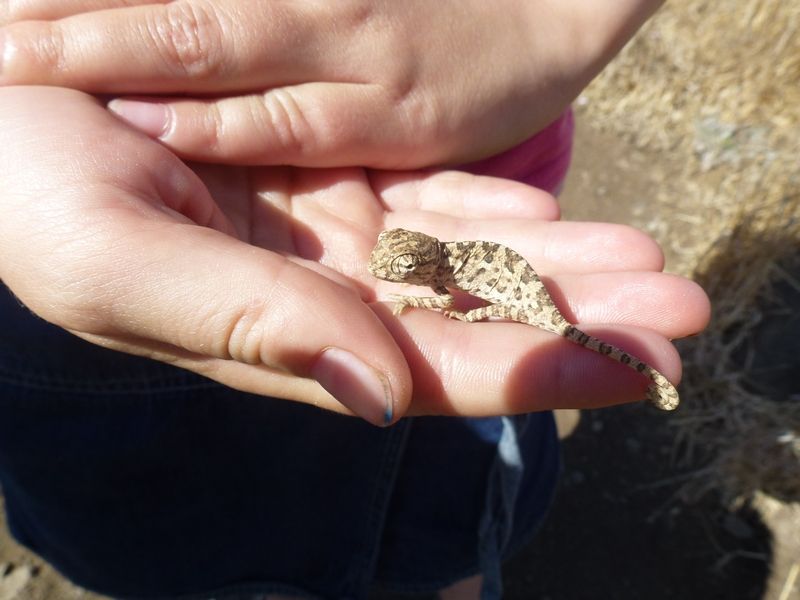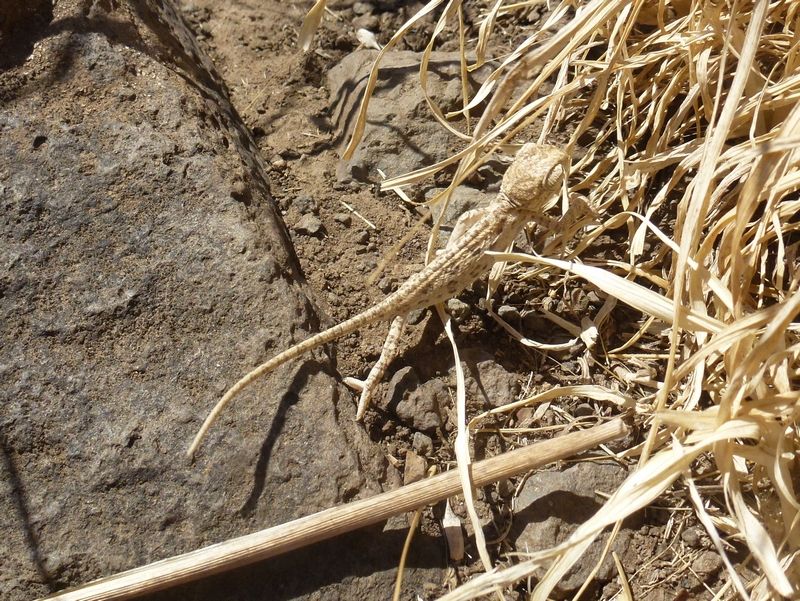 Next and final chapter: Turtles, anurans, mammals, birds, inverts & habitats / landscapes