Well, 57 really, but who's counting?
With the restraints on time and money set by family life precluding longer trips and more exotic destinations Israel has quickly become my stable herping home abroad. Diversity is great in a very small space – much more so than anywhere else equally close to Denmark - and airfare is ludicrously cheap for direct flights Friday – Monday. Combine those factors with local friends with great expertise and a fair level of local knowledge gained by myself over the years and you've got a recipe for succes.
This year's trip – my fourth – took place last weekend. Though results were actually a bit disappointing by the standards I'd had the luck to set on previous trips (see my previous Israel trip reports, e.g.
http://www.fieldherpforum.com/forum/vie ... =2&t=19672
,
http://www.fieldherpforum.com/forum/vie ... =2&t=13793
,
http://www.fieldherpforum.com/forum/vie ... f=2&t=6491
) I guess I'd still be acting like a spoiled brat to be dissatisfied.
I started planning the trip about a month in advance when I arranged to meet with my friend Aviad Bar, author of the field guide to Israeli herps. He told me a couple of Swedish herpers were coming to Israel at the same time so I contacted them as well. It turned out Mats and Janne were flying out of Copenhagen on the same flight as me so we agreed to meet at the airport and at least start the trip together.
In the meantime disaster struck in Nepal and Aviad went with the IDF to a field hospital to do relief work. You can't complain when infinitely more important matters such as the life and death of thousands makes a mess of your plans but we were so lucky that Guy Haimovitch, another friend and co-author of the field guide just went with us instead along with his lovely wife, Liam
After landing in Tel Aviv at noon on Friday our destination for the first night was in the central Negev where we would road cruise for false horned viper,
Pseudocerastes fieldi
, black desert cobra,
Walterinnesia aegyptia
and desert cat snake,
Telescopus hoogstraali
, my main targets for the entire trip. On the way there we would stop at a line of infrastructure holes on the northern edge of the desert and do a little casual herping elsewhere, as time allowed. The plan was to get a hold of Guy from the airport when we picked up our cars and meet at a gas station some 40-45 miles south. I texted him, wondered why he didn't answer, tried calling, still no answer.
Oh well, nothing to do but drive to the meeting point, hoping he got the message. When he wasn't at the gas station I called again. He hadn't gotten my message. We spent the waiting time in the company of a good salad and the first herp of the trip, a starred agama,
Laudakia stellio
.
Guy and I took turns going into the holes to rescue the trapped animals. In a somewhat less hospitable manner than I am a accustomed to from him (I guess he'd call it chance) he took the good ones. The first was the best, with two beautiful diadem snakes,
Spalerosophis diadema
, a new species for me, and a rather large ocellated skink,
Chalcides ocellatus
. He also got the hole with a Rogers' racer,
Platyceps rogersi
and a couple of Mediterranean geckoes,
Hemidactylus turcicus
. I got the ones with just mumified rodents, putrid pools of muck, ticks the size of buttons and only a single consolatory Mediterranean gecko.
Spalerosophis diadema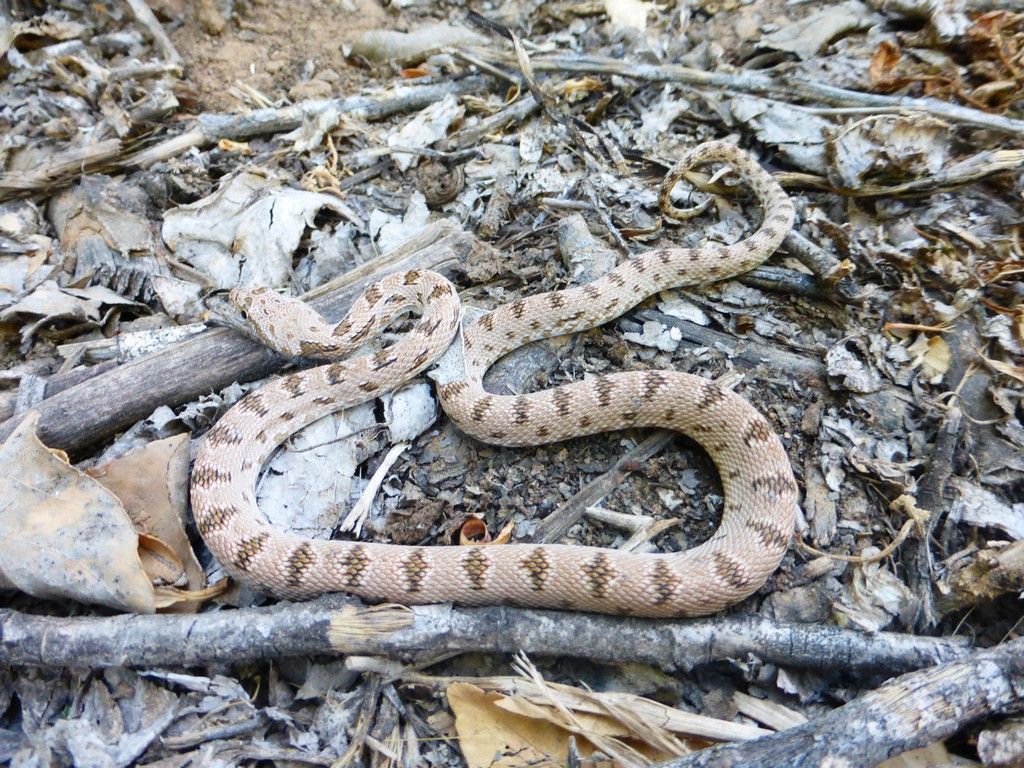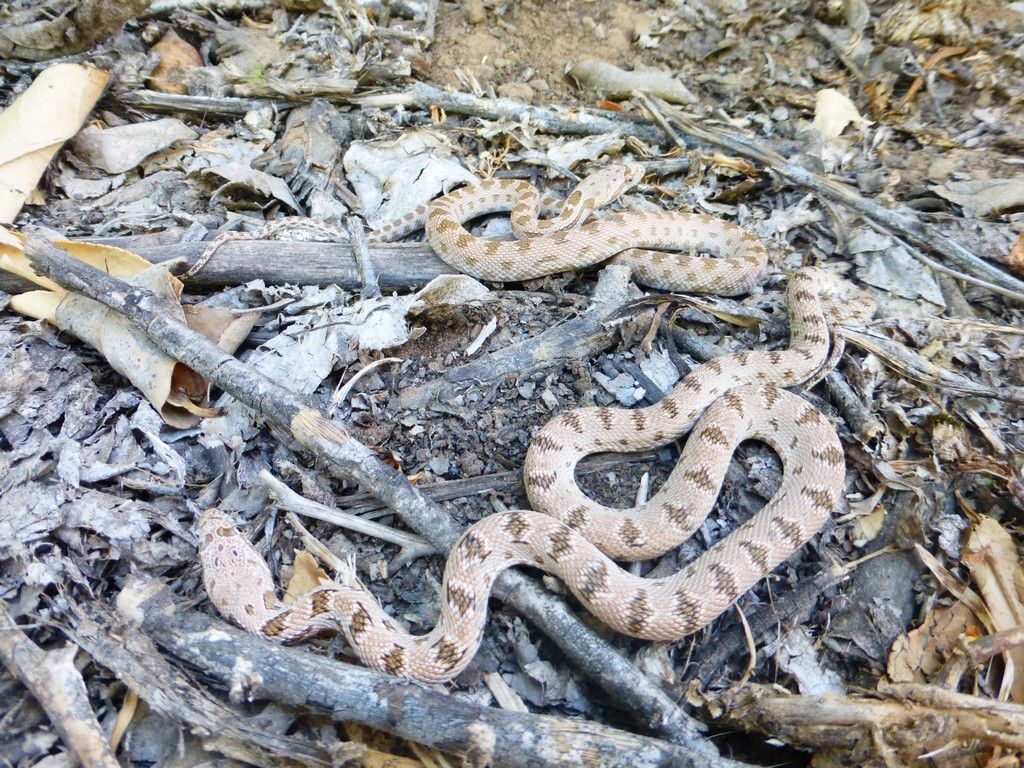 Platyceps rogersi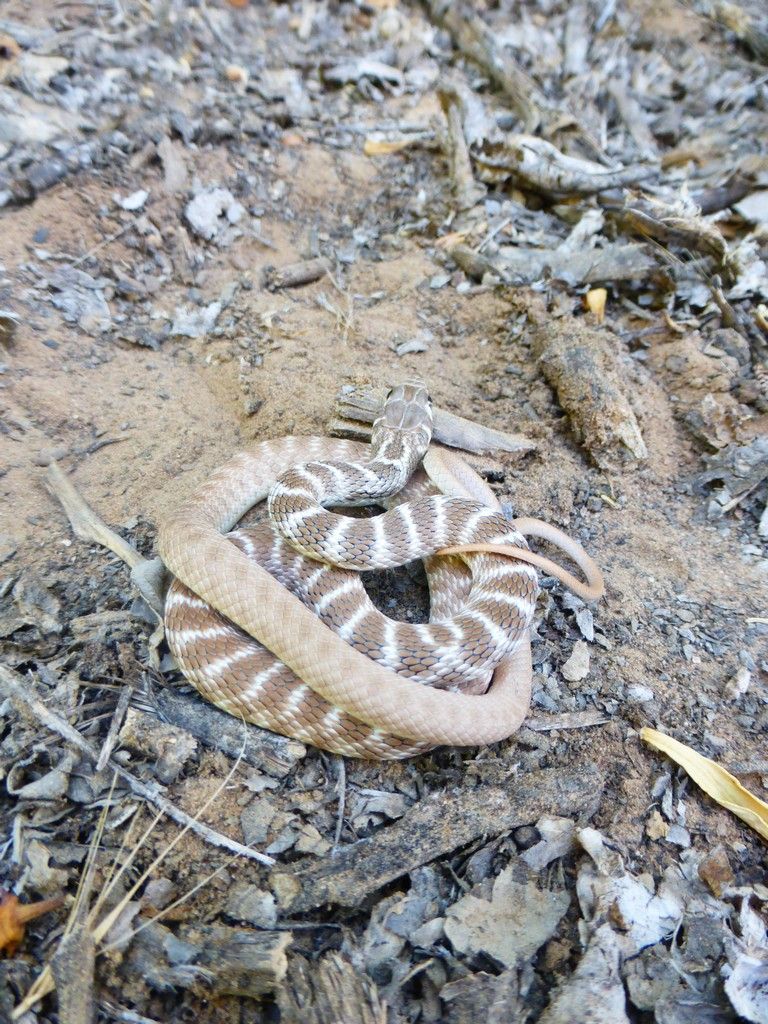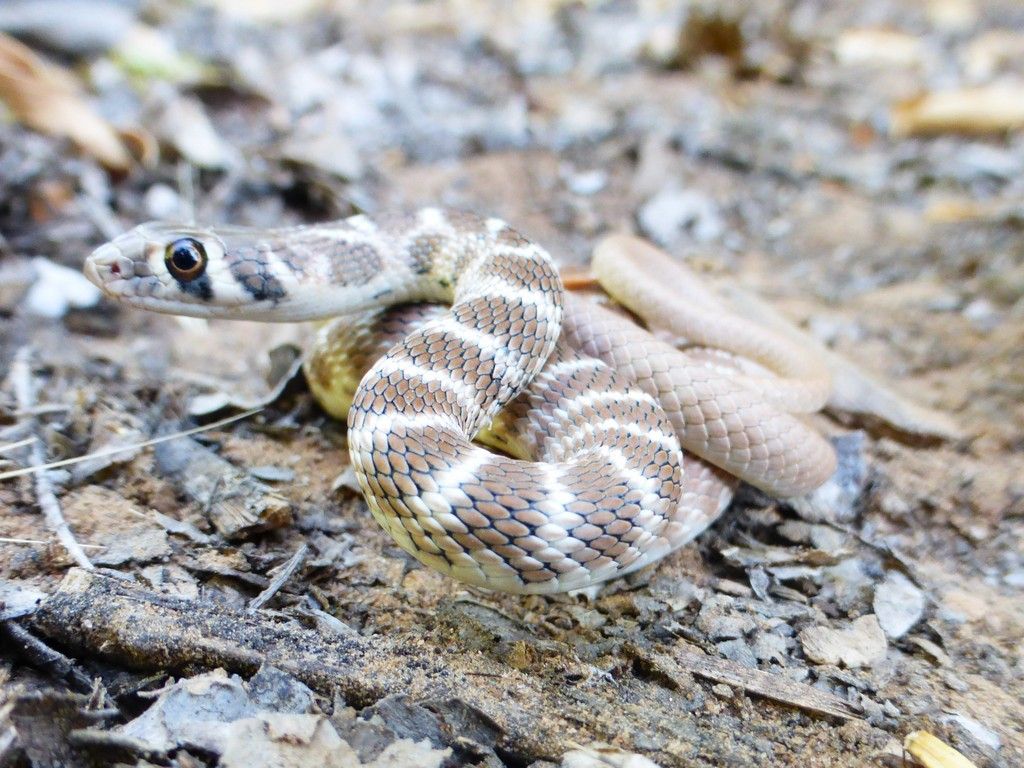 Chalcides ocellatus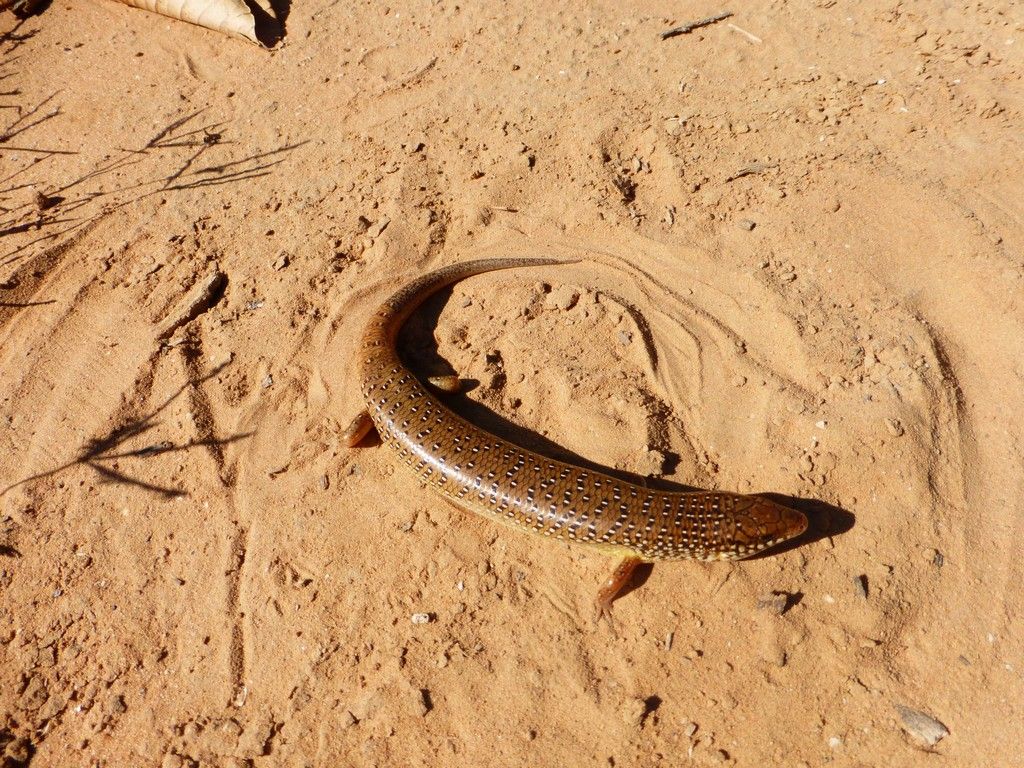 We let the geckoes be, as they live there by their own choice and brought out the snakes and skink for a short photo session before their release. Thankfully all the rescued animals looked to be still in good shape.
As we were photographing we saw a couple of Schreiber's fringe fingered lizards,
Acanthodactylus schreiberi
and another starry agama. The lacertids were too quick for our cameras, though, and I got better pics of Laudakia later, so I'll spare you now.
Thinking moisture was the key to finding anything in the mid afternoon heat we then headed back to a river we'd crossed a mile back where it flooded the road . A short hike brought only a group of young green toads,
Bufotes variabilis
, that I found under a piece of polystyrene foam.
Bufotes variabilis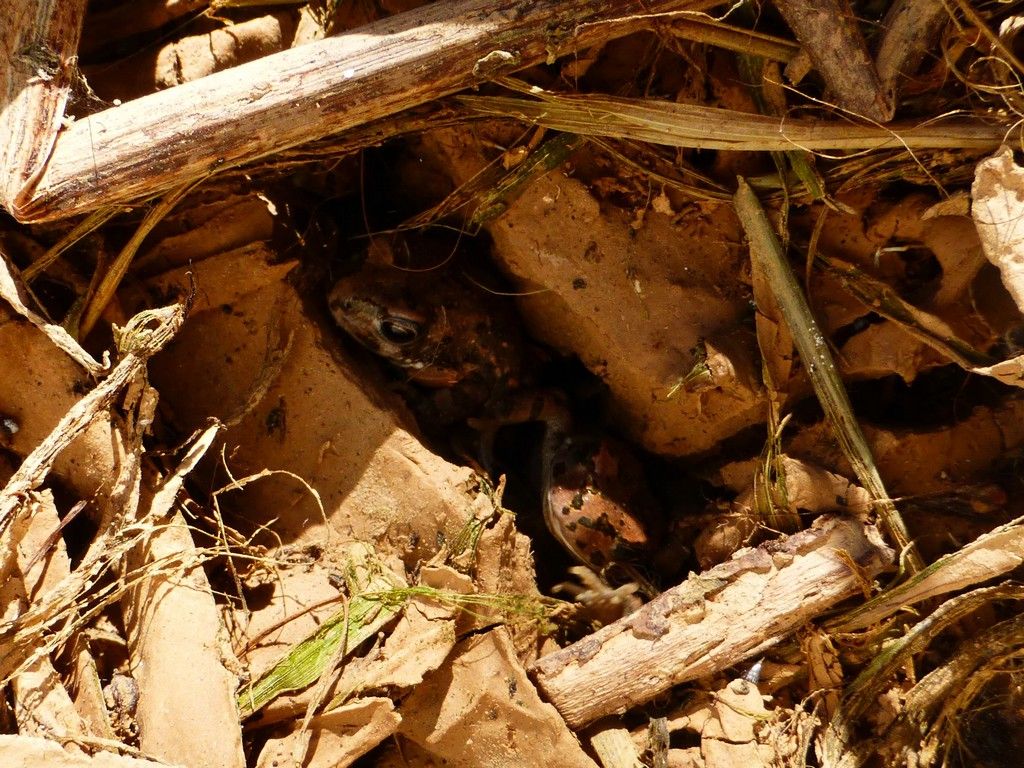 Next stop was at an infrastucture hole in the central Negev. Guy went down, found a lot of snake and lizard tracks, more mummified rodents, two ocellated skinks, a couple of dead lizards and some dome shaped structures that he couldn't move but which might conceivably provide a hiding place.
These ocellated skinks were not all that ocellated, however. As you move south through their range they become less and less spotted and, I believe, smaller. I'm sorry to say I only took a couple of awfully sloppy photographs.
Chalcides ocellatus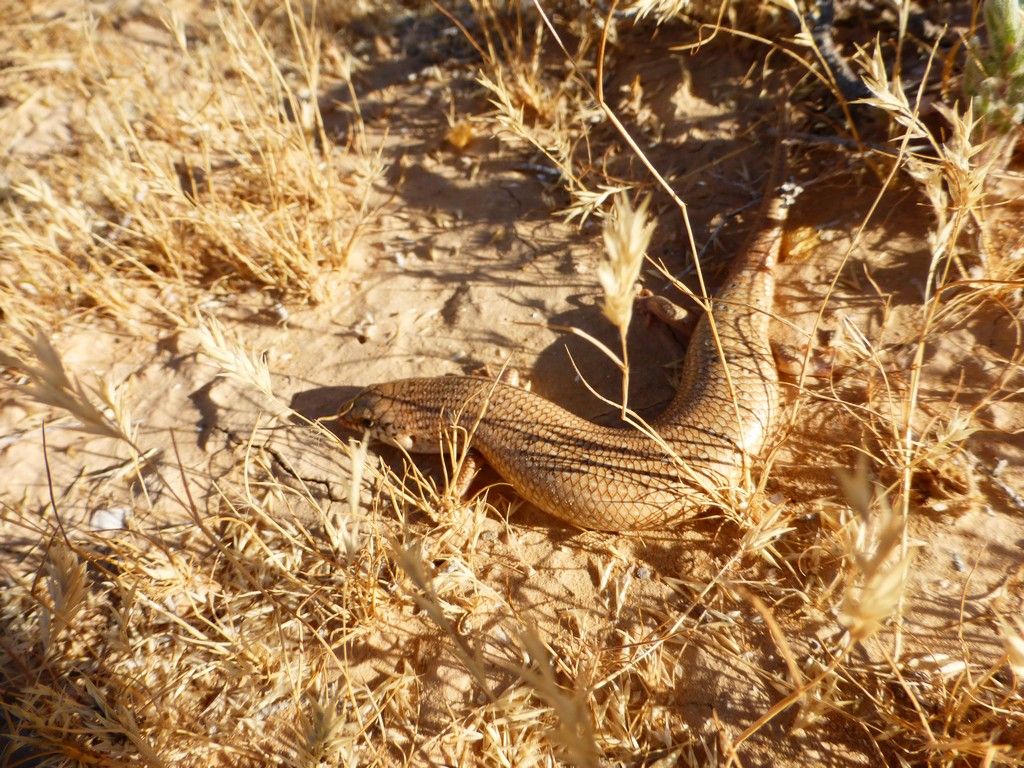 Above ground we also saw the first of many black widows, pictures later.
We drove on to our evening destination and the question as posed by Guy was whether to herp the habitat until road cruising time or head into town and relax a bit. I made the decision for us, we went into town to check into our room and hurried back out.
Bad decision, minus 1000 on the GJ scale, my only (bad) excuse being lack of sleep from getting up at 3 to go to the airport. When we arrived at the wadi the sun had just set below the mountain tops and the rays that should provide the energy for the late afternoon reptile activity were gone. We hiked the habitat, turned a lot of rocks and a couple of oil barrels, found lots of solfugids, some mantises, a couple of scorpions, more widows, a large huntsman, beetles, etc but herpwise only a small Turkish gecko.
Cerbalus sp.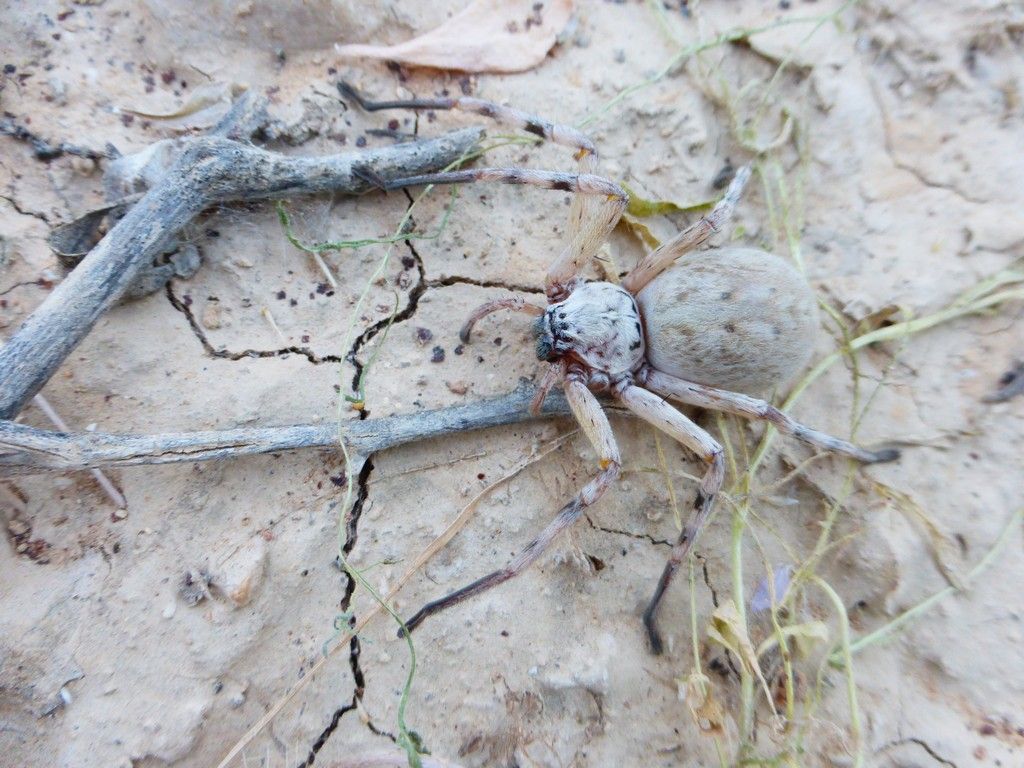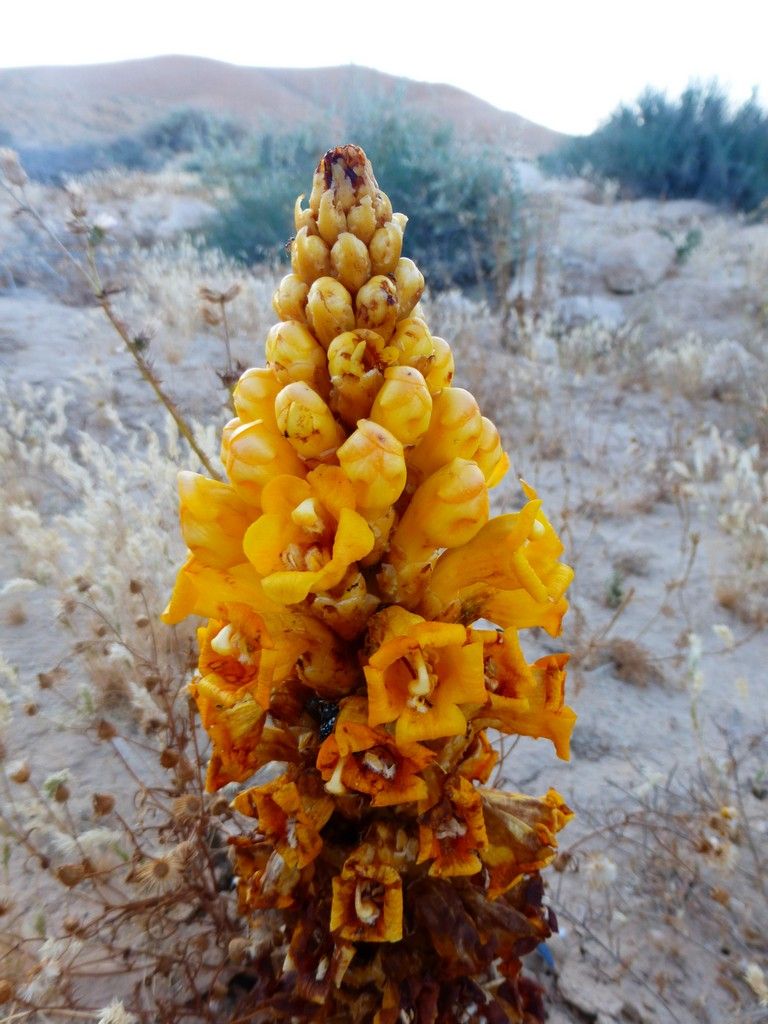 Guy herping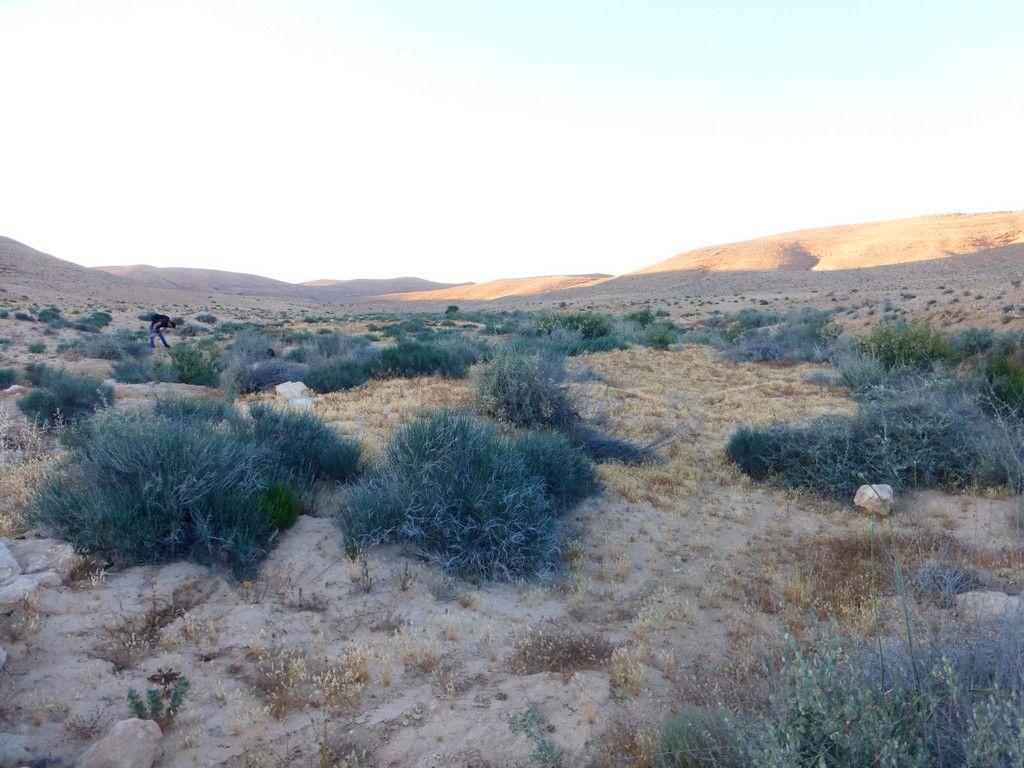 Latrodectus sp.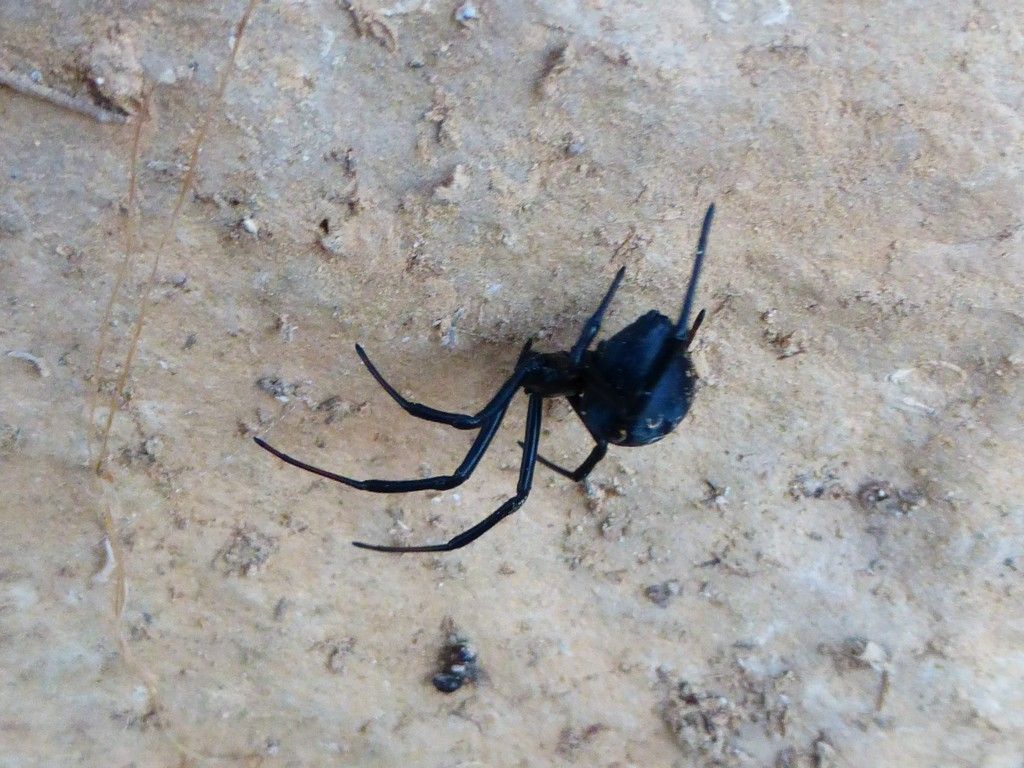 Deathstalker (wonderfully evocative name), Leiurus quinquestriatus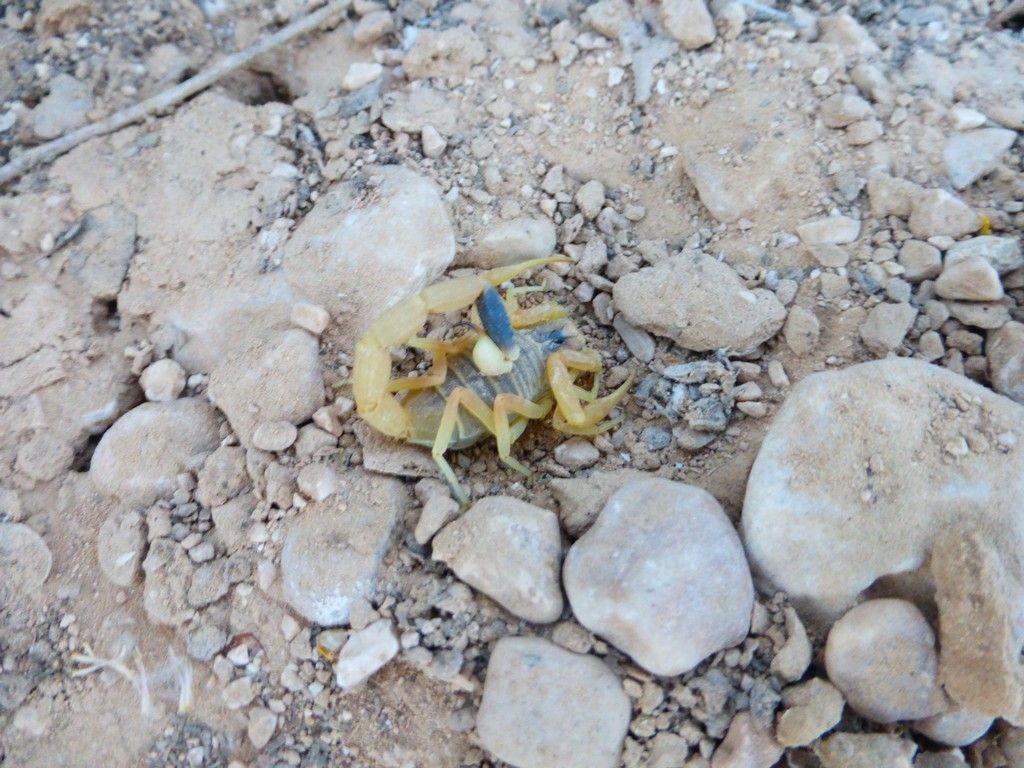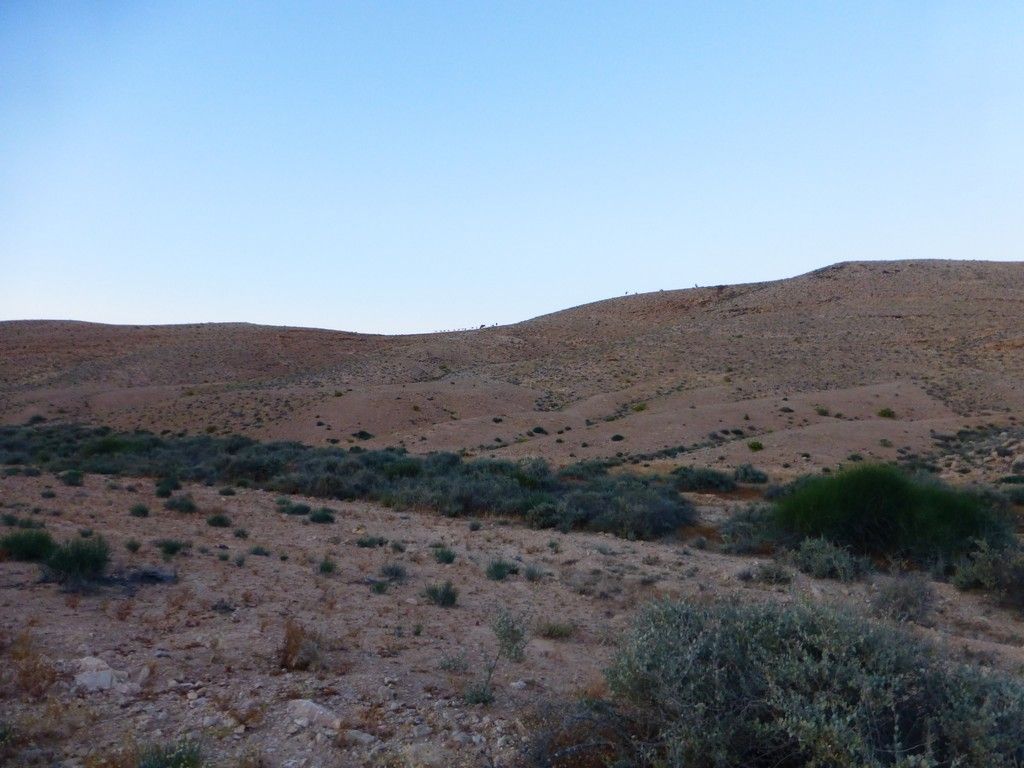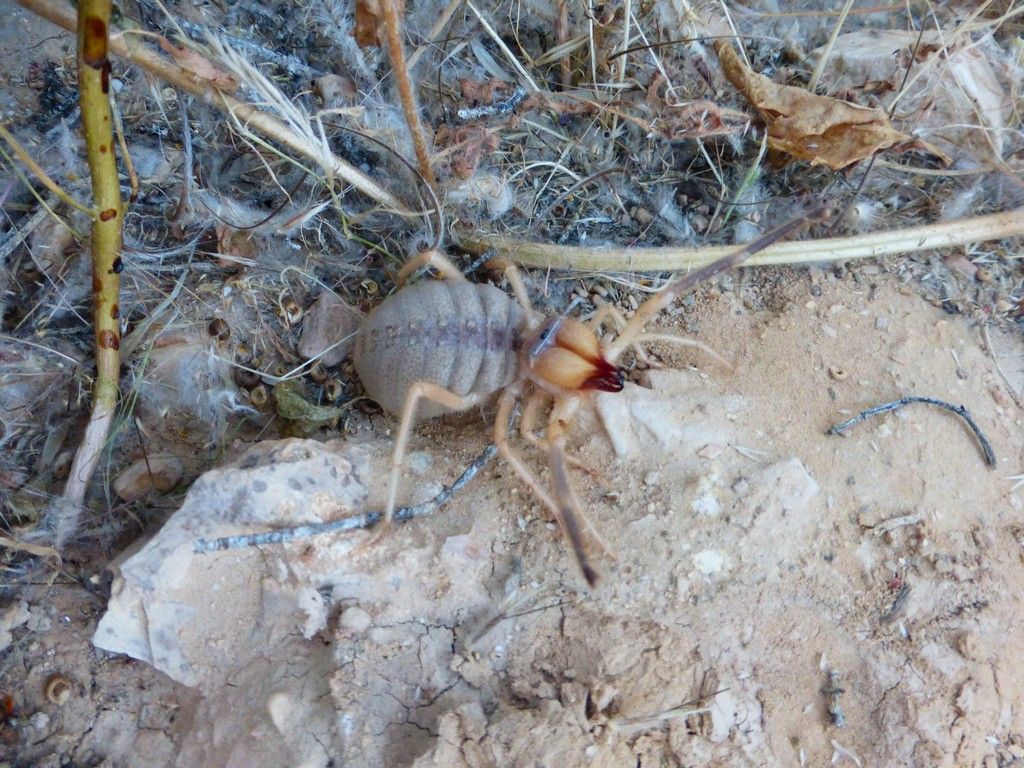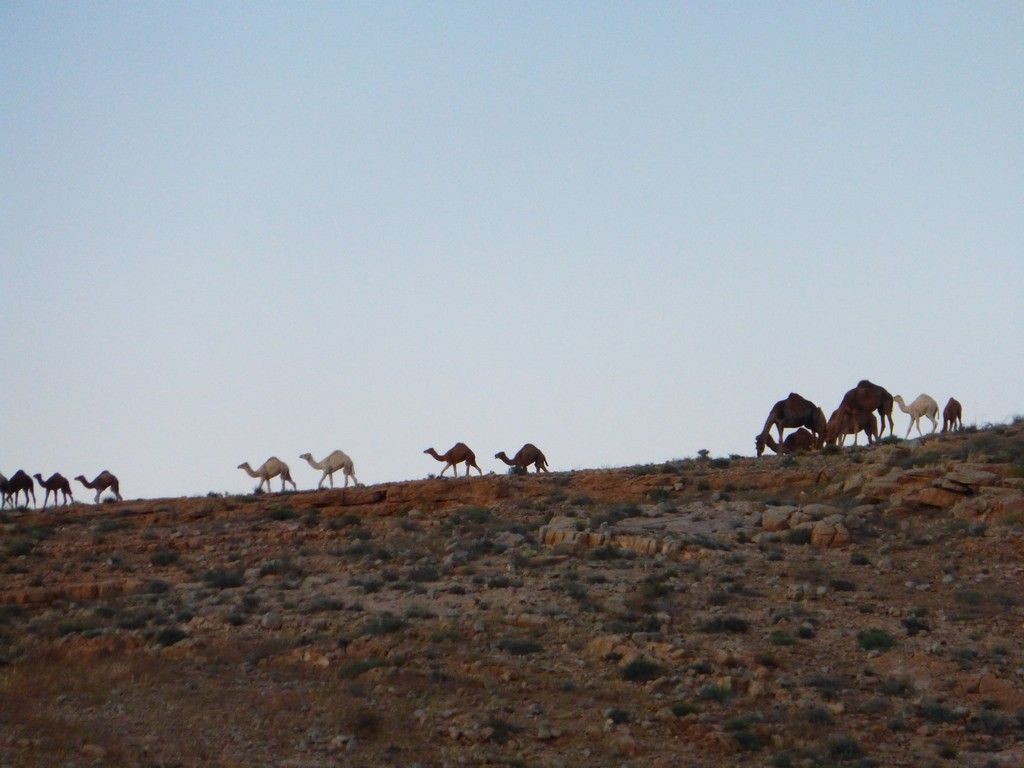 At nightfall we started cruising with high hopes. We went up and down the road a couple of times until we were simply too tired to continue. Most disappointingly we were skunked, saw nothing but geckoes. The ones we stopped to have a look at were all Lichtenstein's short fingered geckoes,
Stenodactylus sthenodactylus
.
Stenodactylus sthenodactylus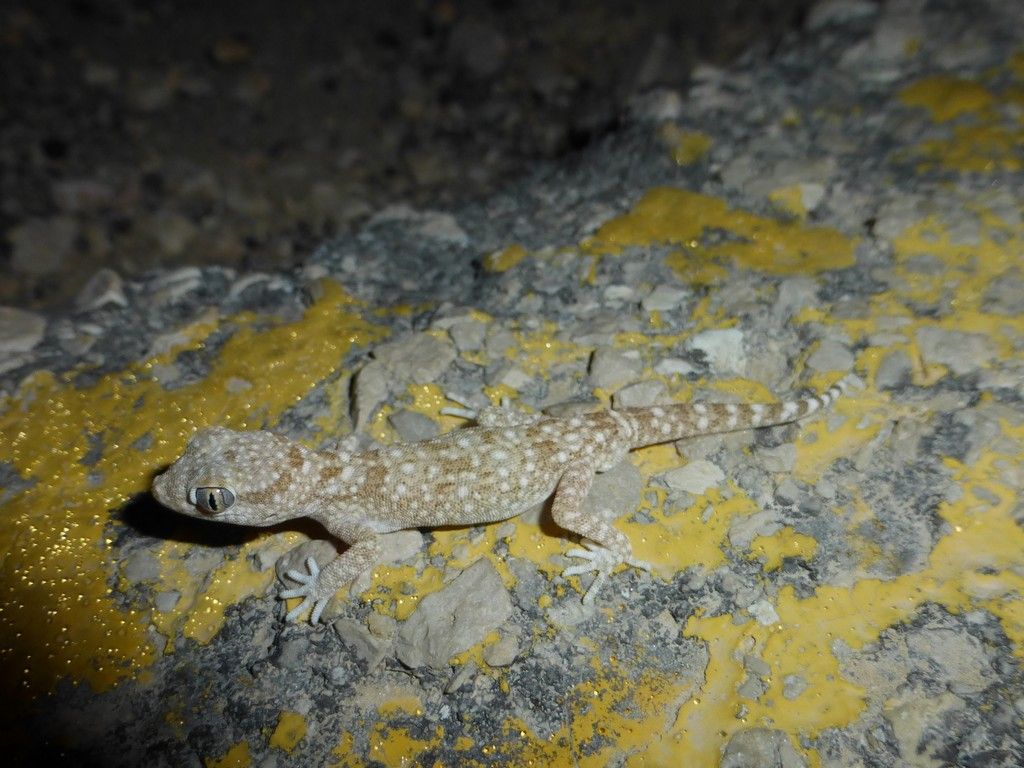 Plentiful inverts and assorted mammals with Asiatic wild ass and jerboas as the highlights were but a very small consolation for the lack of snakes. Guy and Liam headed back home and Mats, Janne and I had a beer in our room before crashing in our beds five hours before we had to get up to catch the morning activity, having missed the afternoon's.
Nebo hierichonticus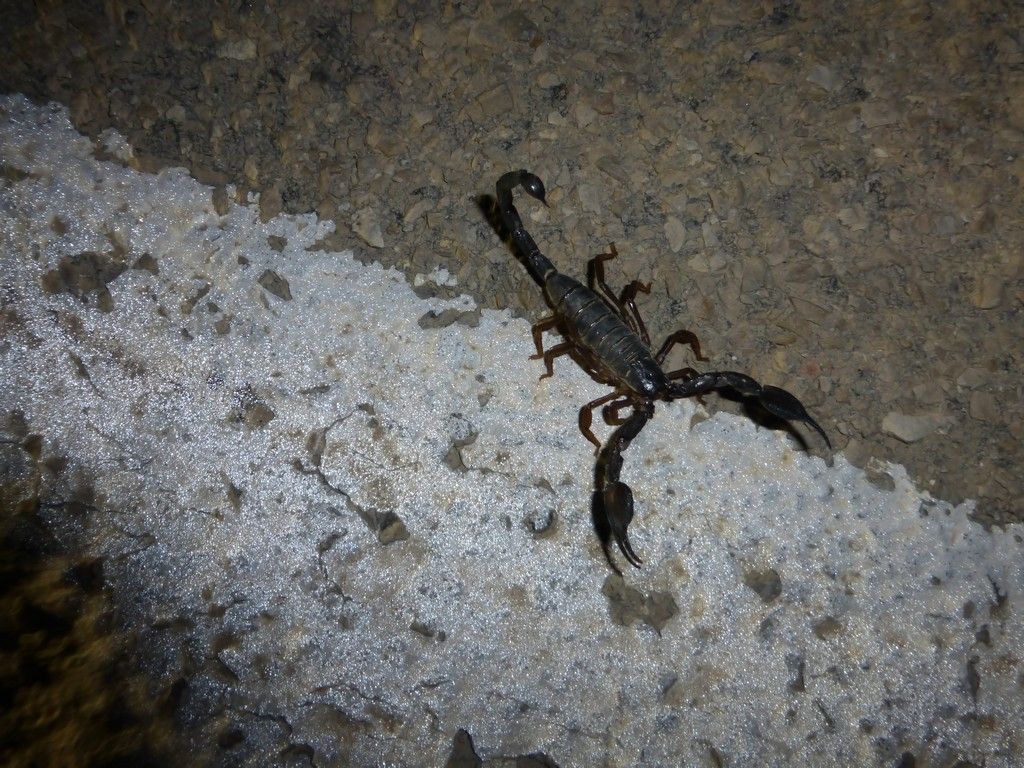 Random mammal, Jaculus sp.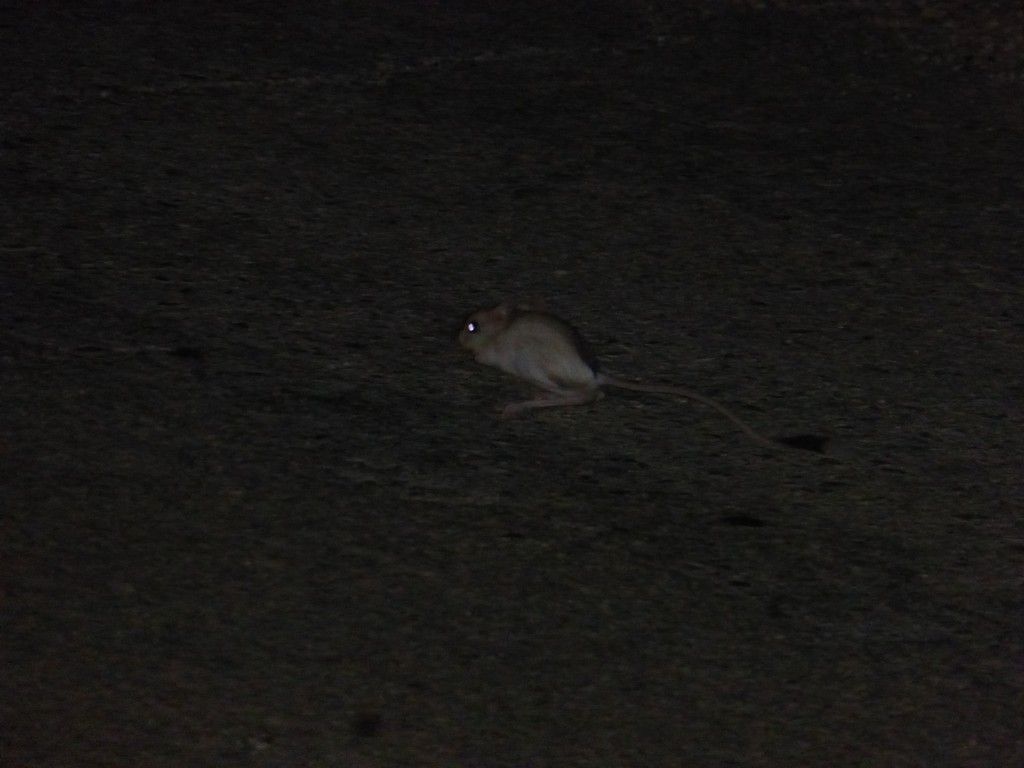 Before dawn we hurried to the gas station for a quick cup of Turkish coffee and a croissant. At the wadi it turned out we were early. The sun was up but nothing was moving yet. After an hour the snake eyed lizards started to appear, until then the rustling in the bushes was all grasshoppers.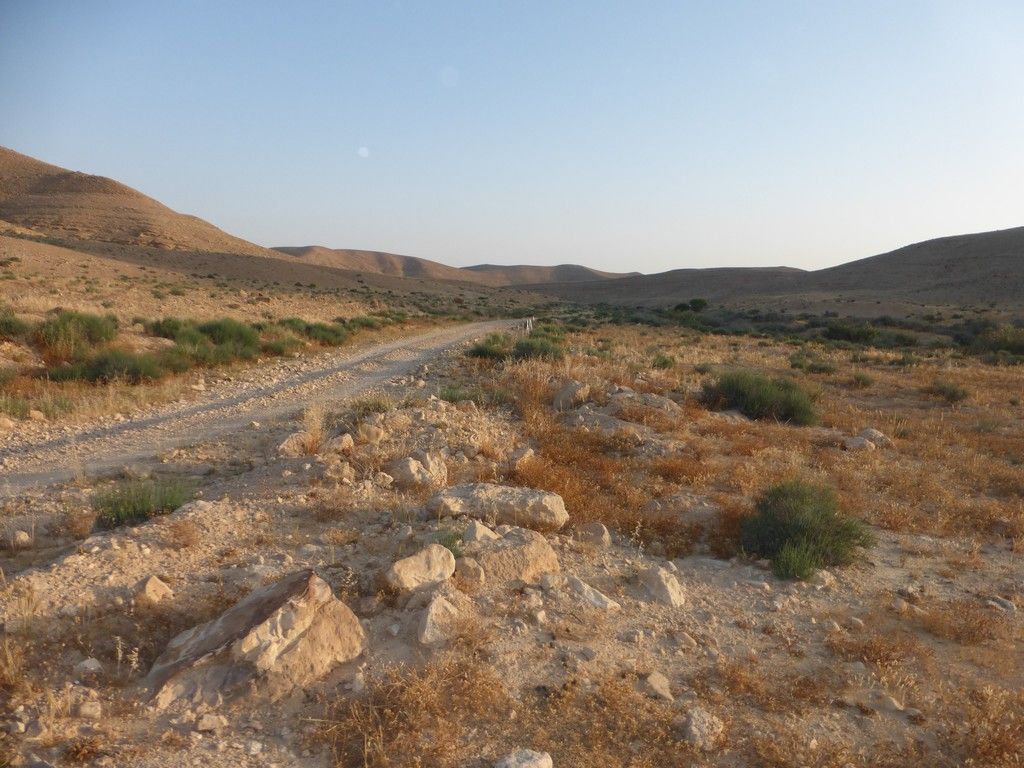 Buthacus sp?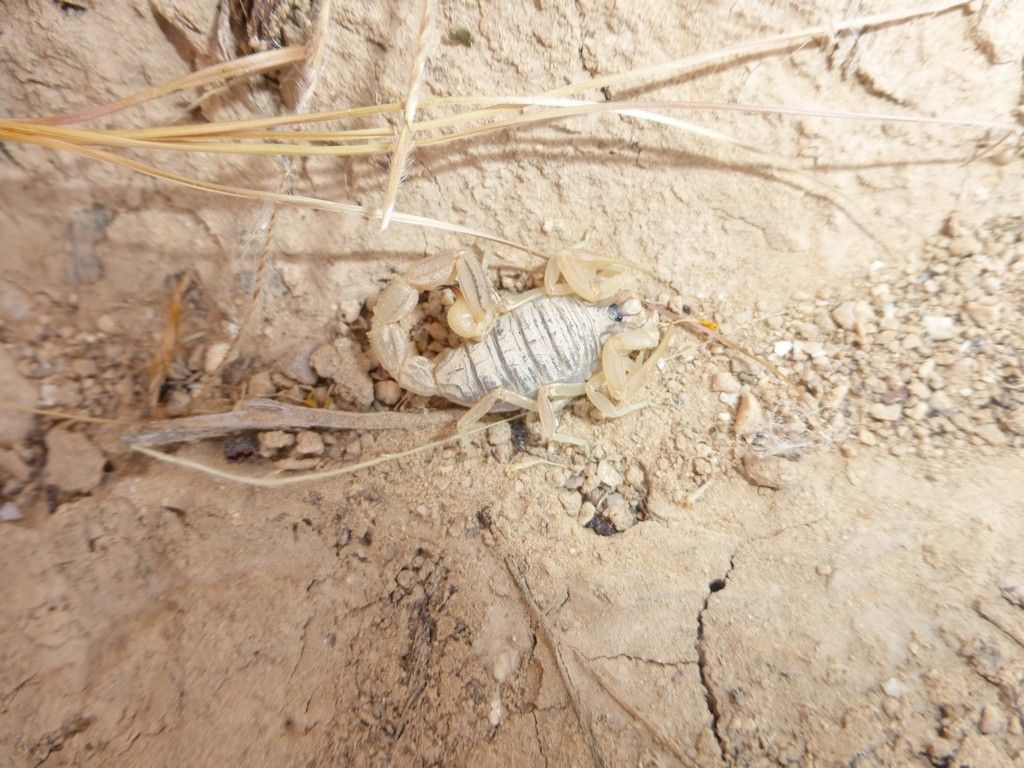 Ophisops elegans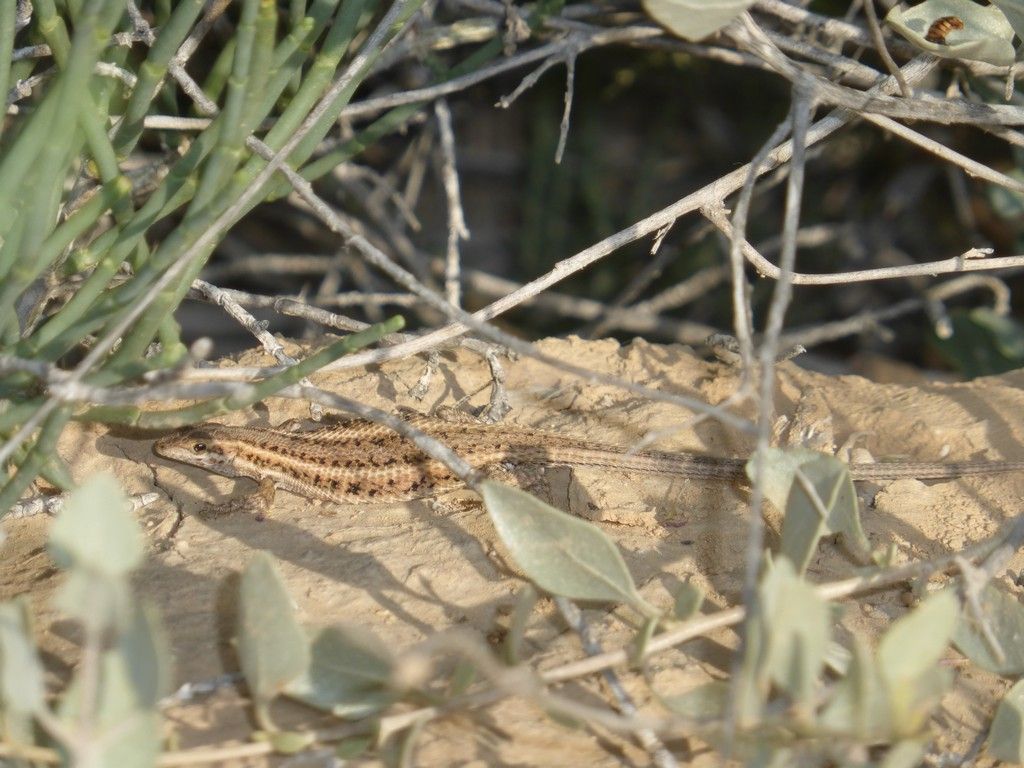 It was a lovely morning, butterflies fluttering about, but herp activity was depressingly low. After another hour I finally spotted a Schokari sand racer in the river bed. I caught it for Mats and Janne to see and we got our pictures.
Psammophis schokari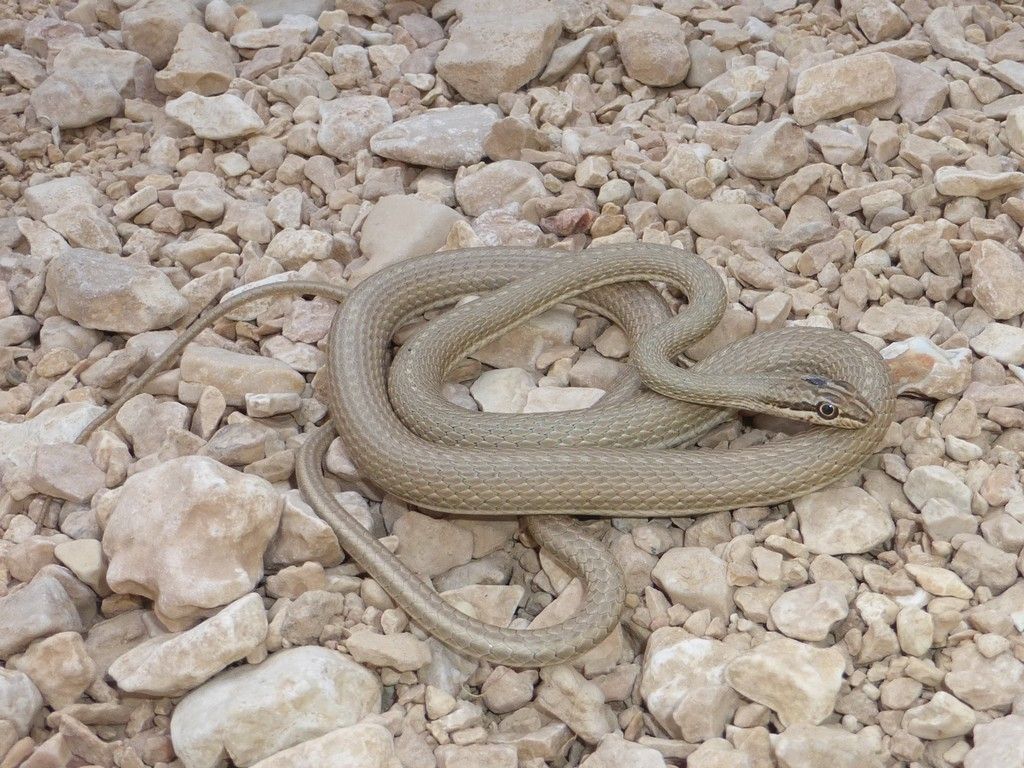 Mats and Janne then bid me farewell and headed for Eilat and mastigures. I gave it another half an hour, found a few fringe fingered lizards. The schreiberi / boskianus / opheodurus complex is a bit of a mess, difficult to distinguish and with questions being raised as to the validity of the taxonomy. I believe these to be Bosk's fringe fingered lizards,
Acanthodactylus boskianus
.
Typical sight herping Israel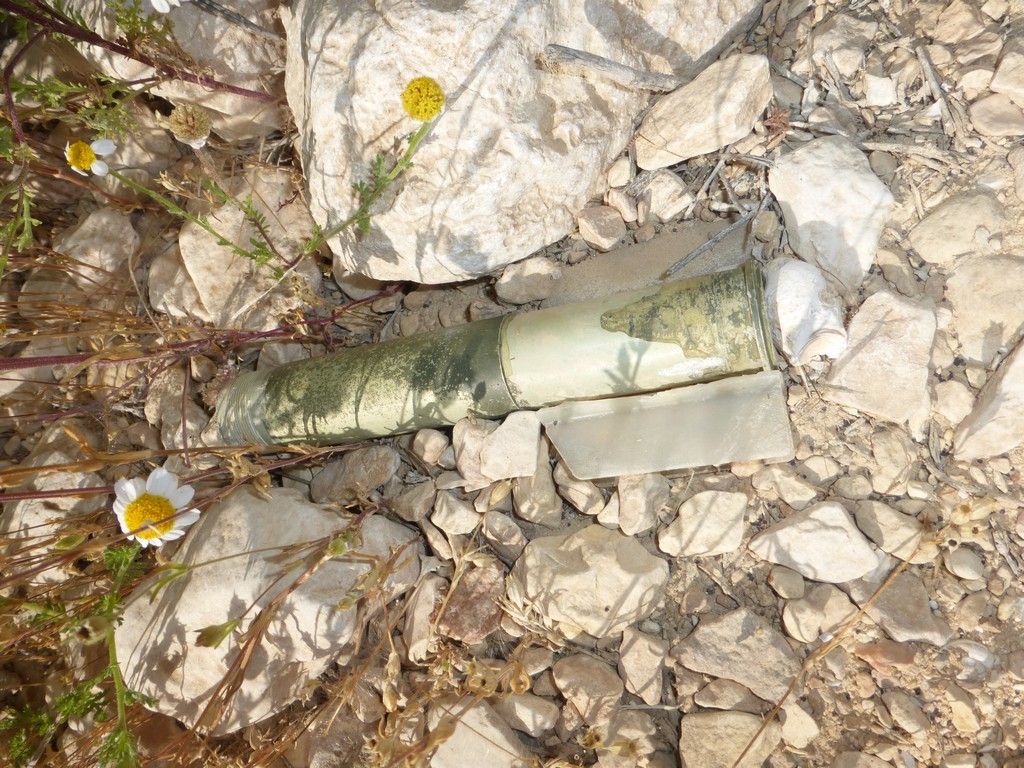 Target practice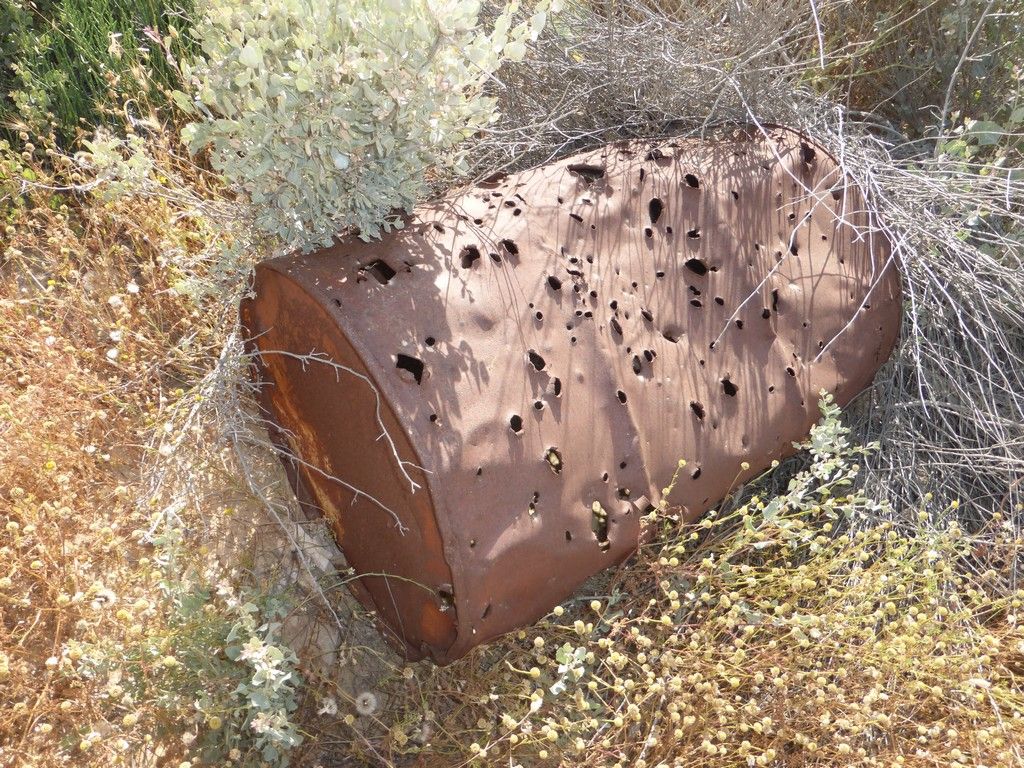 Acanthodactylus cf. boskianus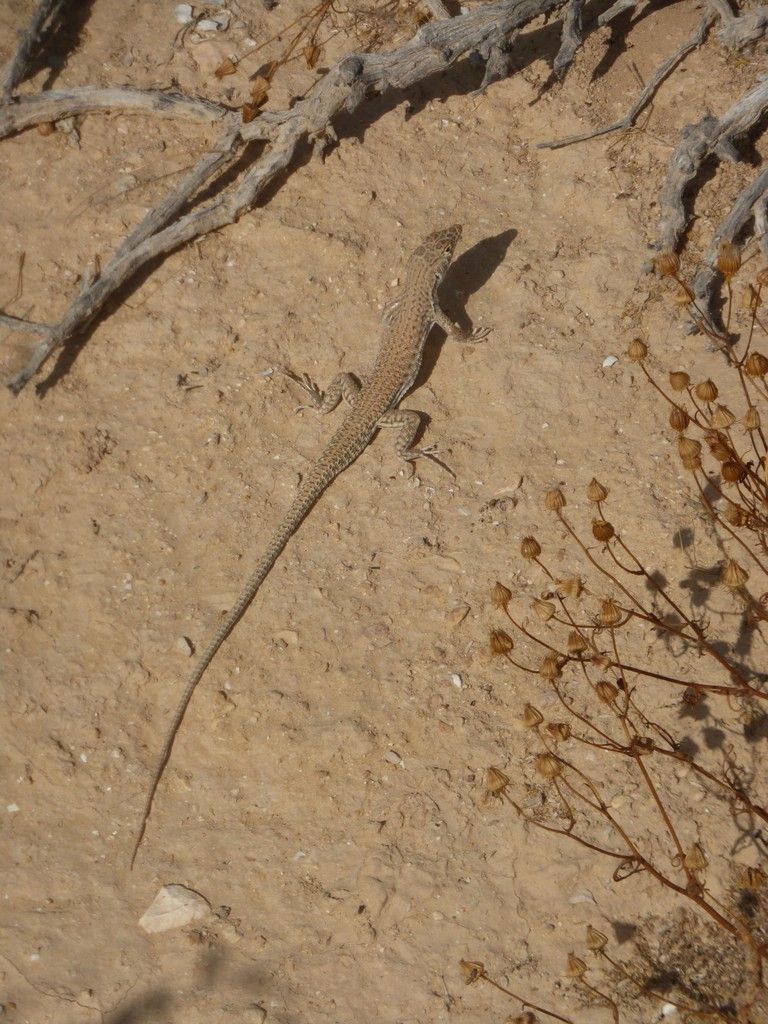 Acanthodactylus cf. boskianus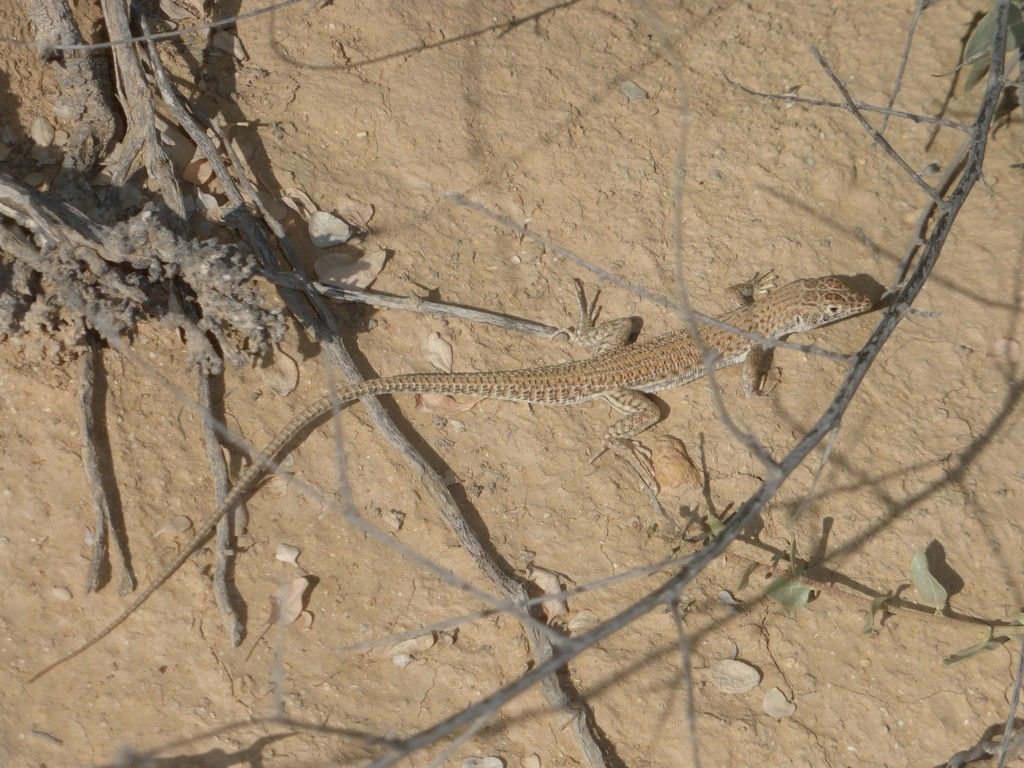 I drove to a cistern I had found on Google Earth. At it I found swarms of very menacing looking giant hornets and a single snake eyed lizard. To my surprise I heard a treefrog calling but I could't locate it.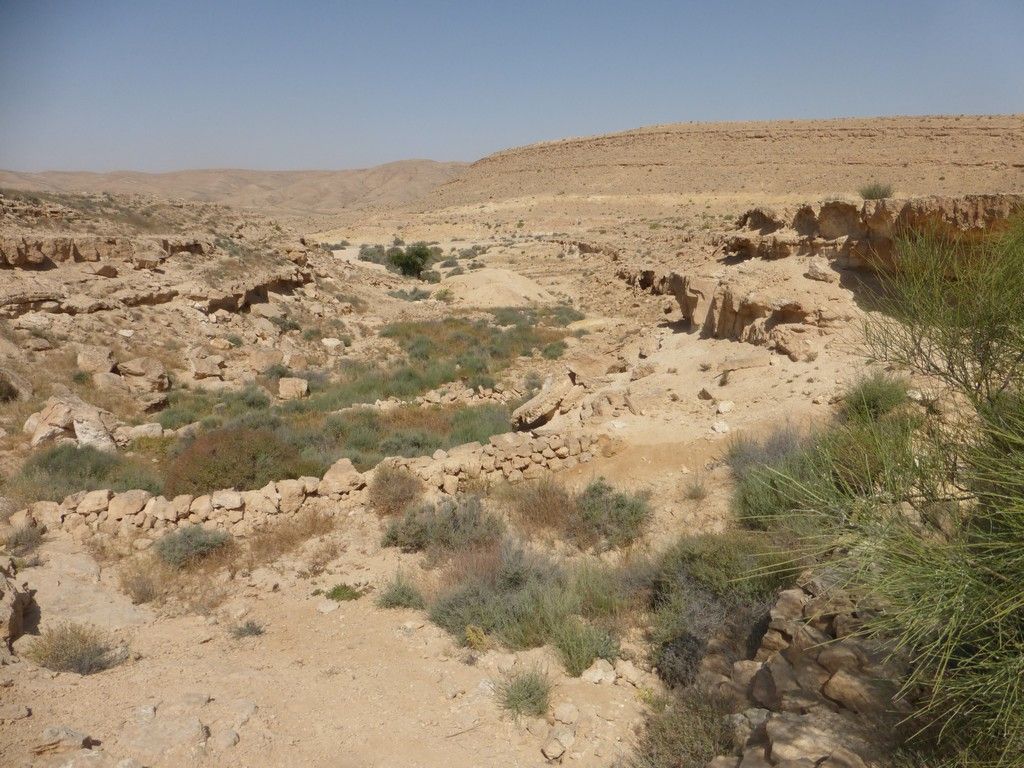 It was getting hot and I pondered my options. By all accounts not much would be moving the next several hours. I was also running out of obvious spots in the immediate vicinity. A nap seemed a sensible option but I didn't have a room and I was too restless anyway. I opted to play the tourist, minus 50 on the GJ scale, drove to Mitzpe Ramon, walked the crater rim, taking in the views and drove to the bottom for a short hike and a subsequent swim in an old quarry filled with surface runoff. The hike was rather less spectacular than I had hoped for but I was rewarded with a surprise Sinai agama,
Pseudotrapelus sinaitus
, a second new species for me, earning me back my 50 points.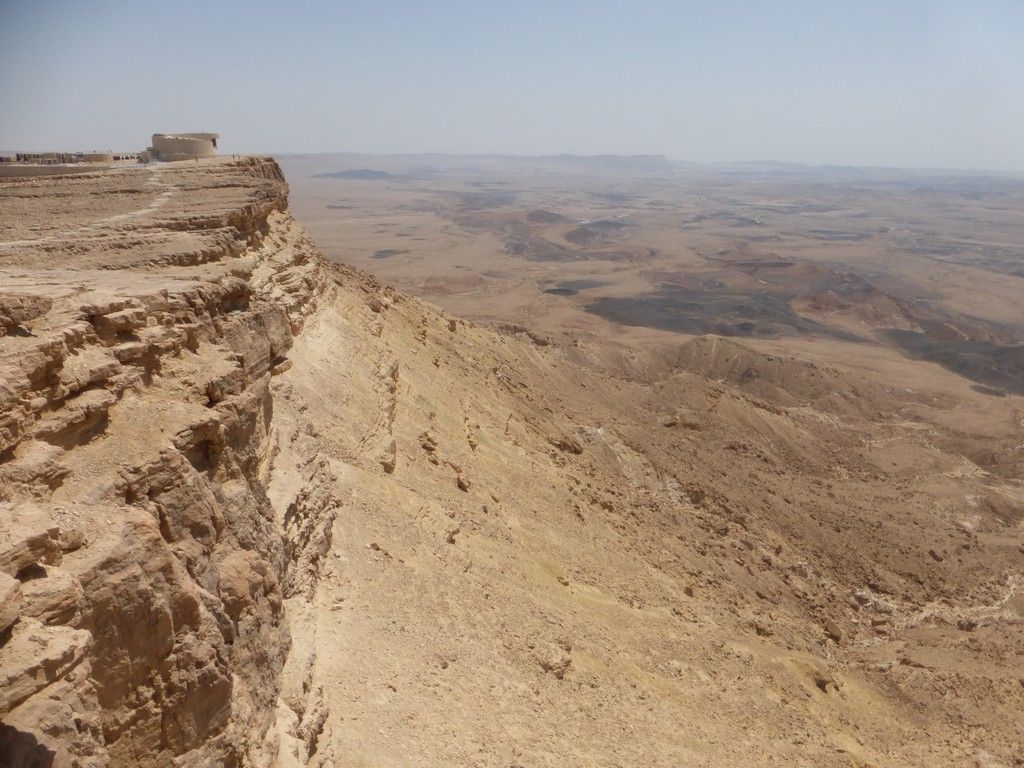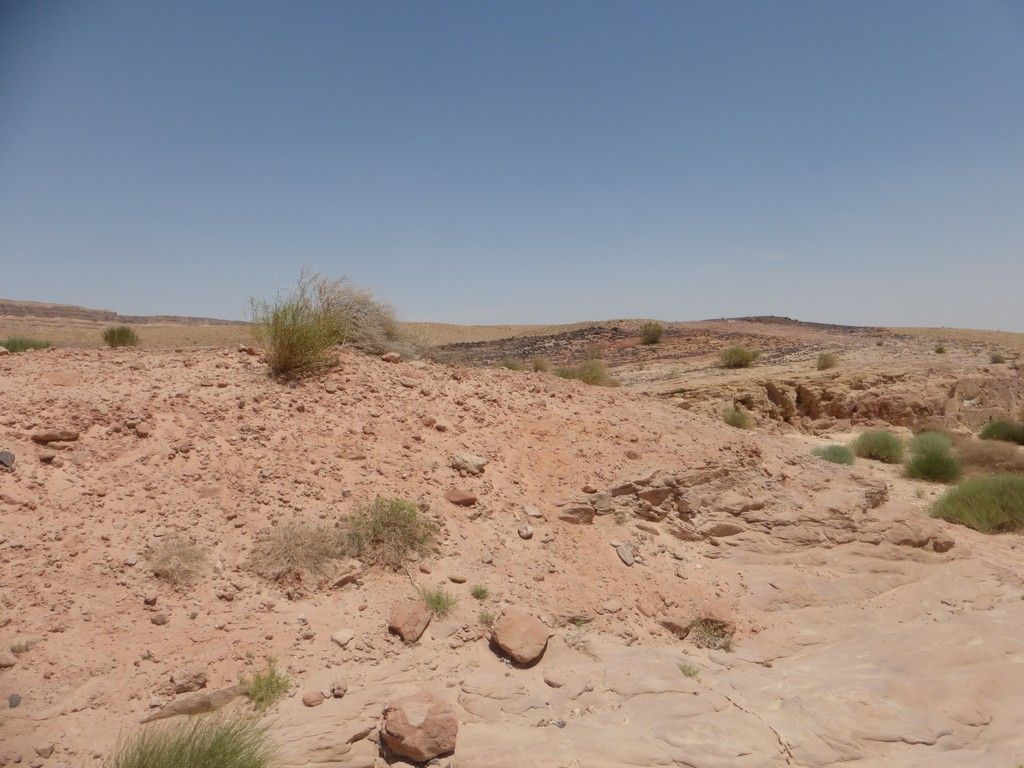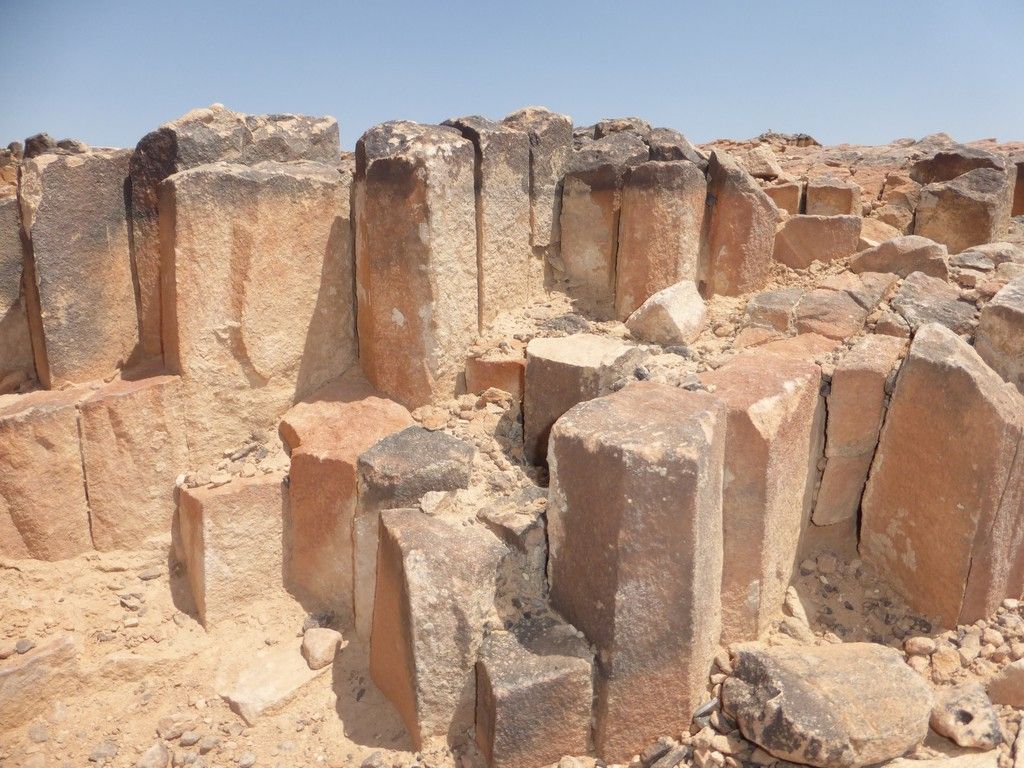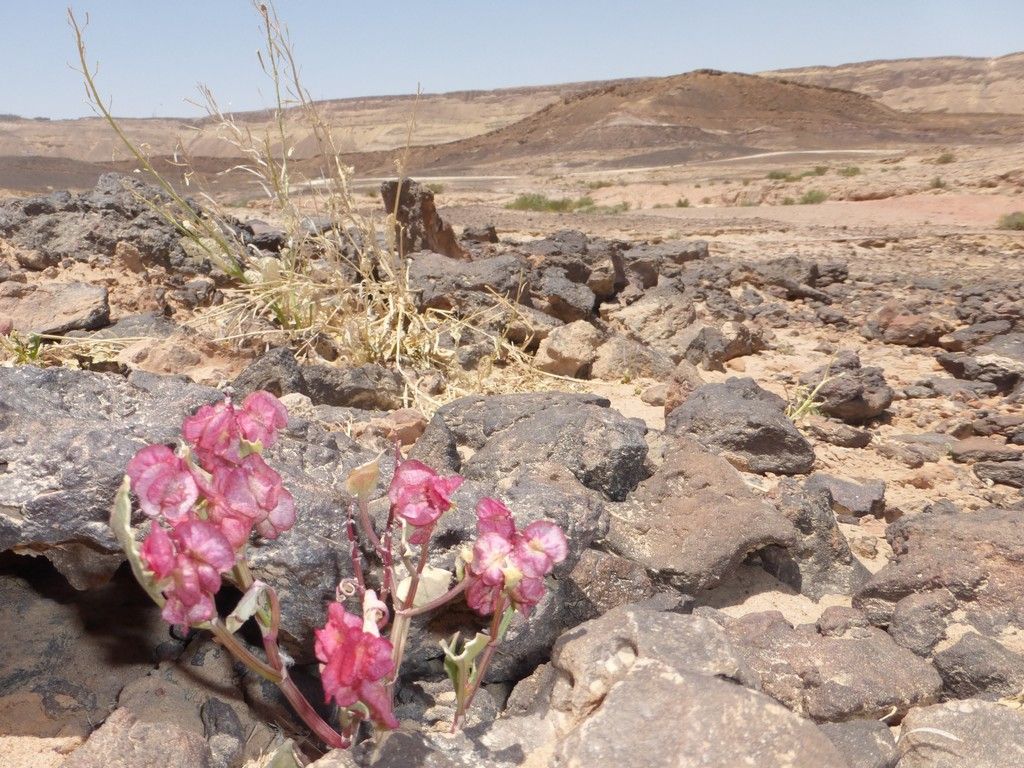 Pseudotrapelus sinaitus
By now it was really hot and I knew I had a long night ahead of me so I went back to hostel and asked if they had a bed for a couple of hours. It was hours past checkout time but they let me stay in my old bed free of charge
After an hour's nap, a shower and a Turkish coffee I headed back out. I drove north towards the dunes with a short stop en route at a couple of infrastructure holes. Above the holes a couple of starry agamas were out and about, inside them the usual dessicated rodents, a shed skin from some large eyed colubrid, old gecko eggs on the wall and a small-spotted lizard,
Mesalina guttulata
, in a rather miserable condition.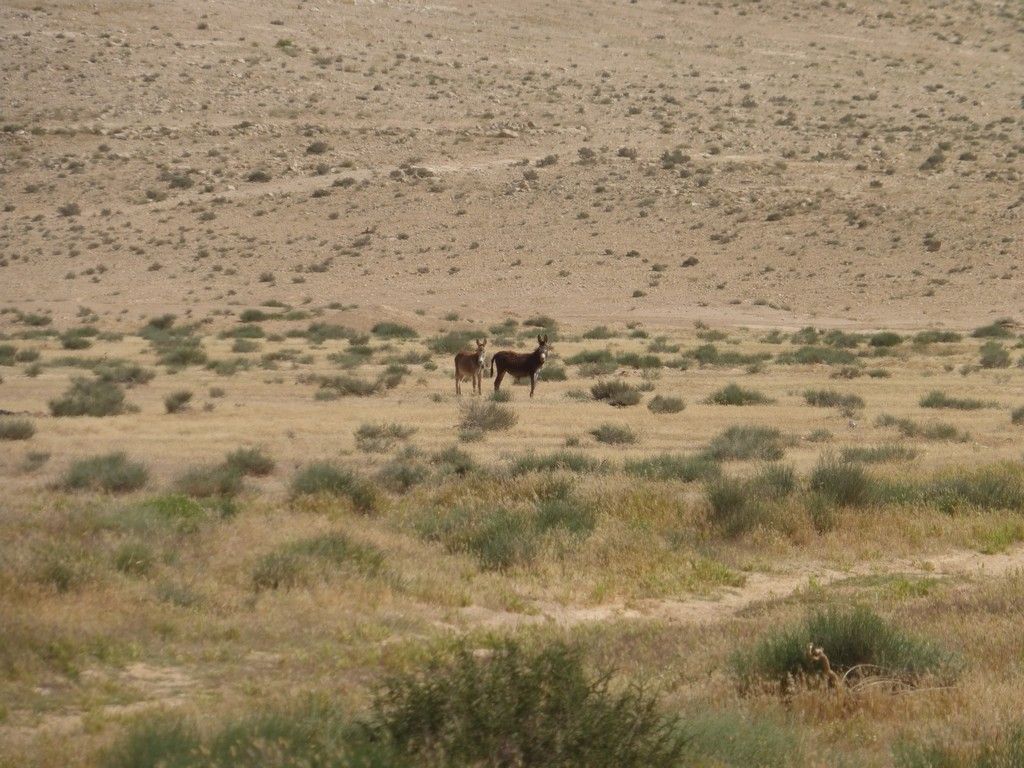 Mesalina guttulata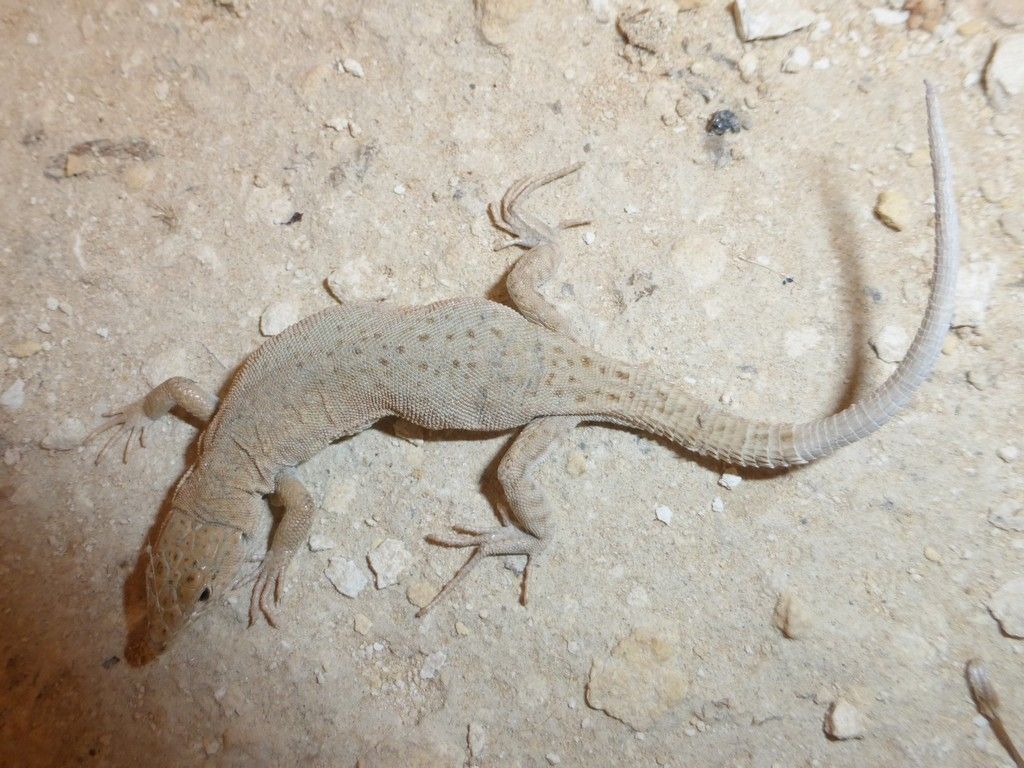 Wiser from experience I arrived at the dunes an hour earlier than at the wadi the day before. My timing proved absolutely perfect. As I parked the car in the sand I was astounded to see a very large lizard strolling casually through the shrubs in front of me – my #1 on the dunes wishlist, one of my top targets since I first went to Israel, the desert monitor,
Varanus griseus
. Somewhat rare in Israel they seem quite elusive and are mostly found trapped in holes or seen in just a quick glimpse of flight at great distance. To have one just prancing about in front of me, doing its thing was quite a treat indeed.
I sat in the car for a little while just watching it and took a quick docu shot through the windscreen but unfortunately the windscreen was very dirty, my p&s camera really isn't made for that type of shots and my ineptitude with a camera is only exacerbated when I get overly excited about my subject so...
Varanus griseus, crap shot #1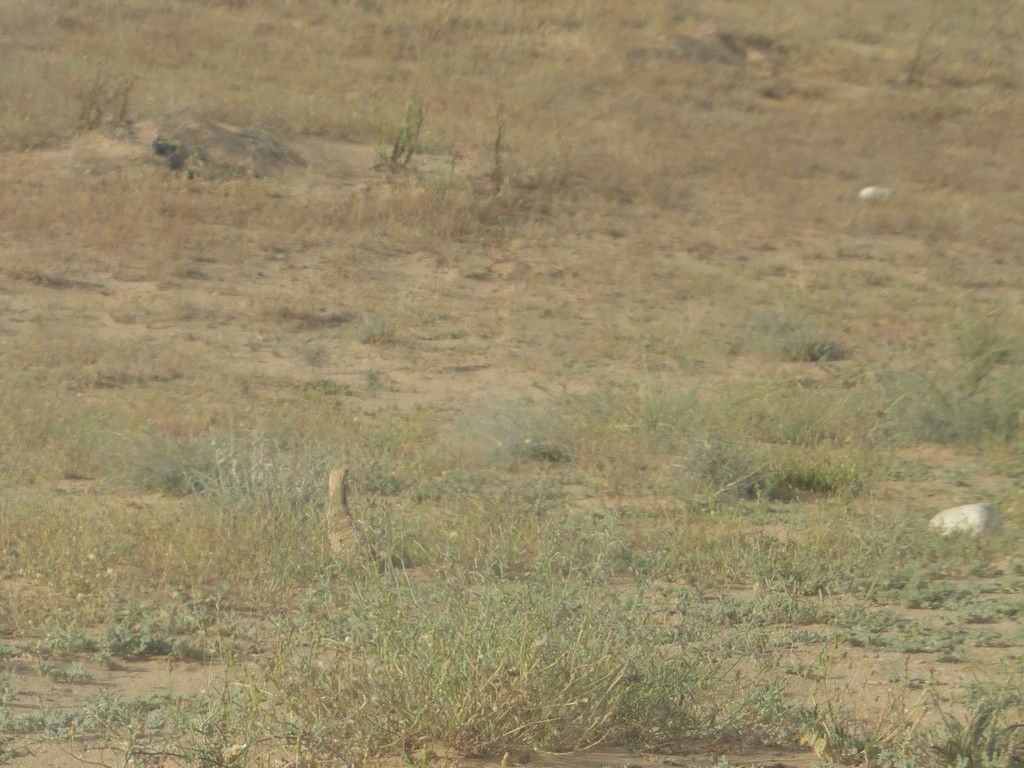 I guess I should just have stayed in the car and watched it for a longer time, hoping it would move to a better position and then photographed it through an open window but adrenaline pumping sense went out the window instead and I elected to get out of the car and try to sneak closer. Unsurprisingly it fled just as I was about to press the trigger (it's always like that, right?). I tried to get a quick shot of it on the run as it passed a tract of open sand. To avoid getting a picture showing just its tail as the lizard darted off to the right I purposefully aimed my camera in front of the racing monitor... too far in front
Varanus griseus, crap shot #2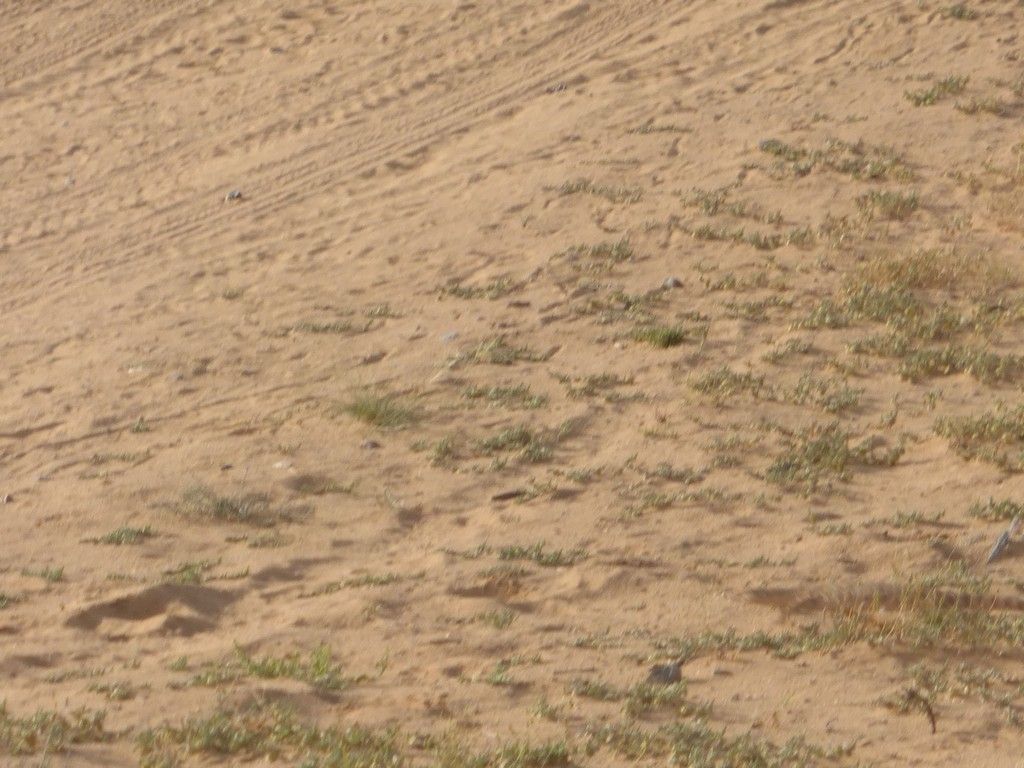 More or less instinctively I now gave chase wanting to catch it for better shots (must get rid of that encroaching photo bug or set myself a different and clearer set of standards for my photography aspirations). It was fast but I gained on it and just as I was about to jump on it my precious disappeared down a hole into its burrow.
Varanus griseus, burrow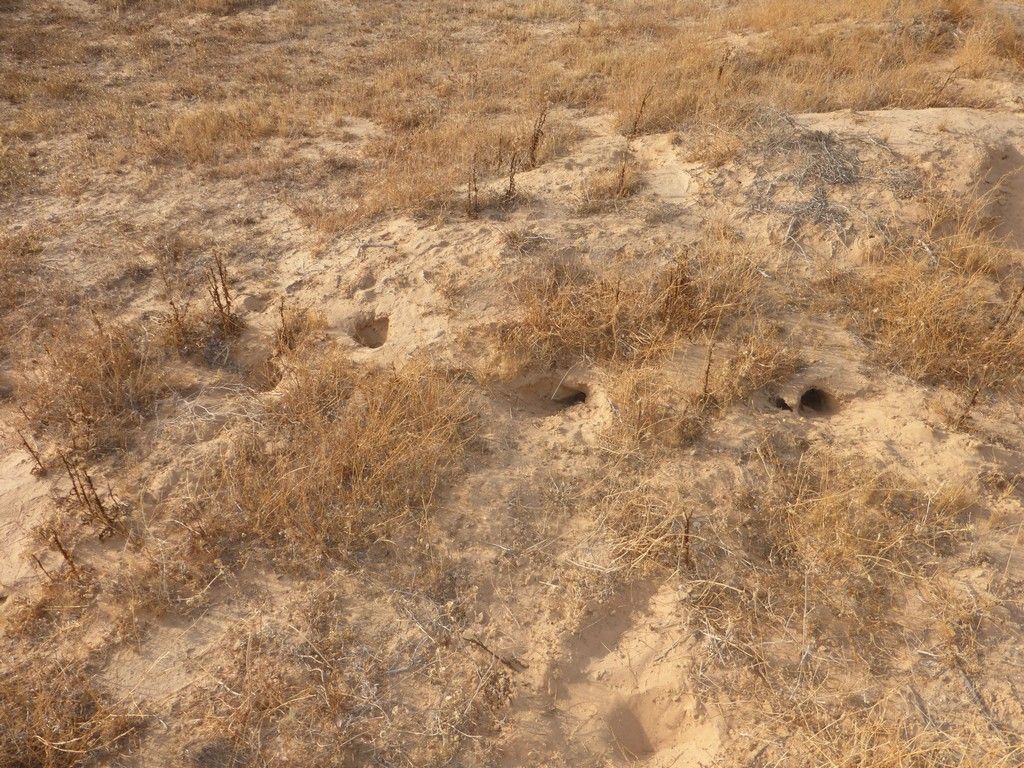 High from the experience, shameful about my demeanor and disappointed at the outcome I stood around the burrow for a while before I walked up into the dunes. I returned several times before dark and the next morning just to check if it was out again.
In the dunes I immediately found an Egyptian fringe fingered lizard,
Acanthodactylus aegyptius
. I would see plenty of these as well as their slightly stockier congener, the Nidua fringe fingered lizard,
Acanthodactylus scutellatus
over the next hour as well as the following morning. I was particularly pleased to see one with prey in the form of a beetle. In another instance an ant crawled up next to a lizard. After first giving the ant a good look causing me to think it would grab it the lizard then just looked away and ignored the ant – don't know what happened there.
Acanthodactylus aegyptius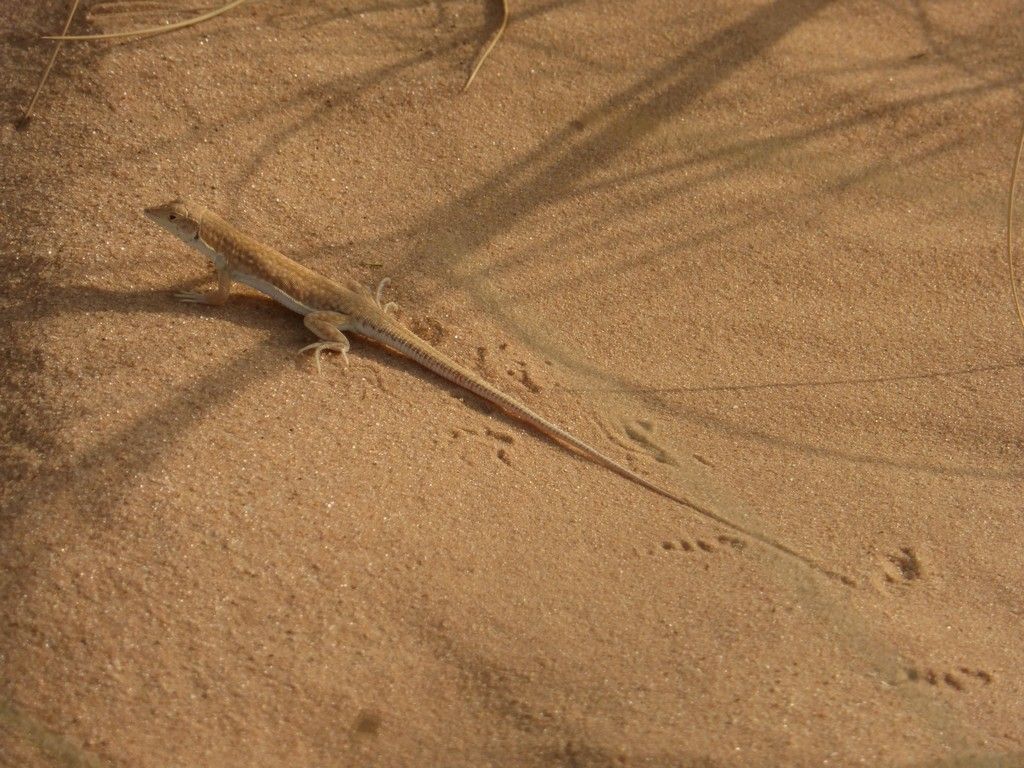 with prey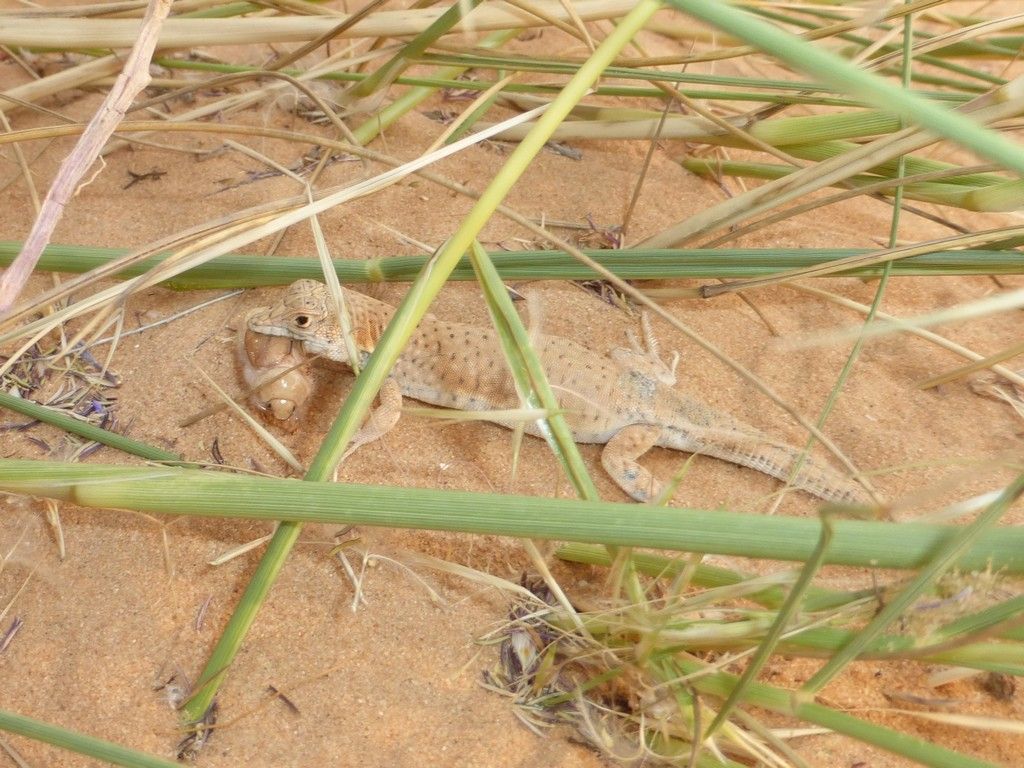 Acanthodactylus scutellatus
Right next to the first lizard I found an Egyptian sand agama,
Trapelus svaignyi
. A wonderful little species, intricately patterned in delicate sandy shades this was a "sort of" lifer for me. My only previous encounter with the species was on my very first trip to the dunes when I had spotted a slightly different looking burrow, asked Aviad what might live there and he replied something along the lines of "Well, for instance something like that". I never even saw the lizard at my feet, only a quick, completely unidentifiable blur of movement.
Trapelus savignyi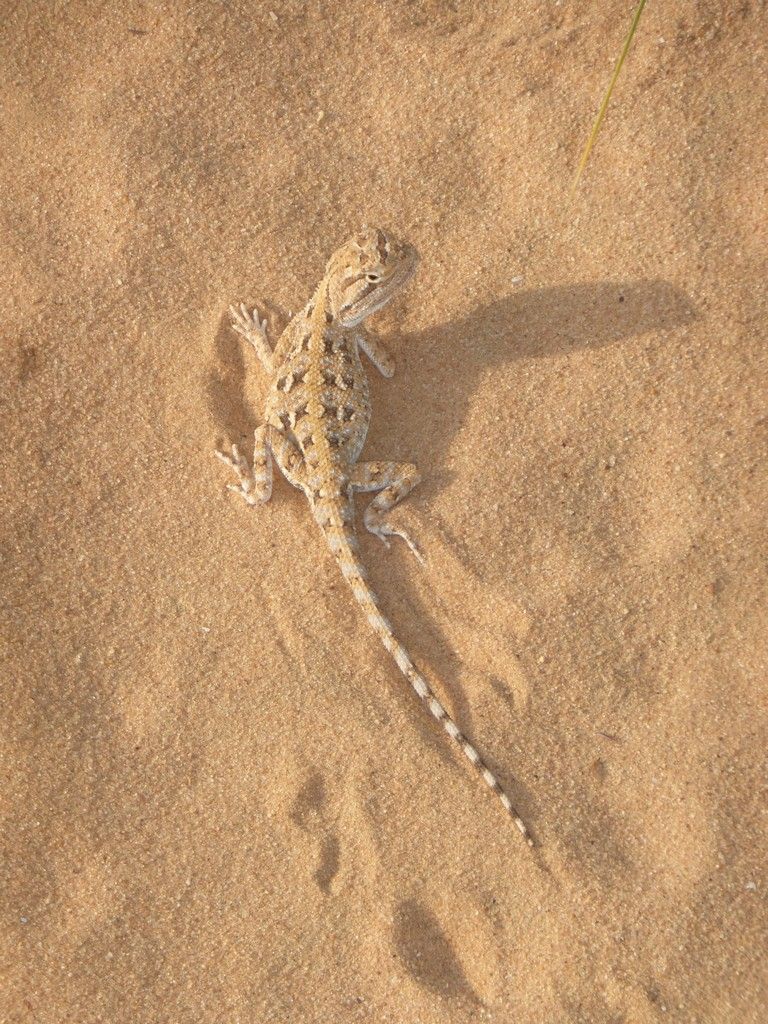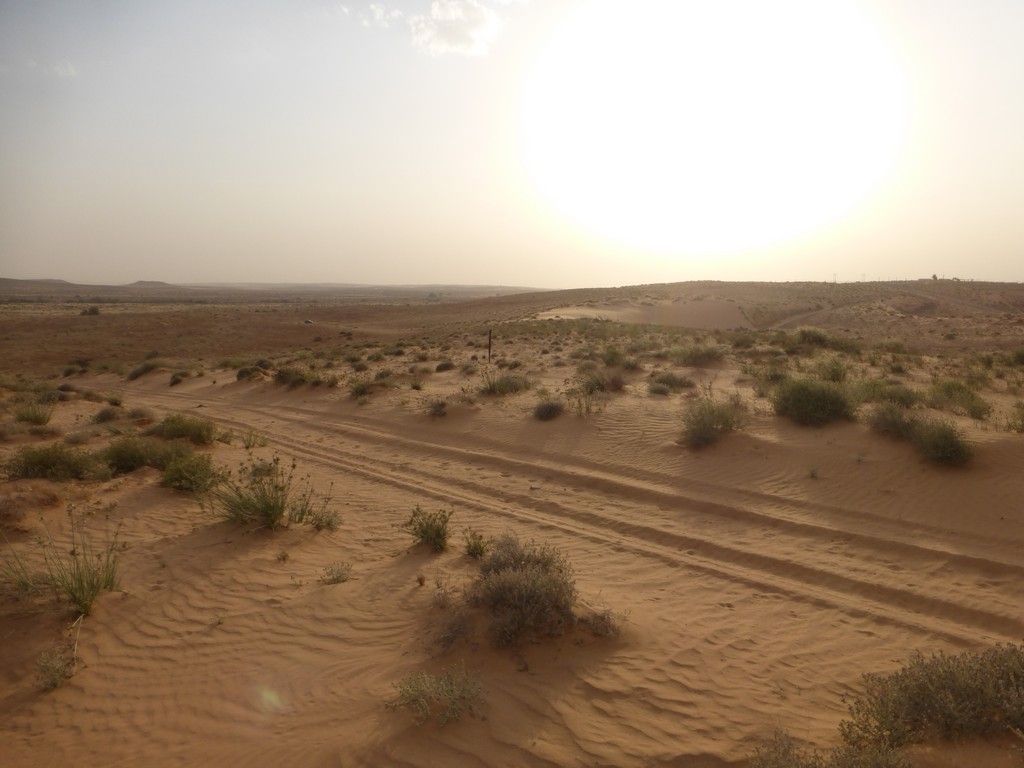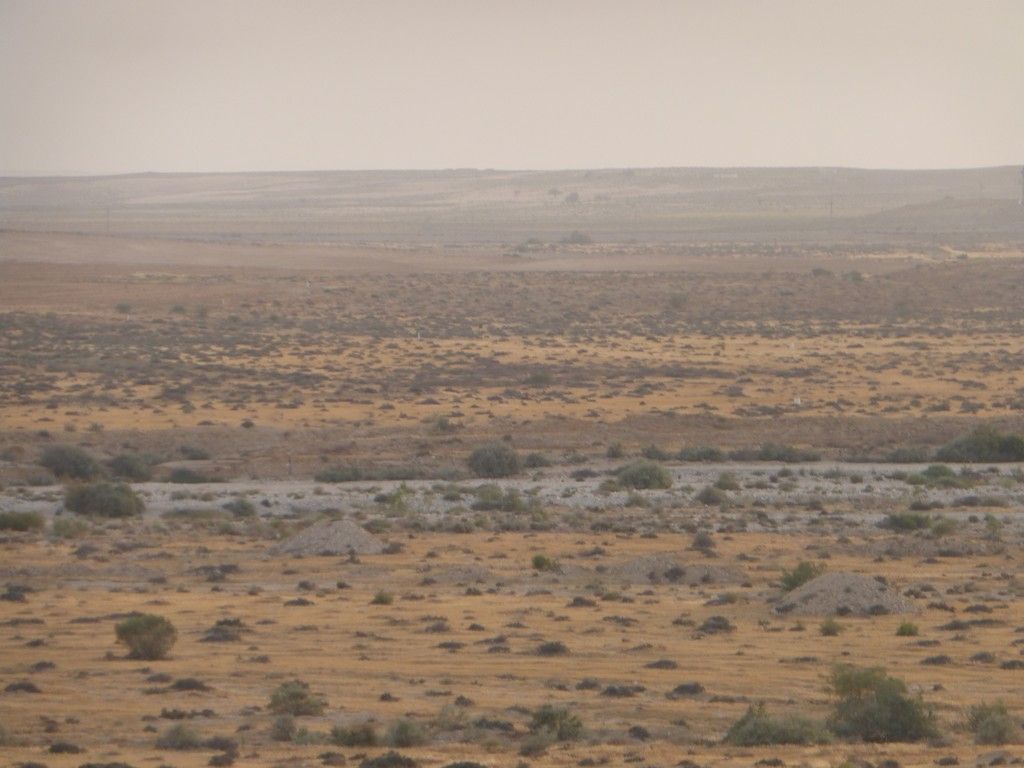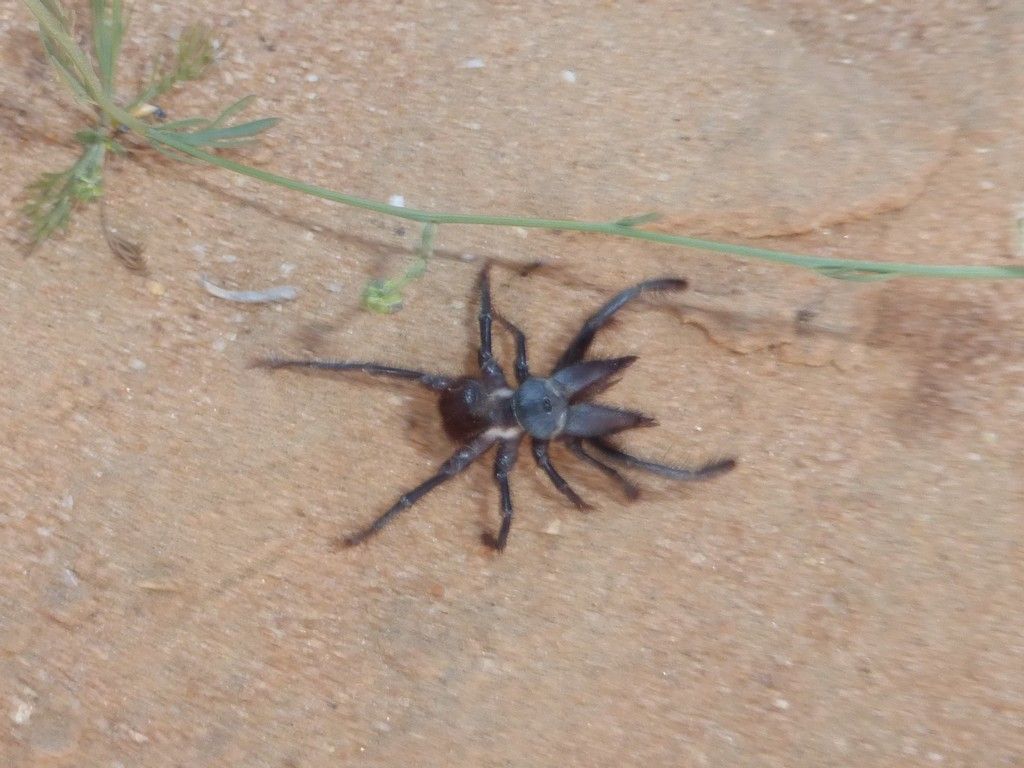 This dune trip was starting very nicely indeed. I walked around a bit more and soon spotted another Schokari sand racer (no pics this time). As the sun set I walked back to the car where I had my pita, humus and chicken dinner before heading into the dark armed with my flashlight searching for tracks in the sand.
First three finds were all cute little Anderson's short fingered geckos,
Stenodactylus petrii
.
Stenodactylus petrii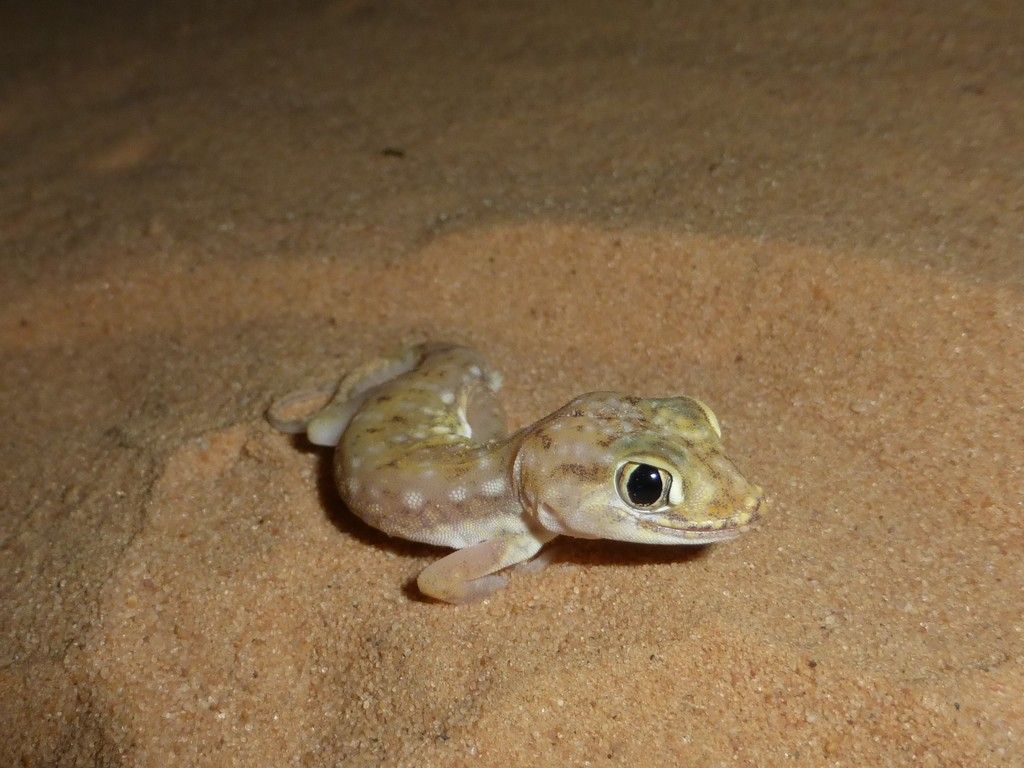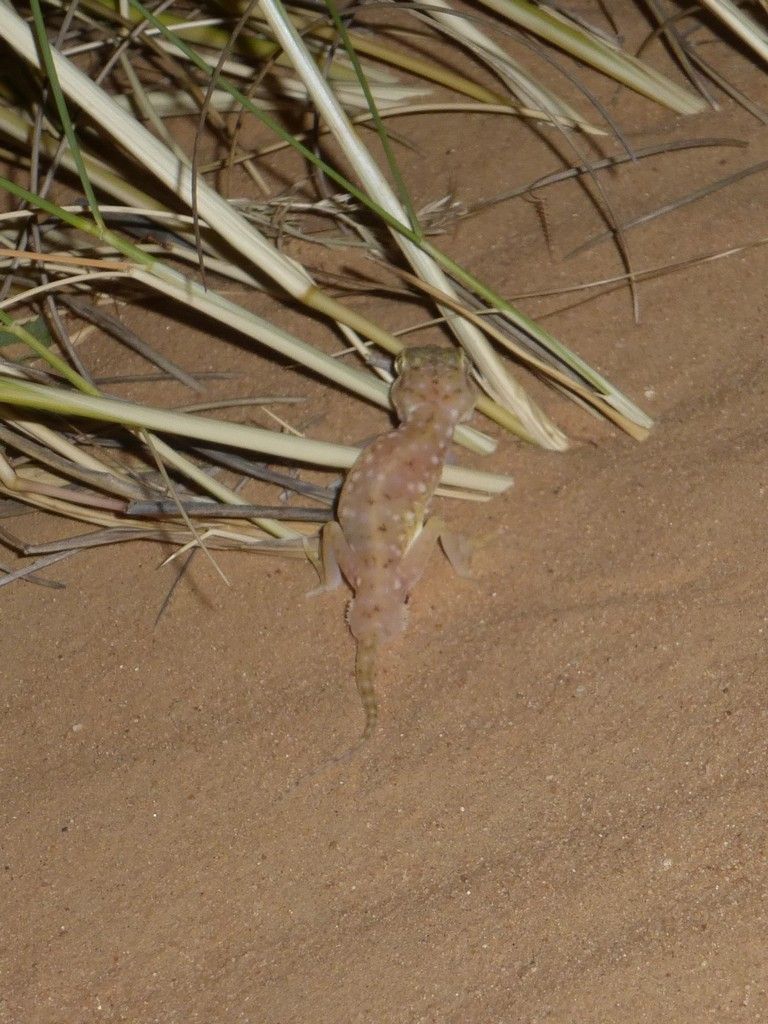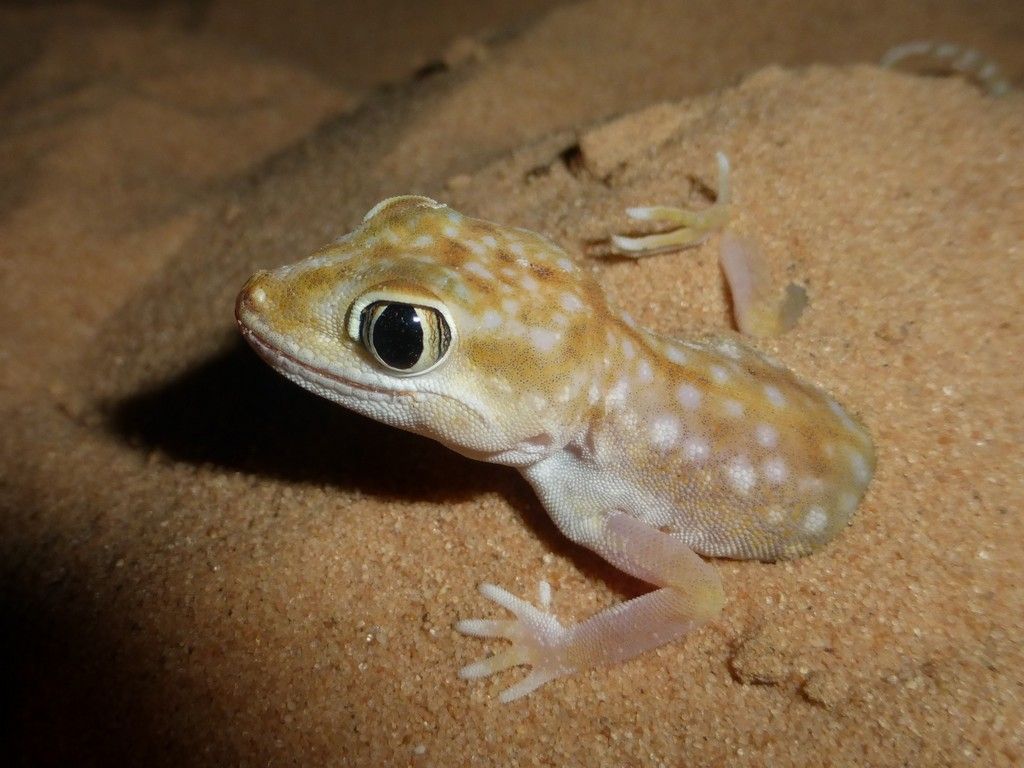 When I finally came upon a snake it wasn't even by tracking it. My flashlight just caught it lying atop the sand, a crowned leafnose snake,
Lytorhynchus diadema
. Usually
Cerastes cerastes
and
Cerastes vipera
are the most numerously seen species in the dunes. This night, however, it was Lytorhynchus. Tracks were everywhere, a few sets of tracks seemed to indicate it was mating season, one apparently following the other. Lytorhynchus tracks can be quite hard to follow as the snakes leave a tangled mess of tracks when they pick up a scent and as I was more intent on finding vipers I didn't follow all of them. I did find three, though, including a beautiful red specimen, by far the rarer of the two colour phases, and one I hadn't seen before.
Lytorhynchus diadema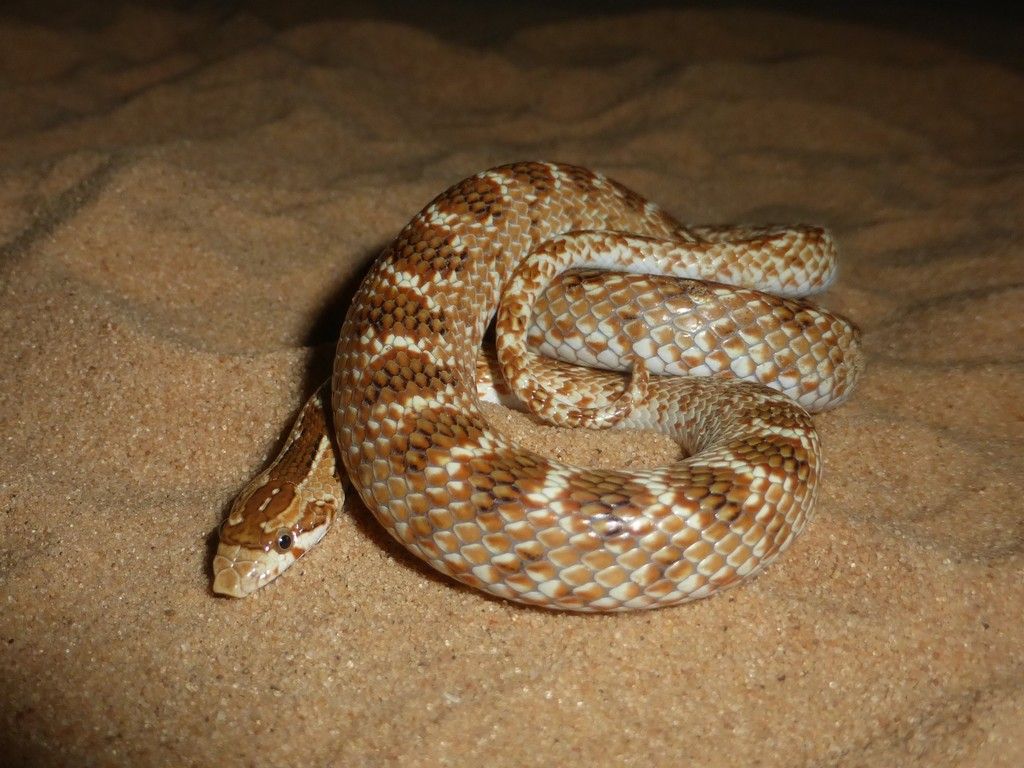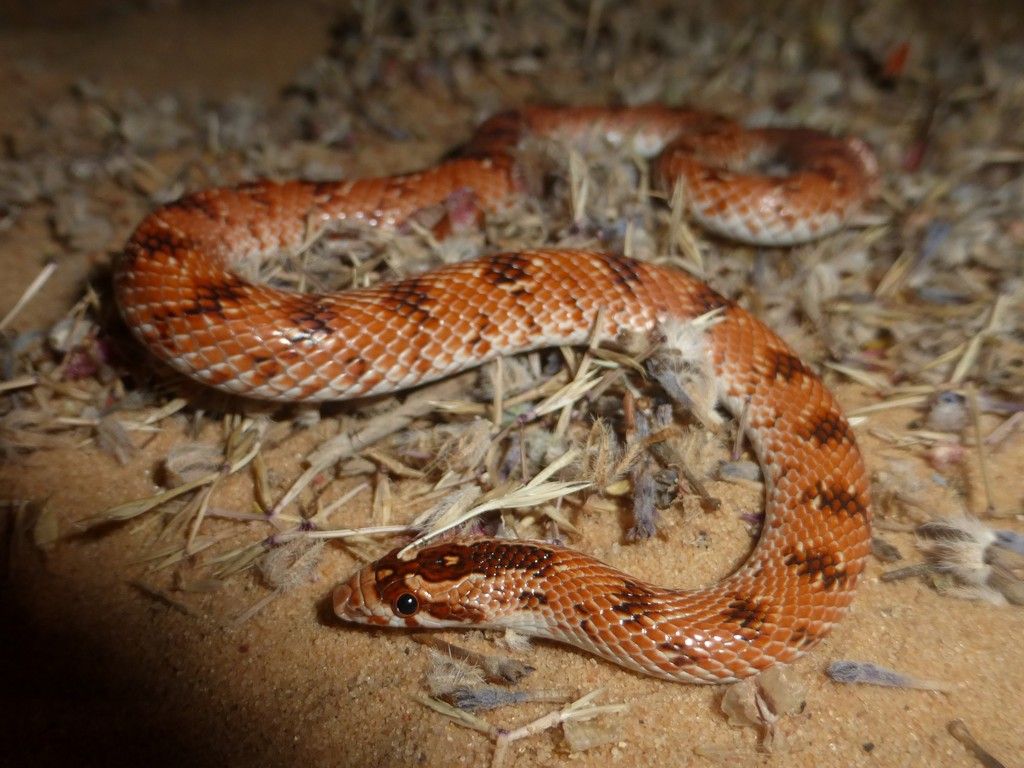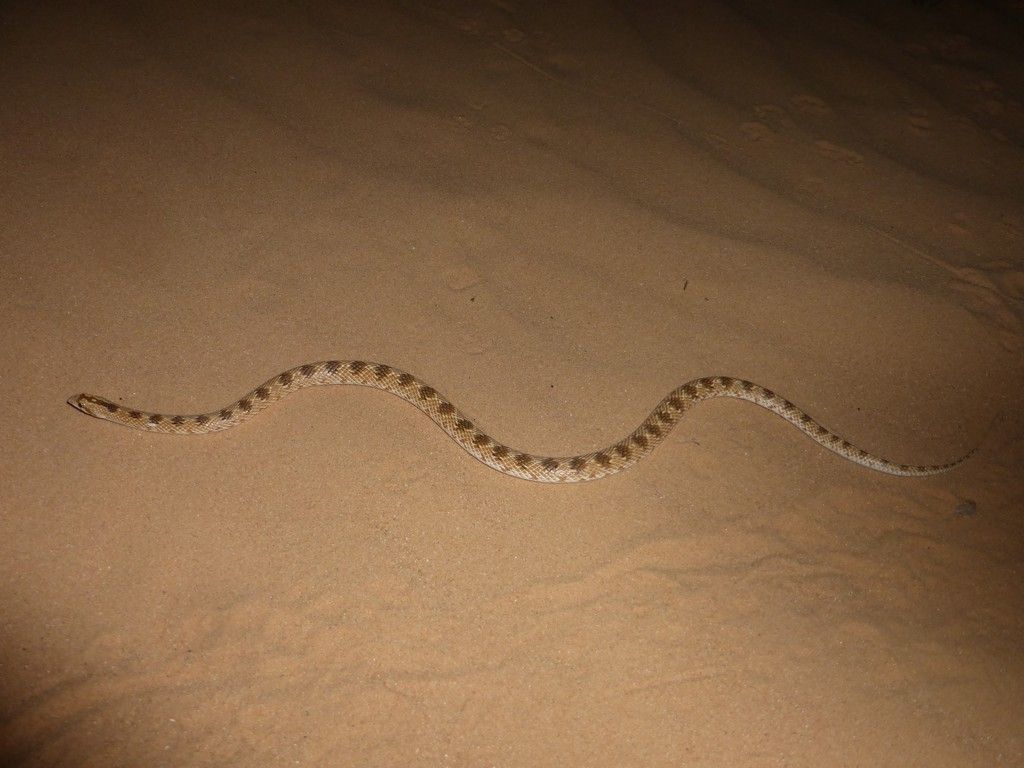 with tracks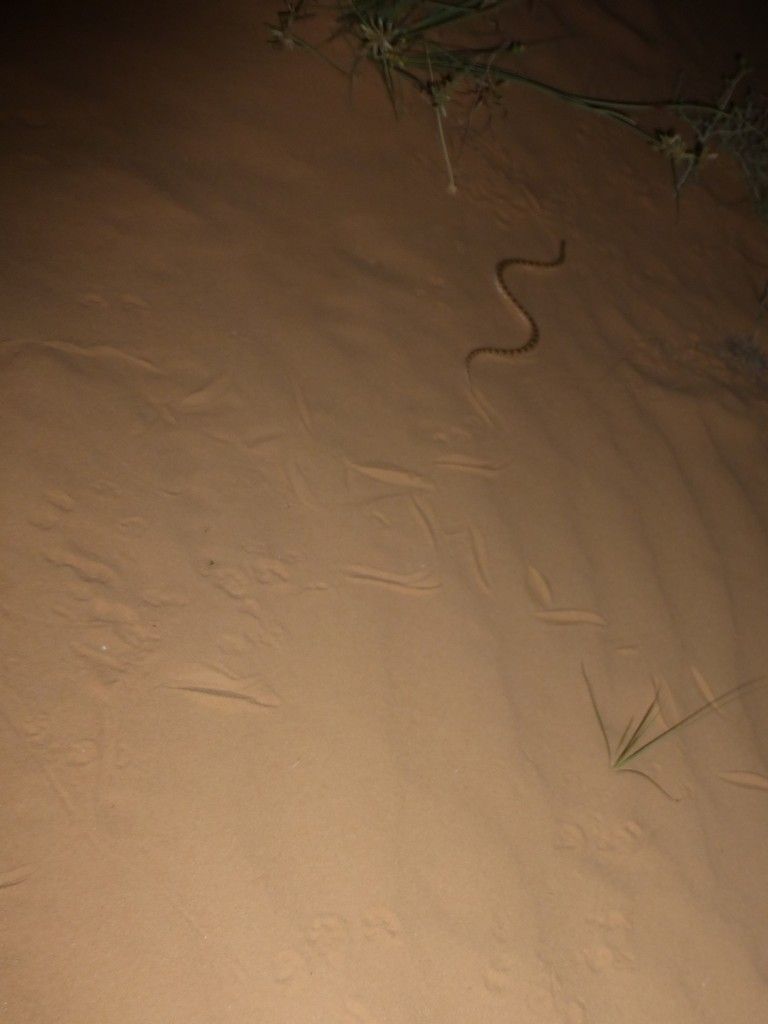 Eventually I did come across Cerastes tracks as well. The first two, C. vipera and C. cerastes respectively, disappeared in the compressed sand at the bottom between the dunes, but the third led me to my prize, a massive desert horned viper,
Cerastes cerastes
, always a crowd favourite and easily the largest I have ever seen. My pics don't do it justice, I should perhaps have included some object for scale.
Cerastes cerastes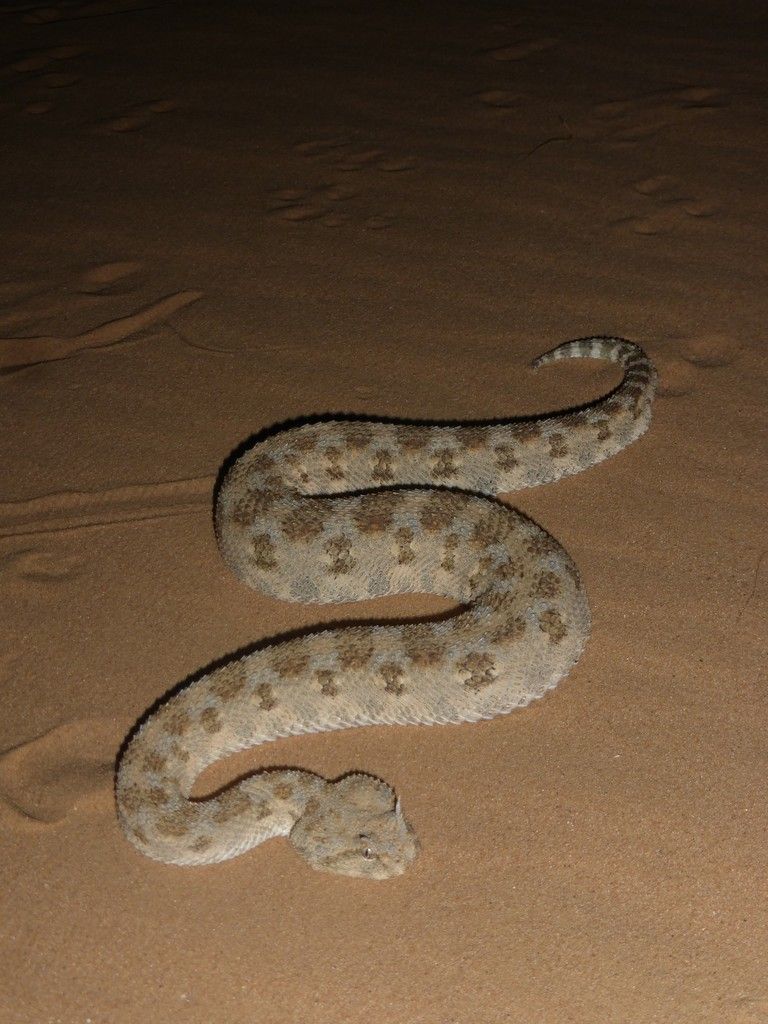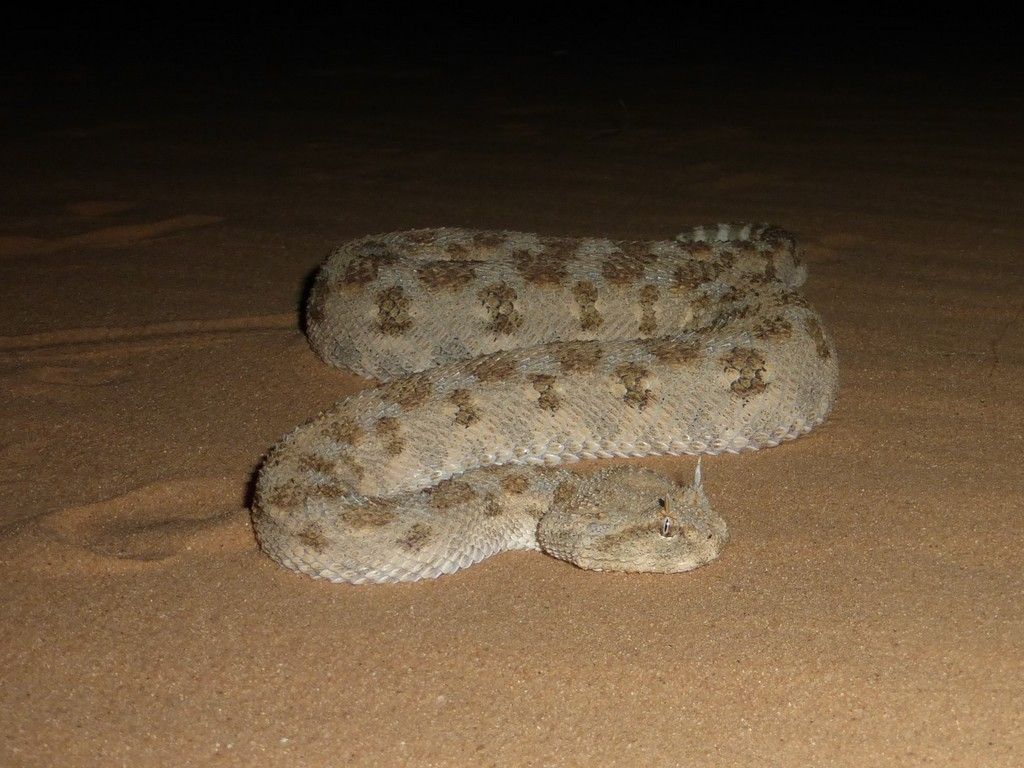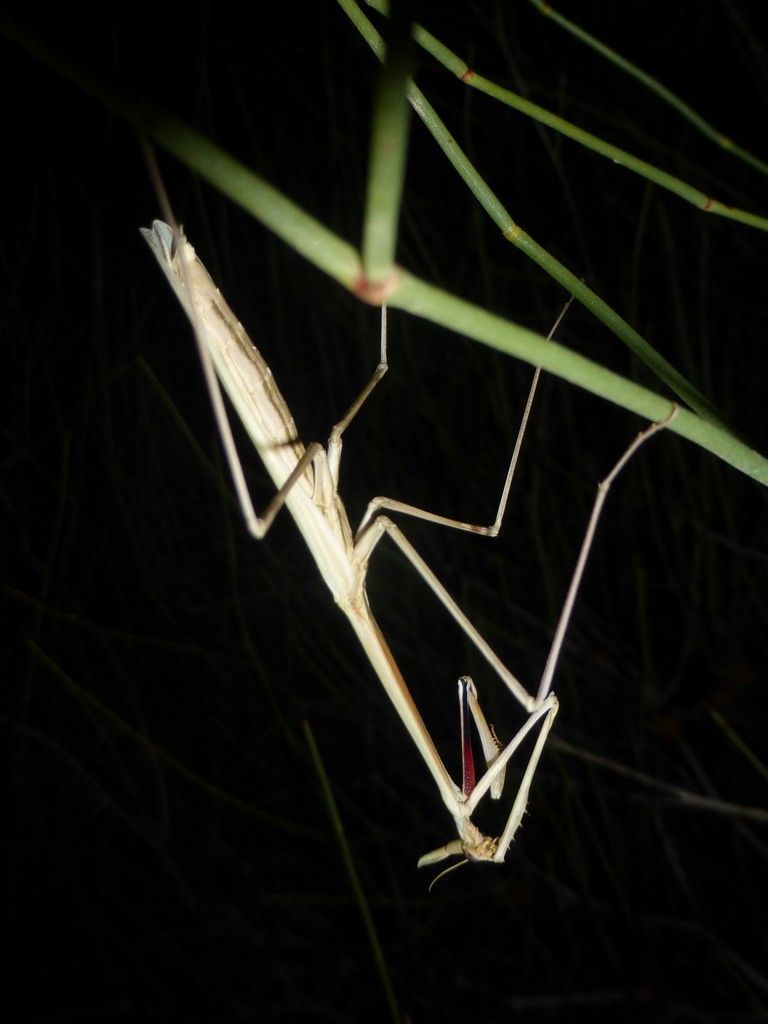 Yes, roaches can be cute, too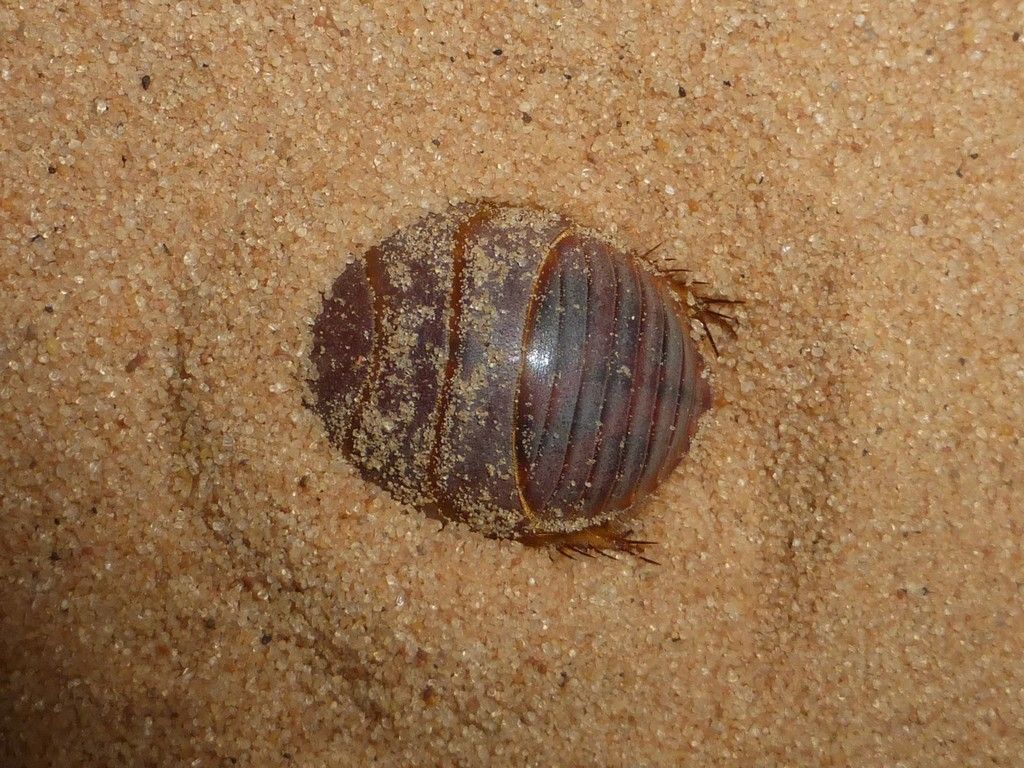 Having walked to the end of the dune and gone up and down the soft sand a few times I was exhausted as I made my way back. Nearly ready to accept my disappointing defeat I finally spotted a second Sahara sand viper,
Cerastes vipera
, track and managed to follow it to my quarry.
Cerastes vipera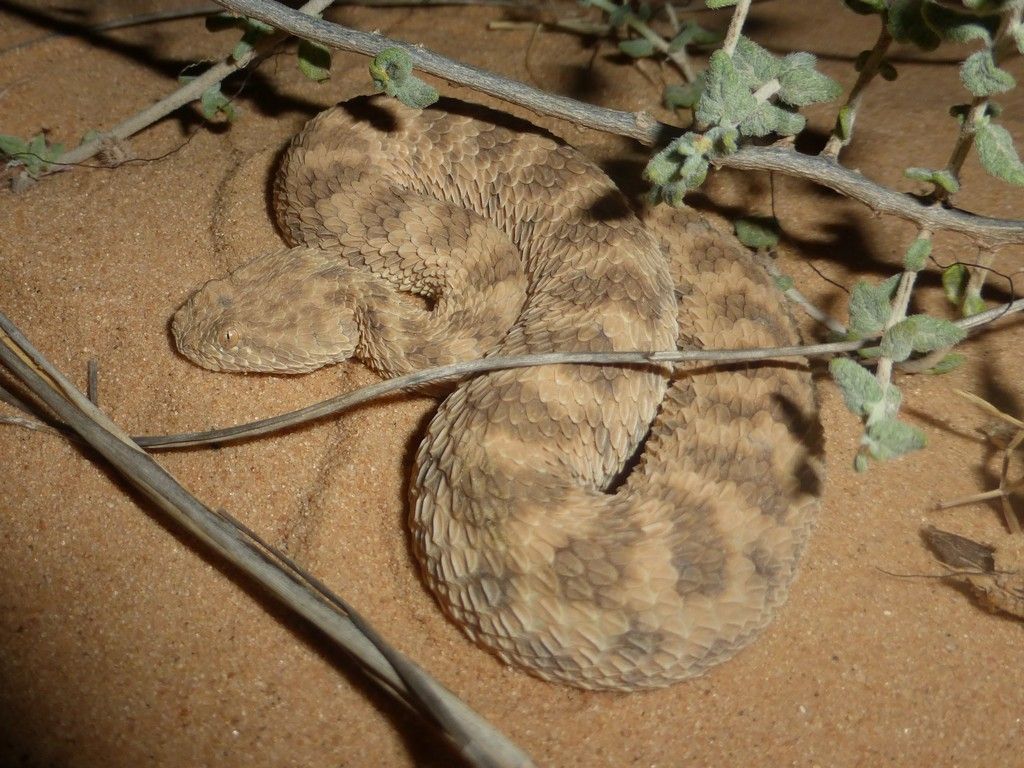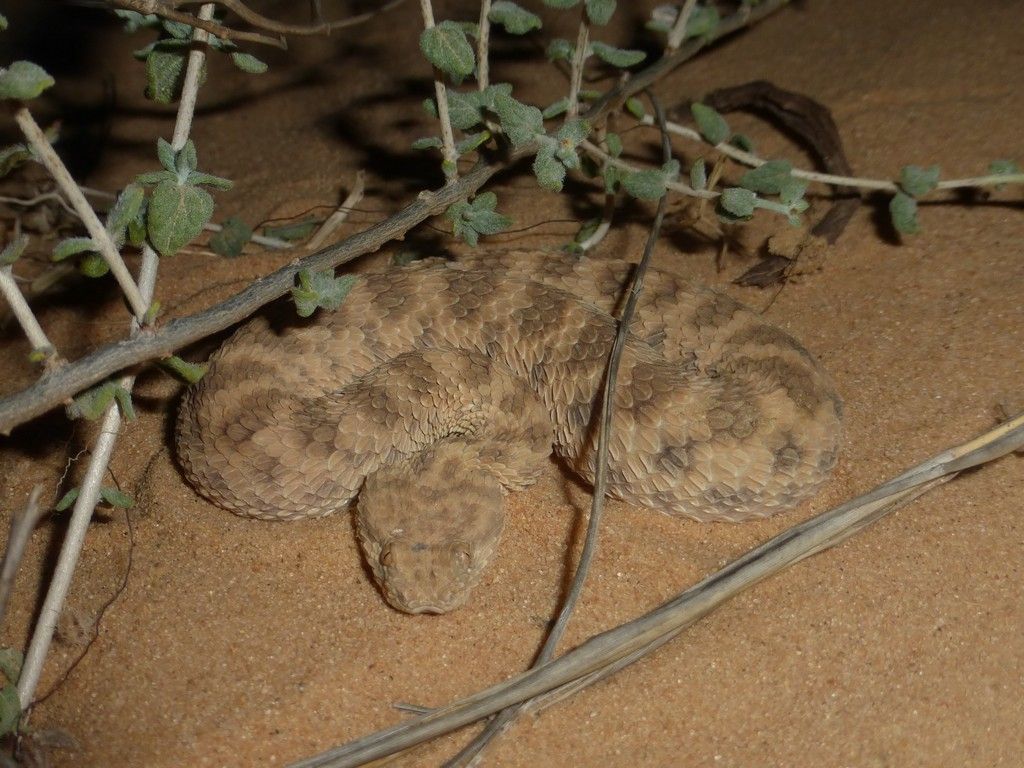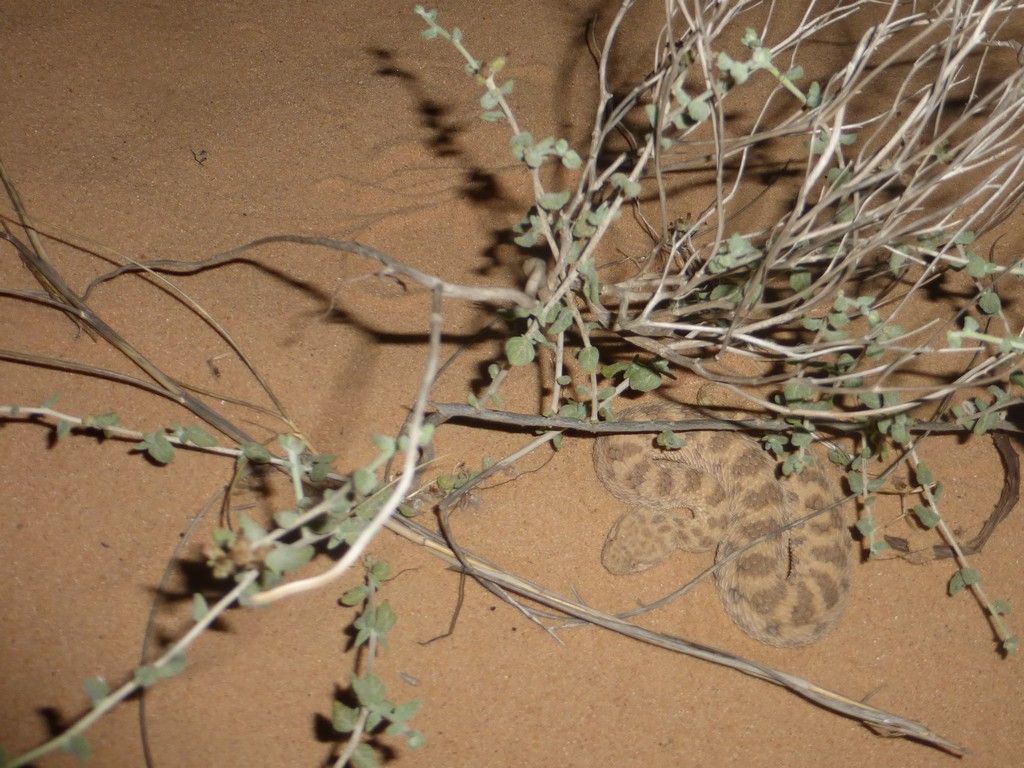 During the night I had found two larger tracks of non sidewinding snakes, one I had lost in the compressed sand at the bottom, the other down a hole. I had contented myself I would not find any of these snakes. Then, right next to my car as I was going to get my sleeping bag and fire wood for the night in front of me crossed a rather large diadem snake, my final find of an absolutely wonderful night.
Spalerosophis diadema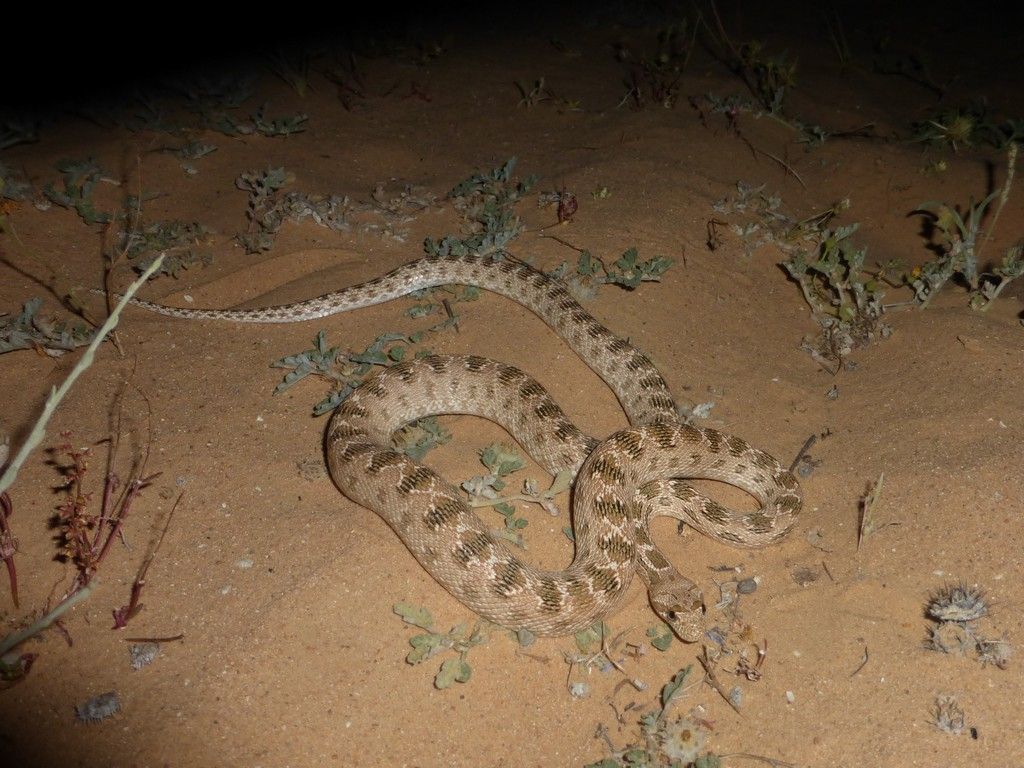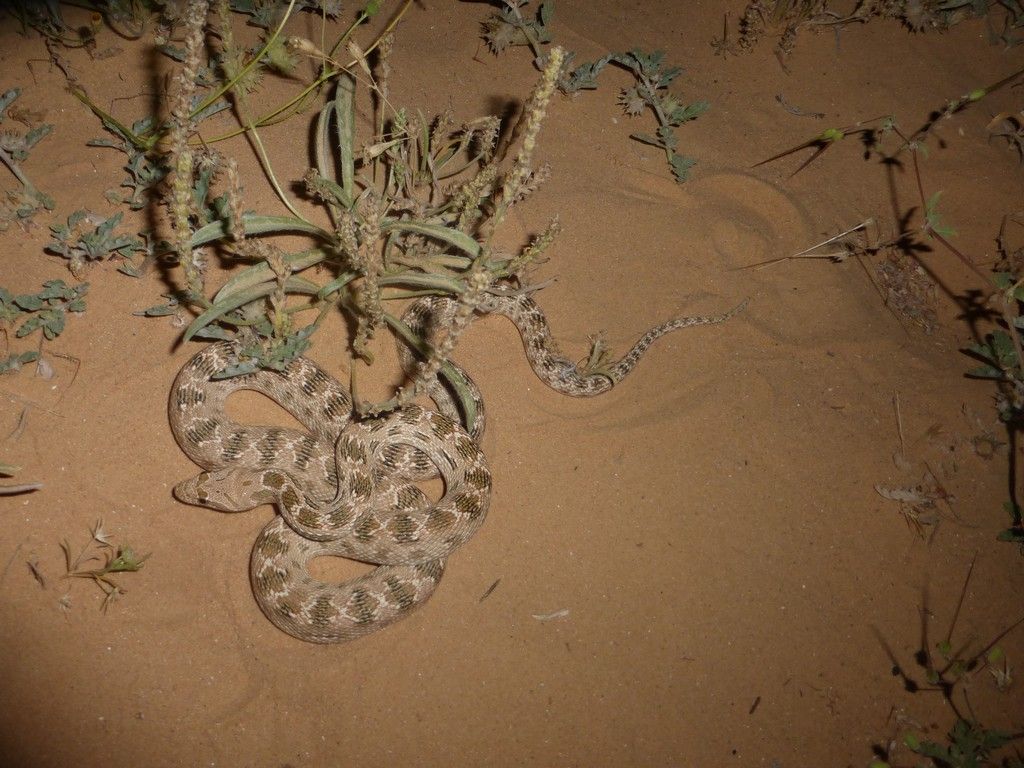 I lit the fire between the dunes and tucked in for a good night's sleep, or... well...
I had slept outside in the dunes twice before, hadn't had the best of sleep but still managed a few hours. Last year, I had heard Gert Jan and Sjuul complaining that they had gotten no sleep due to the mosquitoes and I had arrogantly thought "Pffft... they were just extremely unlucky, and besides, I'll bring repellent just in case". All well and good but the repellent only keeps them from biting you, not from buzzing around your head. I got probably about an hour's sleep.
Next morning the fringe fingered lizards were busy in the sand again.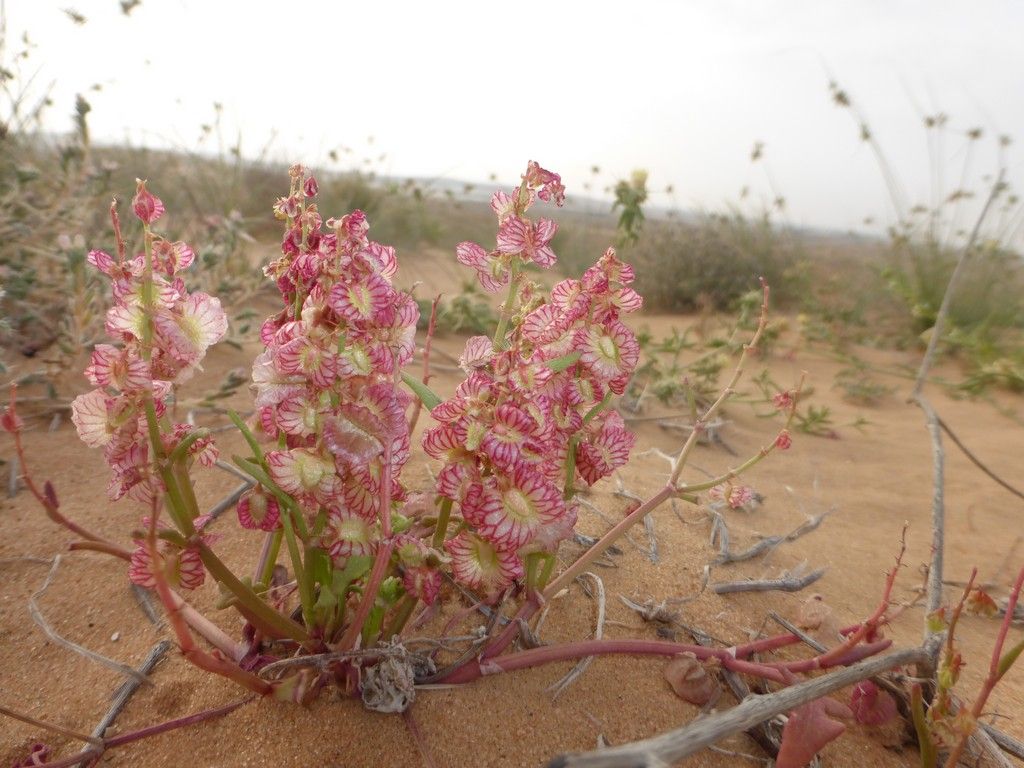 Split tail Acanthodactylus aegyptius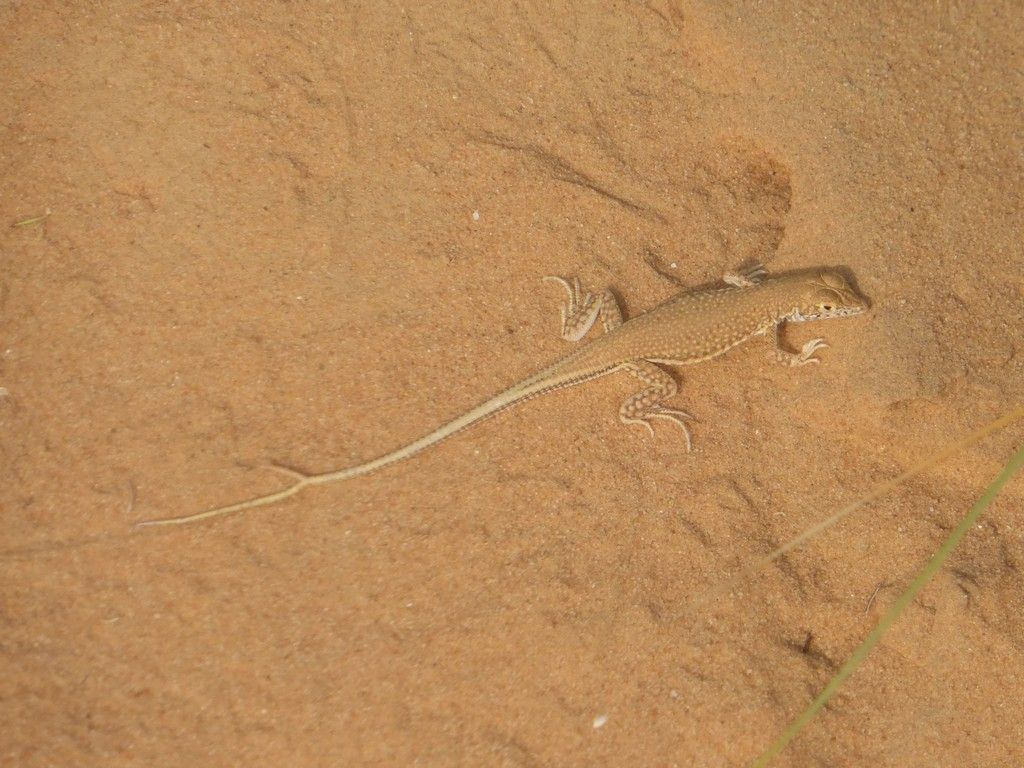 Random bird, Lanius meridionalis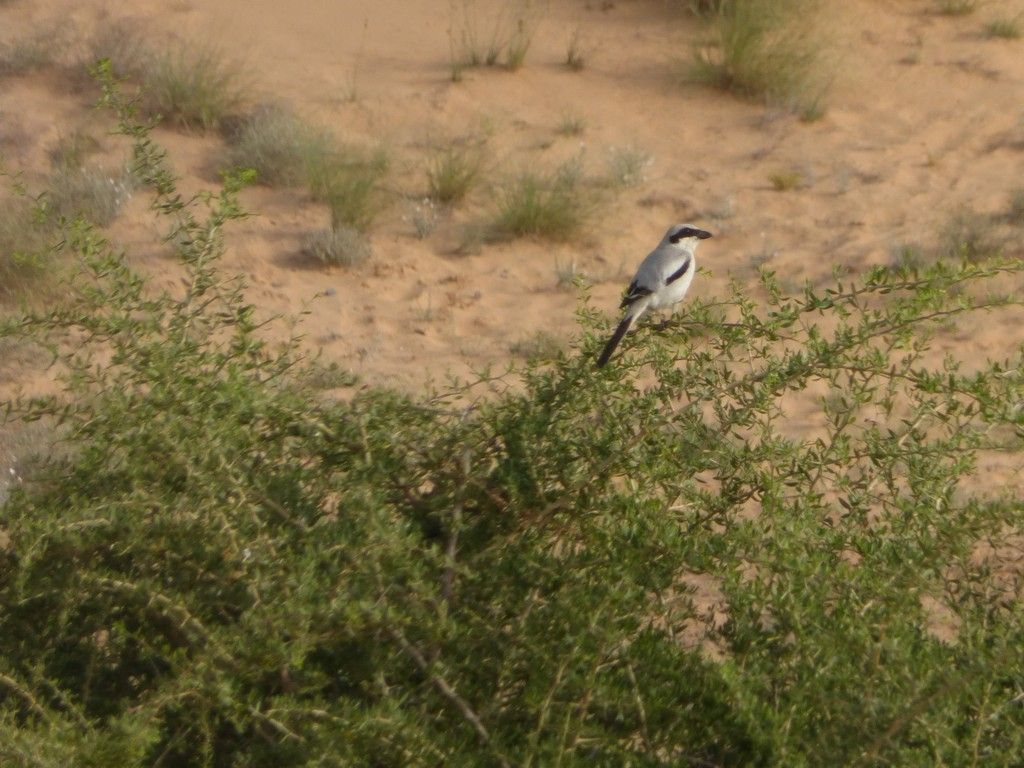 After a couple of hours I left the dunes, headed north. My first stop was at yet another infrastructure hole, this one holding a dessicated toad and a Mediterranean gecko. This time, I took a picture.
Hemidactylus turcicus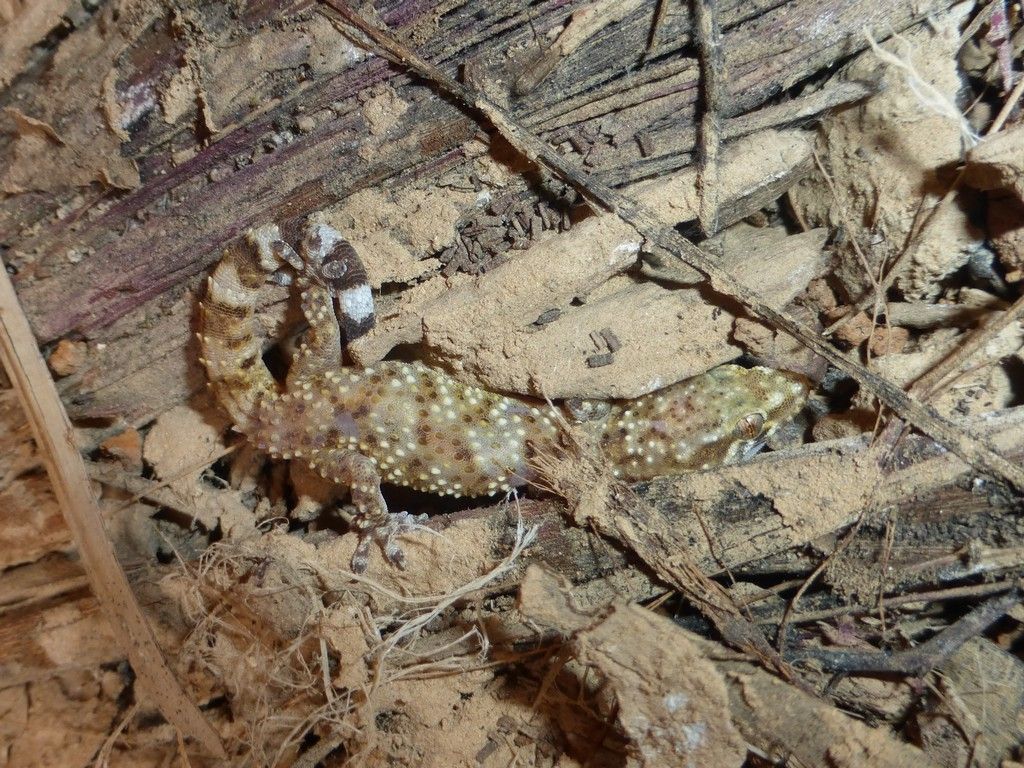 After that, a belated breakfast stop, falafel, grapefruit soda and Turkish coffee. Most of the time, travelling around Israel, particularly in the desert south, you don't get a feel for just how densely populated this small country is but when you stop Sunday, late in the morning, on the edge of the desert in the apparent middle of nowhere and it's near impossible to find a parking lot due to the hundreds of people congregating around the rest area, it really dawns on you.
Back on the highway, traffic suddenly came to a grinding halt. A good hour later I passed the accident site completely with police, fire trucks, oversized tow truck, broken crash fence and burnt out 18 wheeler.
When I finally reached my destination for the night in the Jezreel Valley I knew I needed a bed and a good nap. My plan had been to drive back down to Palmahim after road cruising and sleep on the beach but given my state at the time I knew that would be irresponsible. I found a room – after a short stop to look at the caspian turtles,
Mauremys rivulata
at a bridge I crossed - had a shower, crashed for an hour, had a coffee, and headed back out.
Mauremys rivulata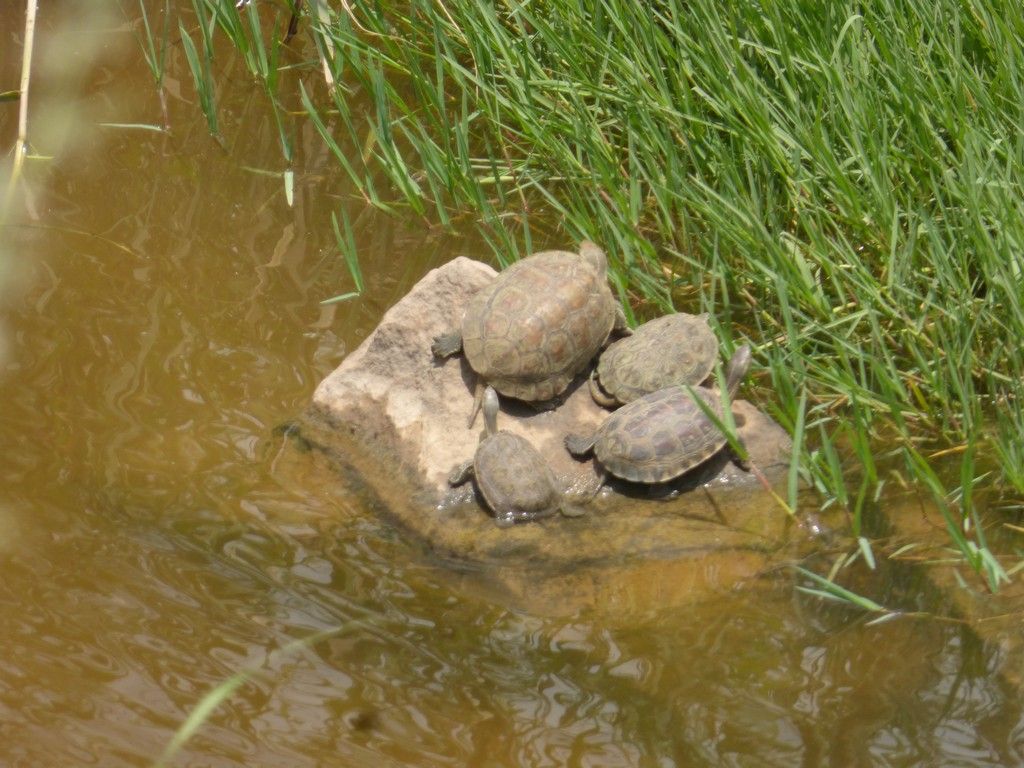 Atop the mountain I spotted the first herp as I stepped out the car, a starry agama. I didn't even notice the photo bombing Sinai fan fingered gecko,
Ptyodactylus guttatus
, until I was looking at the pictures on the plane on my way back home. The gecko came out immediately afterwards and I took a deliberate but far inferior two for one shot.
Laudakia stellio with photobombing Ptyodactylus guttatus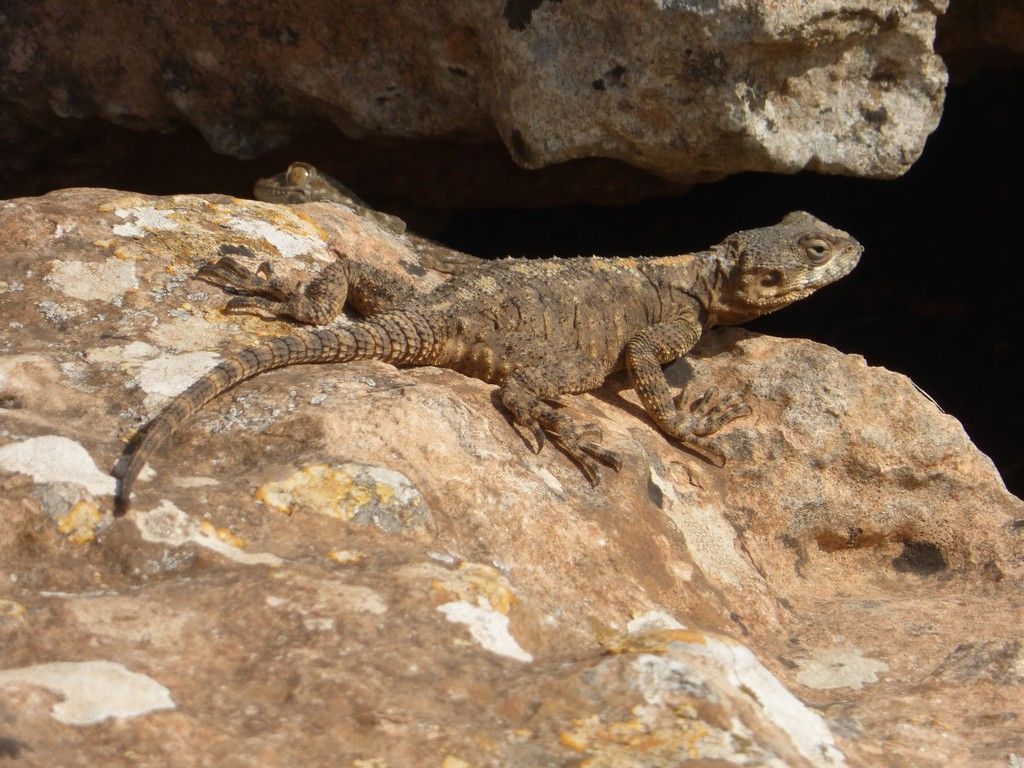 Conscious two for one shot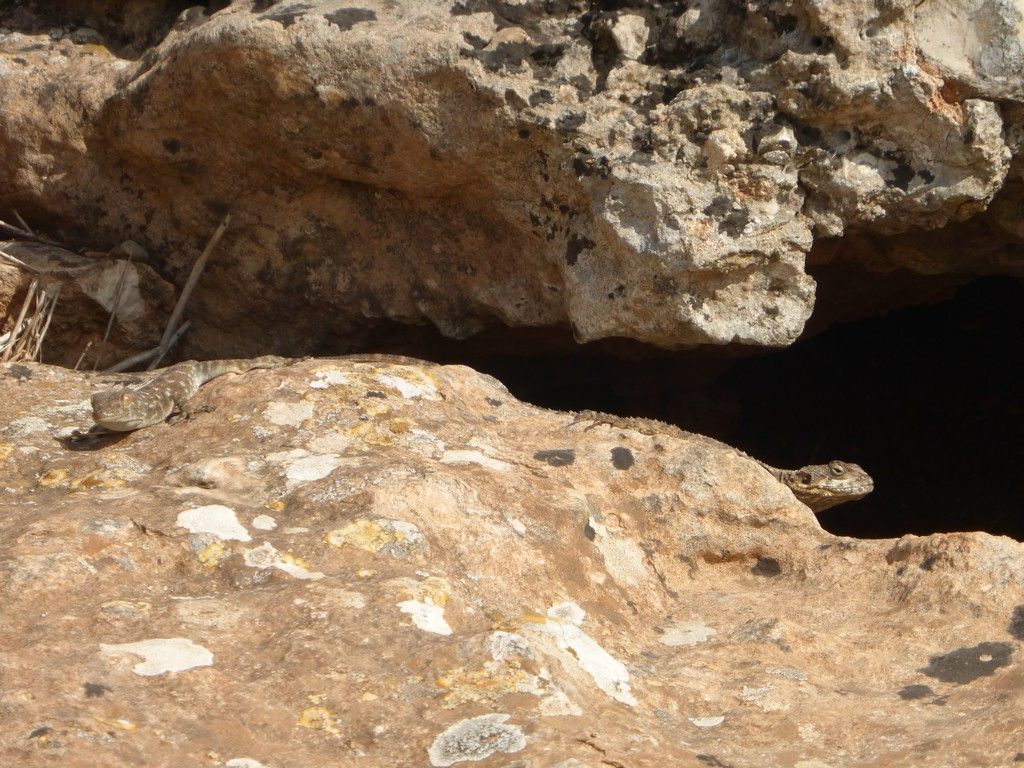 Ptyodactylus guttatus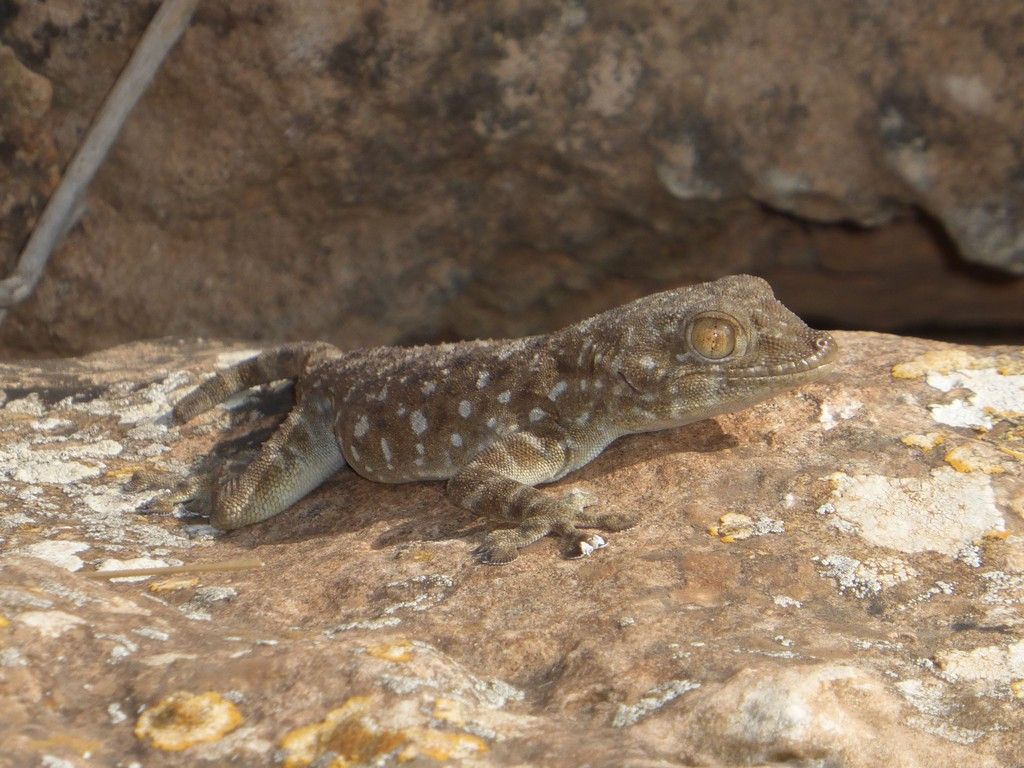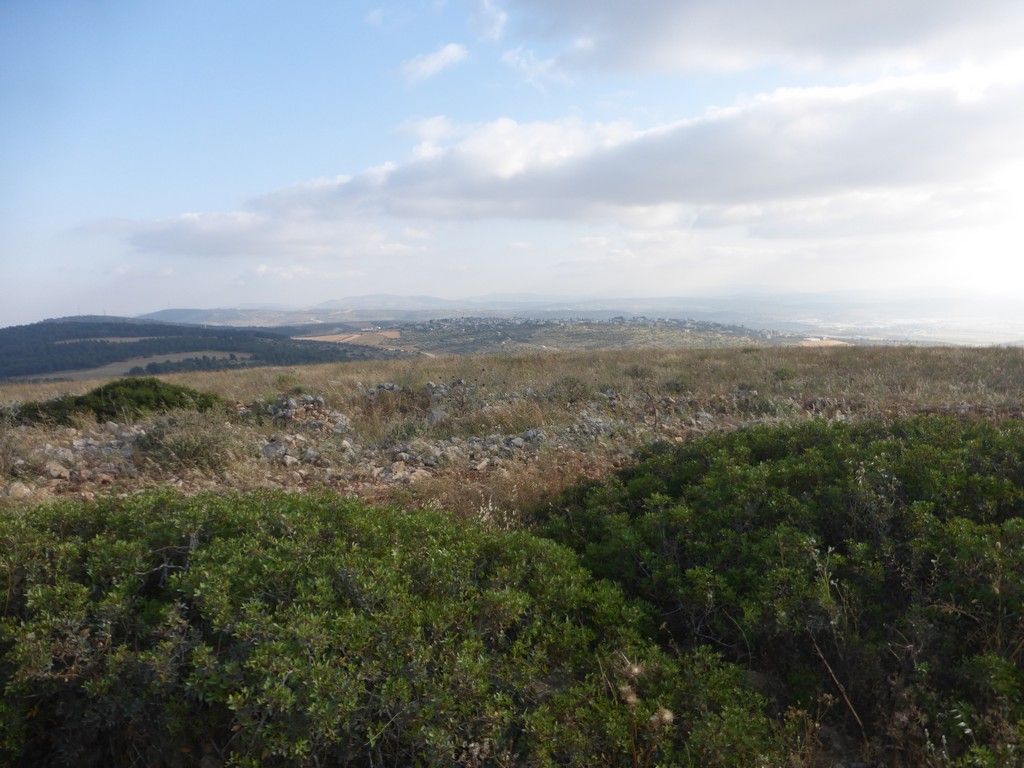 Flipping rocks turned up some scorpions and the final of the three abundant lizard species on the mountain, the bridled mabuya,
Trachylepis vittata
. I ended up seeing several of these, under cover and active on the ground, as well as more geckos and agamas.
Trachylepis vittata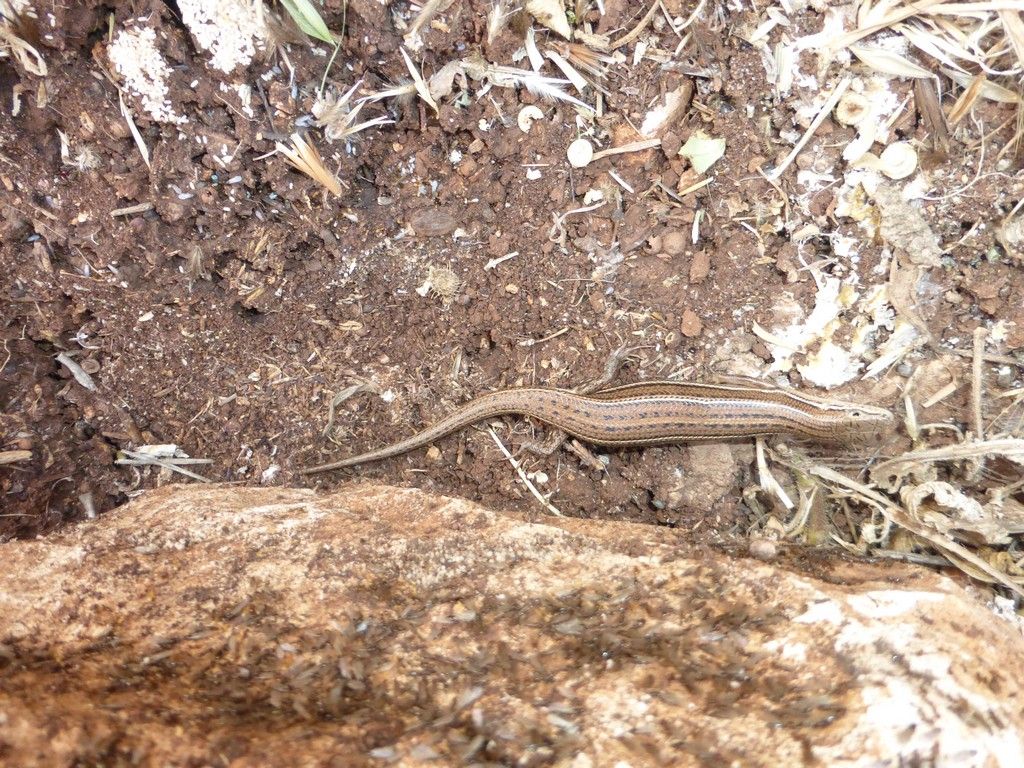 Nebo hierichonticus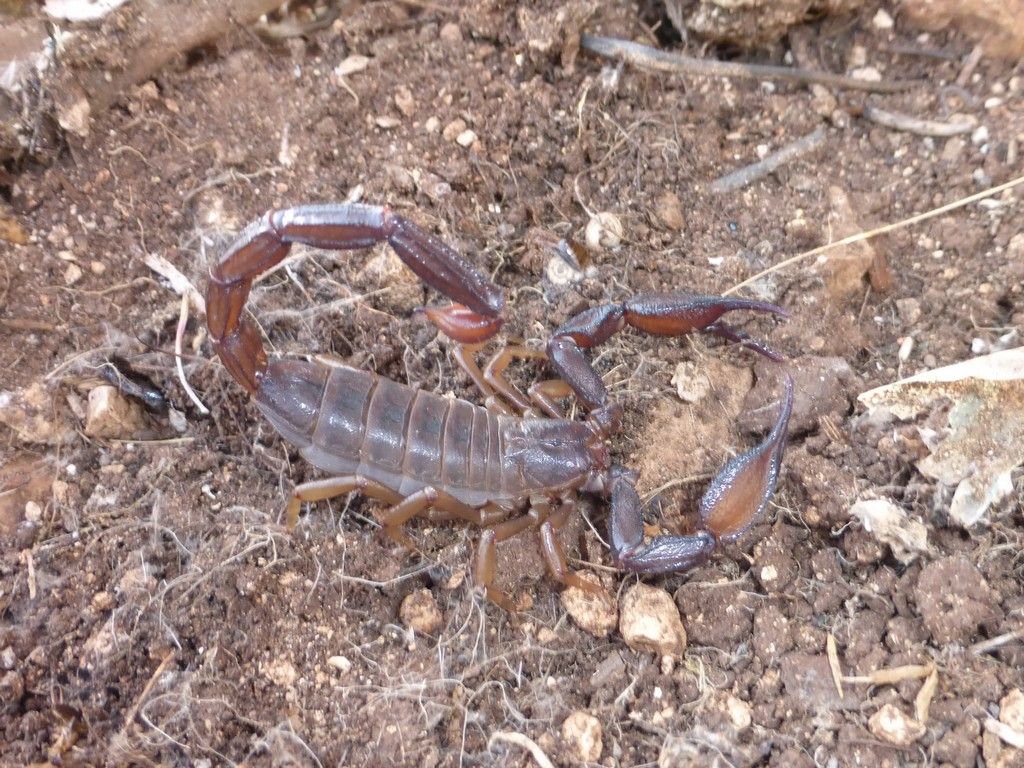 Laudakia stellio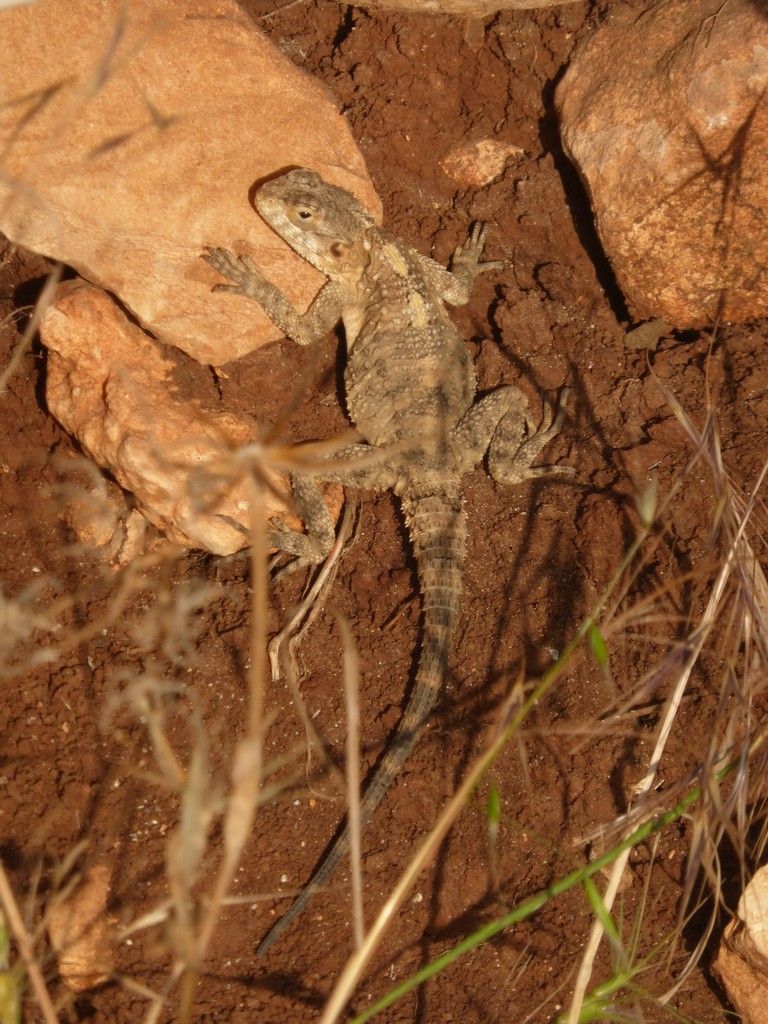 Not the most promising of rocks then turned up a tiny, juvenile Palestine kukri snake, another "sort of" lifer, as I had seen the species twice on the roads, once clearly dead, once twitching in a state where I was uncertain whether it was still just dying or already dead. Darned thing wouldn't stay still, and photographing it was a pain.
Rhynchocalamus melanocephalus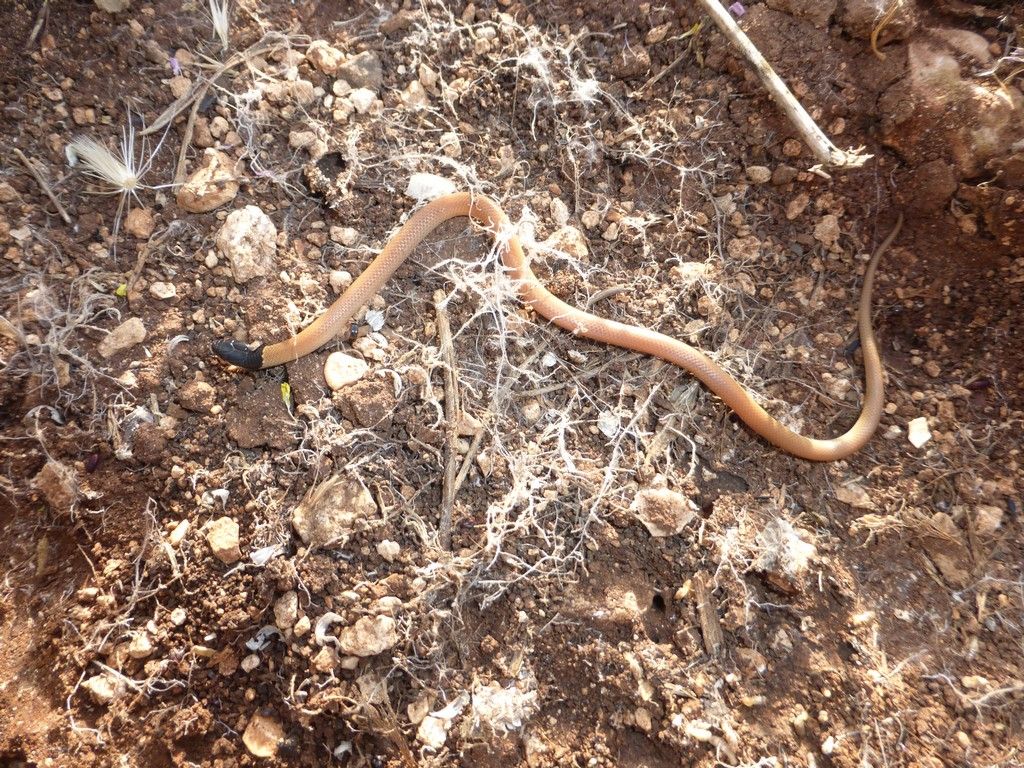 Nearly back at the car, I found one last promising looking rock to flip. I leaned over to lift it, and this is what I saw, a spur thighed tortoise,
Testudo graeca
. It was of course returned to its spot.
Testudo graeca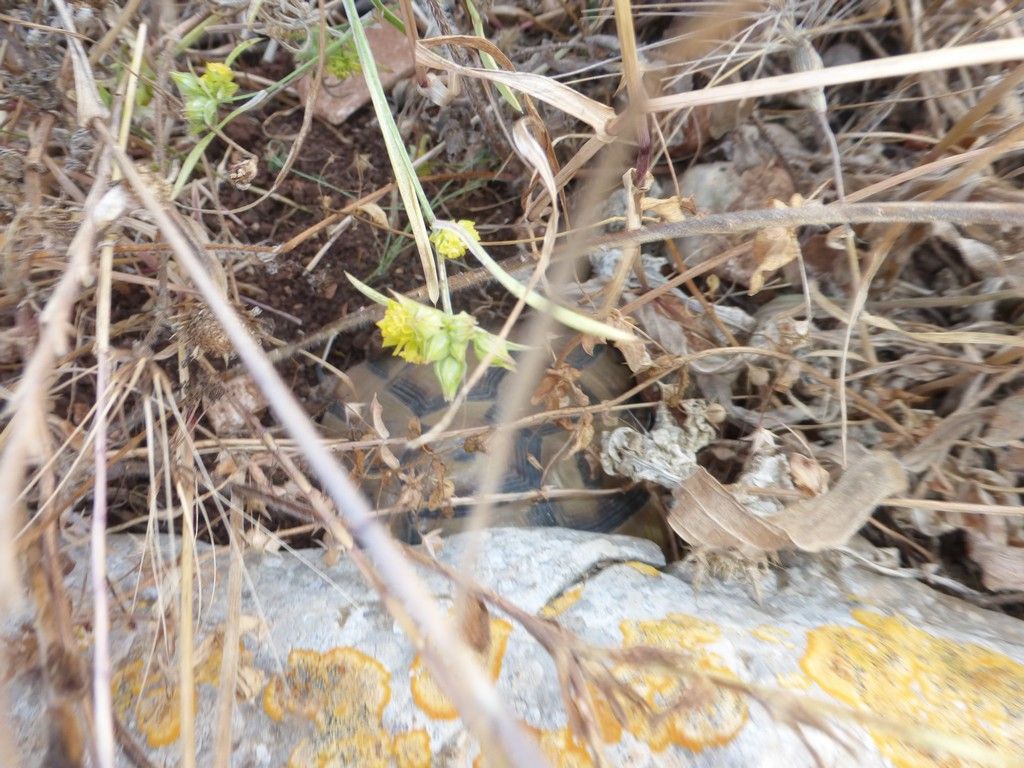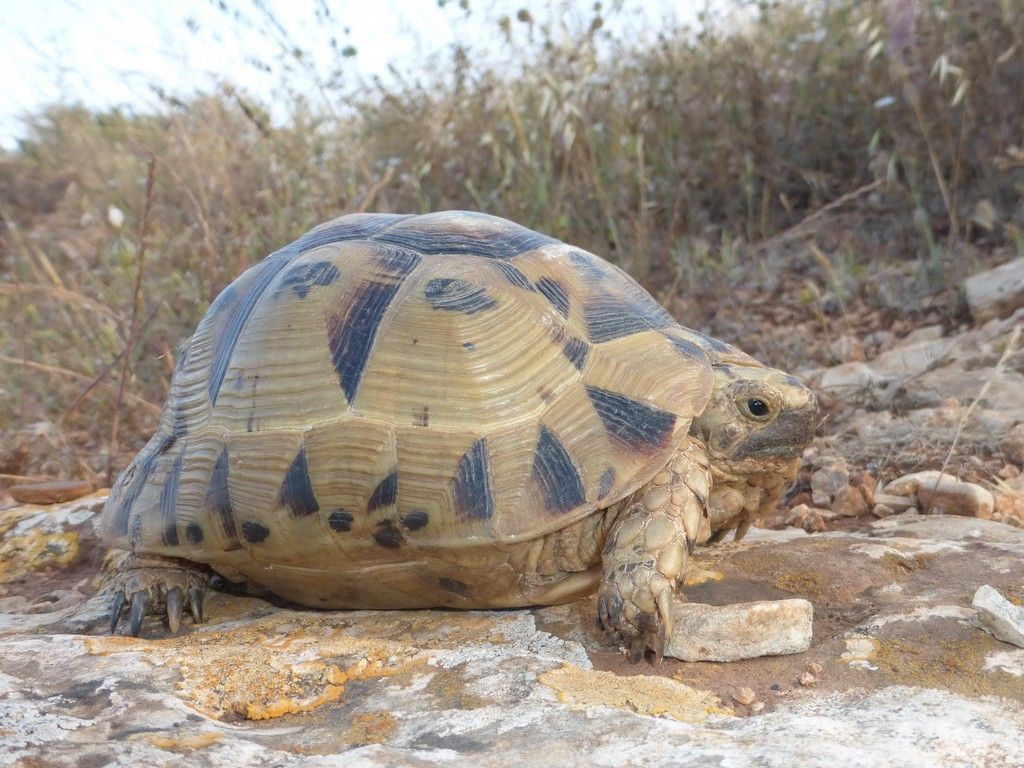 I now drove down into the Jordan valley, passing a group of rock hyraxes by the side of thorad, to check out some roads for the night. Previously I had mainly cruised on the roads in the hills, but this had been on the sabbath, and Guy had told me that on weekdays traffic was too heavy there. I found a good looking road but decided to leave it for the familiar, usually productive, roads (there's the trust issue again, it pertains to myself even more so and combined with sleep depravation that makes for bad decisions). Just before leaving the valley around dusk I saw a large carnivore crossing the road and walking off into the fields. It stopped a couple of times to look back at me but it was too dark and the animal too far away for me to get a good look. Somehow what I saw just didn't compute, the proportions seemed wrong, a dark looking animal, seemingly canine, about the size of a very large dog, conspicuously tall and long legged. It wasn't until I got home that Guy set me straight on what my description fit, quite a rare find indeed but one for which the locality fit – a striped hyena – sweet.
As I've already more than hinted at, cruising the hills was a bust. Amazingly, not only did I get skunked on snakes, I even got skunked on geckos. Thus, I wasted a couple of hours of prime herping time seeing nothing but inverts, bats, owls and a family of foxes, the last little pup falling behind, prudently hesitant about crossing the road as I approached. I braked, of course, and it caught up.
Back down in the valley, it was getting late, probably too late. I didn't see any snakes but I did hear a loud chorus of lemon yellow tree frogs,
Hyla savignyi
. Amazingly, there were only four of them – incredible what a racket just a few little frogs can make. I had the hardest time locating any, though you'd think it would be easy, the bright green standing out against the gray brown surroundings.
Hyla savignyi
I then noticed another call – less loud. I had an easier time finding this species, but not photographing them – levant water frog,
Pelophylax bedriagae
.
Pelophylax bedriagae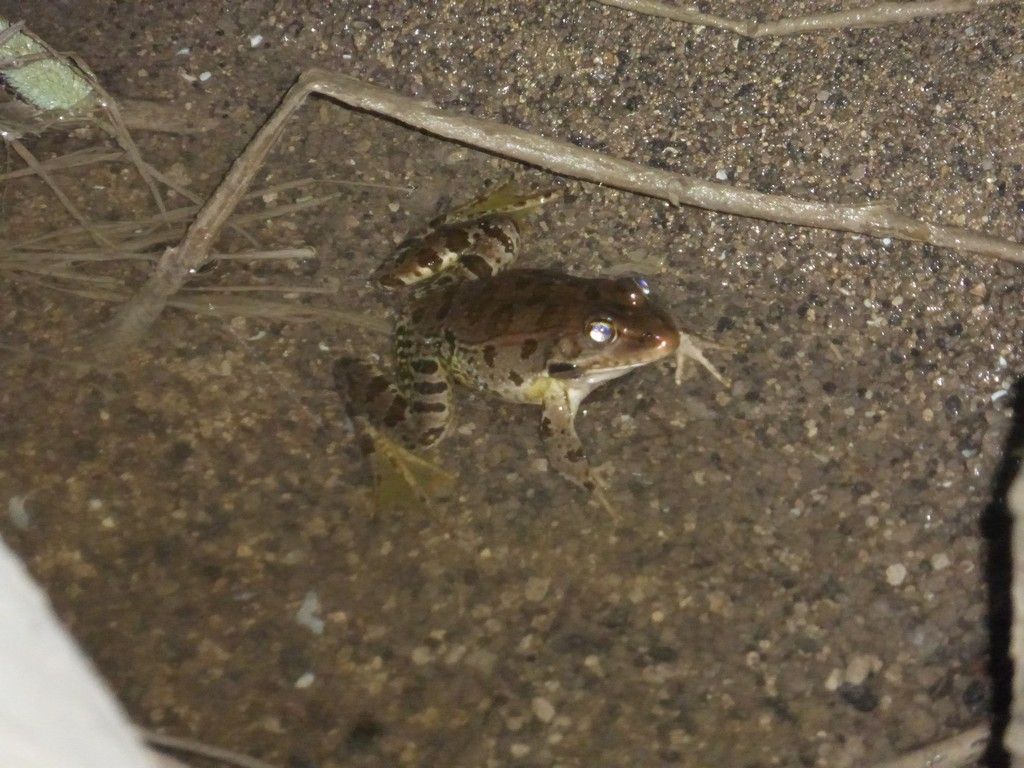 By now simply too tired, and realizing it was so late and so cold I was unlikely to chance upon a snake I drove back for a beer and a final luxurious five hours of sleep. I awoke after 4, took a shower, had my breakfast complete with the obligatory Turkish coffee on the porch overlooking the valley and drove back to Tel Aviv for my flight home.
In summary, quite a nice trip albeit with slightly disappointing results. It's always nice to be back in Israel, to herp with familiar and new faces alike and revel in the desert atmosphere. Compared with
earlier trips, numbers, especially viper numbers, were a bit low. This, of course, is mainly down to being skunked on the roads. A wonderful night in the dunes with nice diversity topped off with a Varanus almost made up for it.